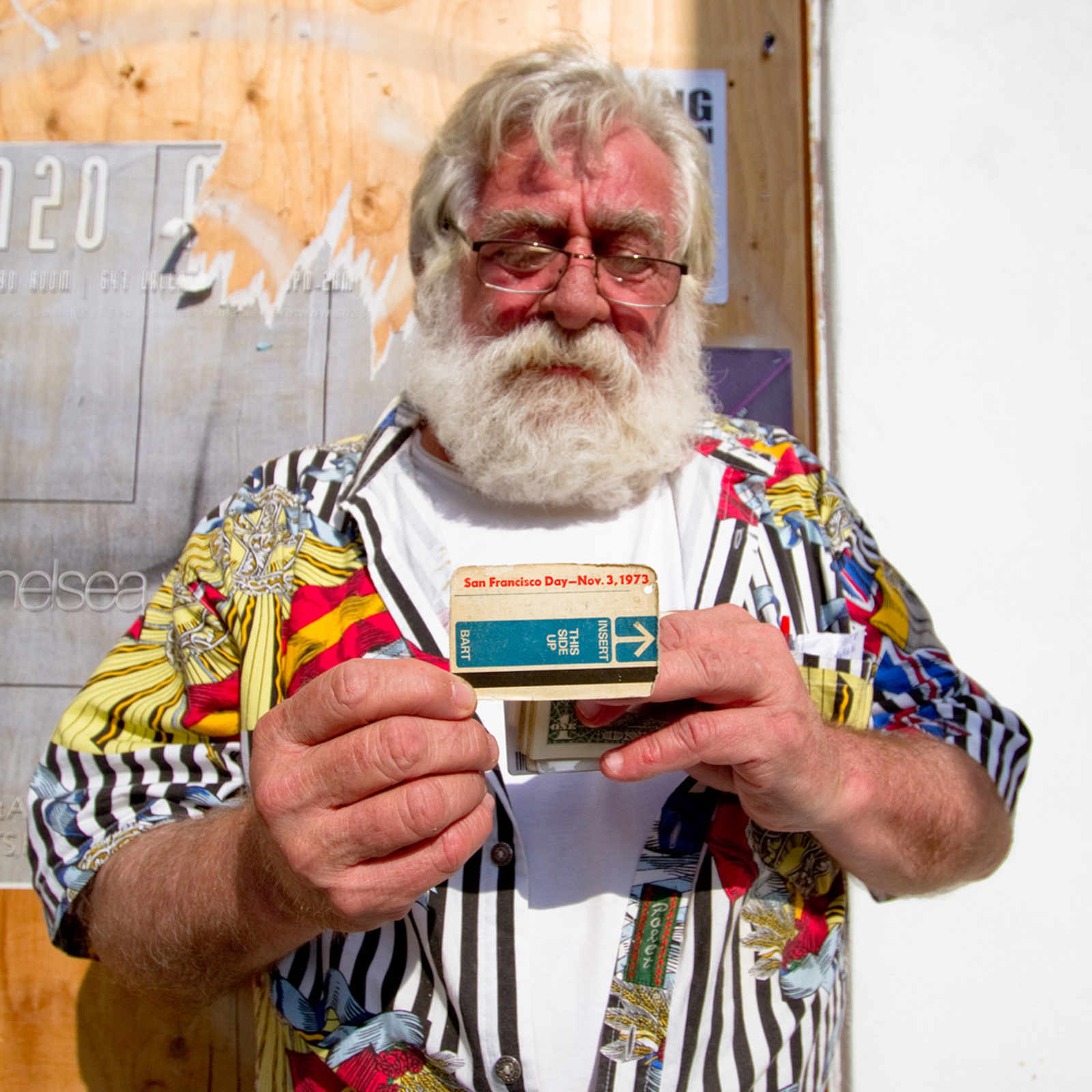 Ever wonder what happened to the Christmas gifts of yore? The wooden train sets, Red Ryder BB guns, and dolls hand crafted with the care and love of 'Ol St. Nick'? Why did it seem, that in the later half of the 20th century, that Santa had just given up?… It's because he had. 
In the 1950s, with the rise of manufactured consumerism, mass-marketed toys with national ad campaigns, and TV and film toy tie-ins, Santa's small family run workshop was struggling stay afloat.  His interest in toy manufacturing and distribution had been waining for years, but according to a 2004 interview with the now ex-Mrs. Clause, "Everything changed in 1969"; Santa discovered acid and the 'hippie' movement.  After several years spent lost in the counter-culture movement and "going Kerouc on everyone's ass," Santa finally settled down in a Mission District single resident occupancy 'hotel'. And he's been there ever since.
After 'the lost years' of 1969 to 1973, Santa emerged from his four year acid trip with a newly invigorated sense of purpose. "Fuck Middle American kids!", Santa said when our reporters caught up with him over the weekend. "With their Chinese-produced and Walmart-sold plastic tripe! American brats don't appreciate shit that doesn't take batteries and charge you a subscription fee".  With his new network of artisan craftsman and locally sourced toy manufacturing boutiques, Santa decided to try again, but this time on a smaller scale in his newfound community.  More importantly, his old methods of delivery seemed outdated, and with the rise of NORAD and the threats of foreign nuclear strike, it was now far too dangerous for him to take to the skies.  When BART opened to the public in November 1973, he had found his new sleigh. 

Concerned about the carbon foot print of his former reindeer colleagues and sleigh, Santa has turned to BART for his commute since its opening day. When we asked him about the difficulties of delivering toys to children outside of the greater Bay Area, Santa remarked that non-Bay Area children were a "bunch of assholes anyway."  
Santa is currently in talks with SOMA start-up eCoal and former BDSM site NaughtyList.net to establish a network of distribution outside of the Bay Area.  When asked about the recent BART Police shootings, Santa refused to comment and ended the interiew, stating that he had a "#OpBART strategic planning meeting to get to".