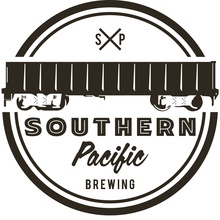 Tablehopper alerts us to the terrific news:
After many months of permits, construction, and all kinds of headaches, SOUTHERN PACIFIC BREWING is opening for a private preview party of sorts on New Year's Eve. The Facebook post announces: "New Years Eve @ Southern Pacific Brewing 8pm-2am. Be the first to see the space and taste the beer, Champagne toast at midnight, $3 house drafts all night long! $20 private party get on the list now!" (For those who want to attend, the link on their main website seems to work.) You will be able to taste the brewery's IPA and pale ale that evening.

Southern Pacific Brewery is also going to be open on New Year's Day, playing the football game and serving beers—follow their Facebook page for upcoming details on that party.
According to Tablehopper, this is a preview only—the official opening of the big Treat Street brewery (at 19th) won't be until mid to late-January.  But considering they'll be selling all their local brews for $3 a pint, I'm sure we can all give them a pass.
(You can also see a sketch of their interior design here)