San Francisco reached peak pop-up pretentiousness this morning as throngs of bored foodies waited for "nearly two hours" for day-old New York bagels.
Taking place at Dear Mom, the Mission's magnet of mediocrity, budding restauranteurs importers Sonya Haines and Wes Rowe unveiled their "Eastside Bagels" hustle, which sees Russ & Daughters bagels flown in from New York and flipped for $6 (bagel with cream cheese) to $12 (full bagel sandwich).  According to tweets from Andy Cooper, who suffered through the humiliation so we didn't have to, the entire ordeal was a pointless exercise in doom and decadence: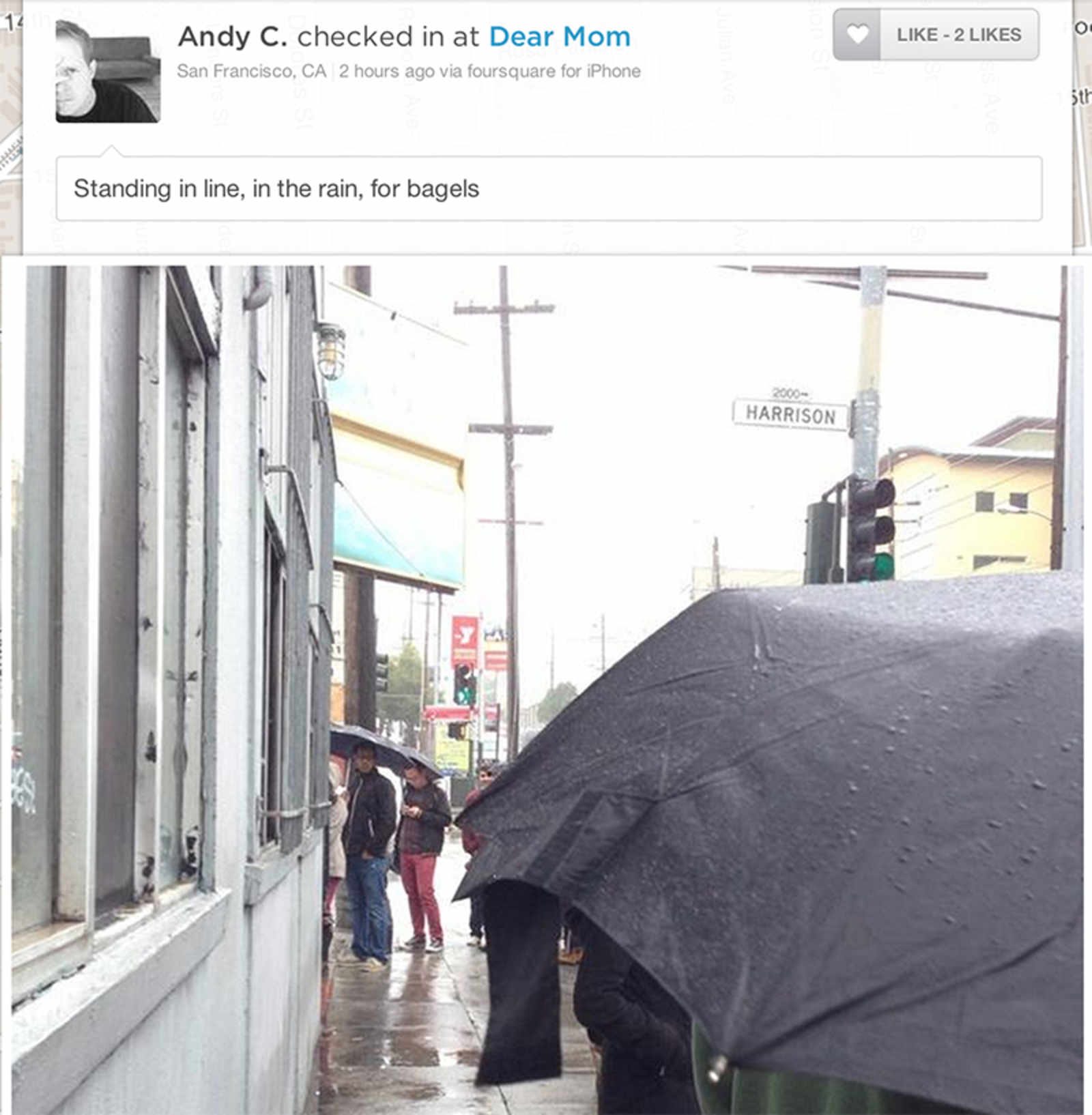 1 hour later, still on line @dearmomsf. #bagels pic.twitter.com/1j6YwNPz99

— Andy Cooper (@terrapin_sf) February 8, 2014
The line, almost to Folsom from Harrison, was just informed that if they're outside the building; they won't get #bagels.

— Andy Cooper (@terrapin_sf) February 8, 2014
Just learned that after you order, it's another 45 minutes to get your #bagels.

— Andy Cooper (@terrapin_sf) February 8, 2014
They're all gone. #bagels @dearmomsf pic.twitter.com/99mlRS7dCM

— Andy Cooper (@terrapin_sf) February 8, 2014
Been here for nearly 2 hours, still hungry. Leaving now. #bagels

— Andy Cooper (@terrapin_sf) February 8, 2014
The news of slow service and sell-outs led to an artisan riot, as moist customers raised their decorative pitchforks and hurled mildly-restrained criticism at the non-chefs.  Some poor schmuck even came up from San Jose, much to her frowny face:

While we've become dizzy with all the eye-rolling, we cannot help be impressed by the brilliance of this pop-up and its ability to lure people into the most degrading "yuppie bread line" possible.  Here are some other pop-up ideas to subsidize your next East Coast vacation:
"Box O' Joe" Irish coffee pop-up at Buena Vista.
$12 reheated slice of Crazy Dough's.
Bottles of water, filled from the bathroom sink of a West Philly Wawa.
$2 week-old Dunkin' Donuts Munchkins.
Scratched Dropkick Murphy's CDs purchased at various Quincy garage sales.
Coolers full of authentic snow collected from Brooklyn (gross old dirty snow, not the fresh stuff).
Rosemunde pop-up, featuring sausages imported from Rosemunde Williamsburg.
Bagels purchased from C-Town Supermarket that you claim Danny Bowien breathed on.
Go forth and make your money, young jetset entrepreneurs. And congratulations to you, foodies of San Francisco, for effectively releasing any claim of superiority over New York City.