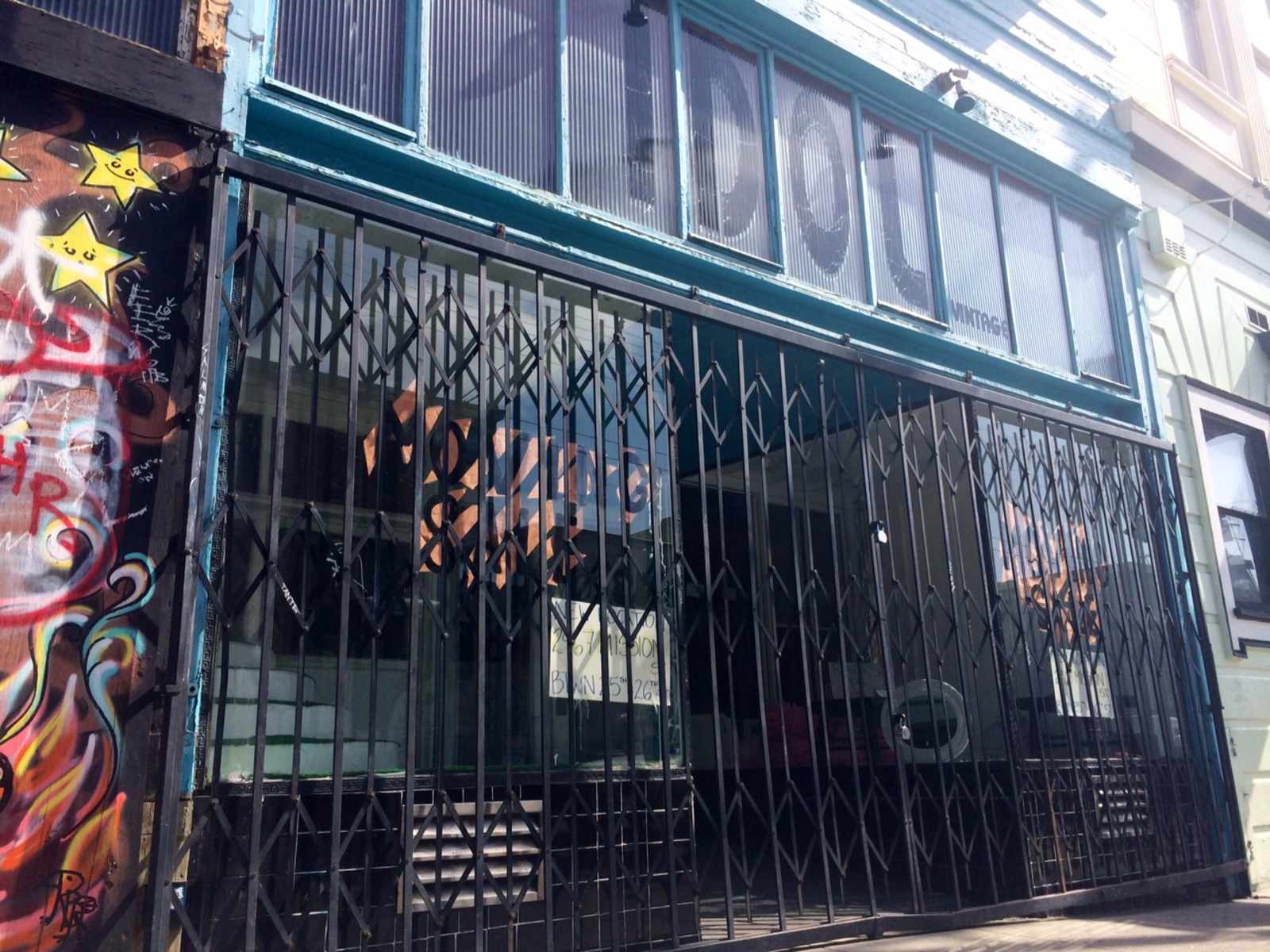 As landlords surrounding Valencia Street ogle their neighbor's success—and commensurate high rents—they continue raising rents and displacing businesses in hopes of remaking their streets and properties in Valencia's image.
No where is this quite as obvious as 16th Street, where once vibrant storefronts sit boarded up, passively awaiting monied tenants and even trendier businesses to move in.  The latest victim in this pursuit is Idol Vintage, the used clothing haven that's sat at 16th and Albion for 13 years.
None of this is too surprising, of course.  When we originally reported last spring that Liz Claiborne was pushing for Adobe Books' eviction from their then-16th Street location, we mentioned "that representatives from Jack Spade allegedly went into neighboring retailer Idol Vintage 'without warning' and 'literally measured the store with a tape measurer' with future expansions in mind."
While the proposed Jack Spade store went down in flames following extensive community backlash, it was clear that the landlord that jacked Adobe's rent by 87.5% would hit Idol Vintage with similar increases.  And when Idol's lease expired last year, that's exactly what happened.
"Once our lease was up, our landlord raised our rent to $7,500 a month [from $5,000]," Idol's owner, Dolores, told us when reached by phone.
$7,500 is already high for most businesses, but especially so for one that specializes in selling vintage clothes.  However, it was made even harder to stomach by the rent increases, displacement, closures, and property sales has left Idol's block of 16th between Valencia and Guerrero with five empty storefronts in the last year—and foot traffic severely reduced.
Andalu closed in January to make way for a forthcoming Chinese restaurant from Tacolicious, Tokyo GoGo shuttered in favor of a new upscale cocktail bar currently under construction, Adobe Books was pushed onto 24th Street by Jack Spade, an auto garage closed and sold for $8.7 (presumably) for condos, and Val 16 Market closed after their landlord allegedly raised their rent over $10k.  The result of this was that January and February were some of Idol's slowest months in their history, despite the higher rents.
"If we were on Valencia, we wouldn't have to move," Dolores stressed.  "But with all the closed businesses on 16th, there's just not enough foot traffic."
Like many retailers before her, she's relocating south to 25th and Mission (2967 Mission, to be exact), where rents are "half as much."  And they're scrambling to open before the Bay to Breakers rush, with a grand re-opening celebration scheduled for next Saturday.
As for their old location? Dolores tells us representatives from a hamburger chain was sizing up the property before Idol could finish packing.