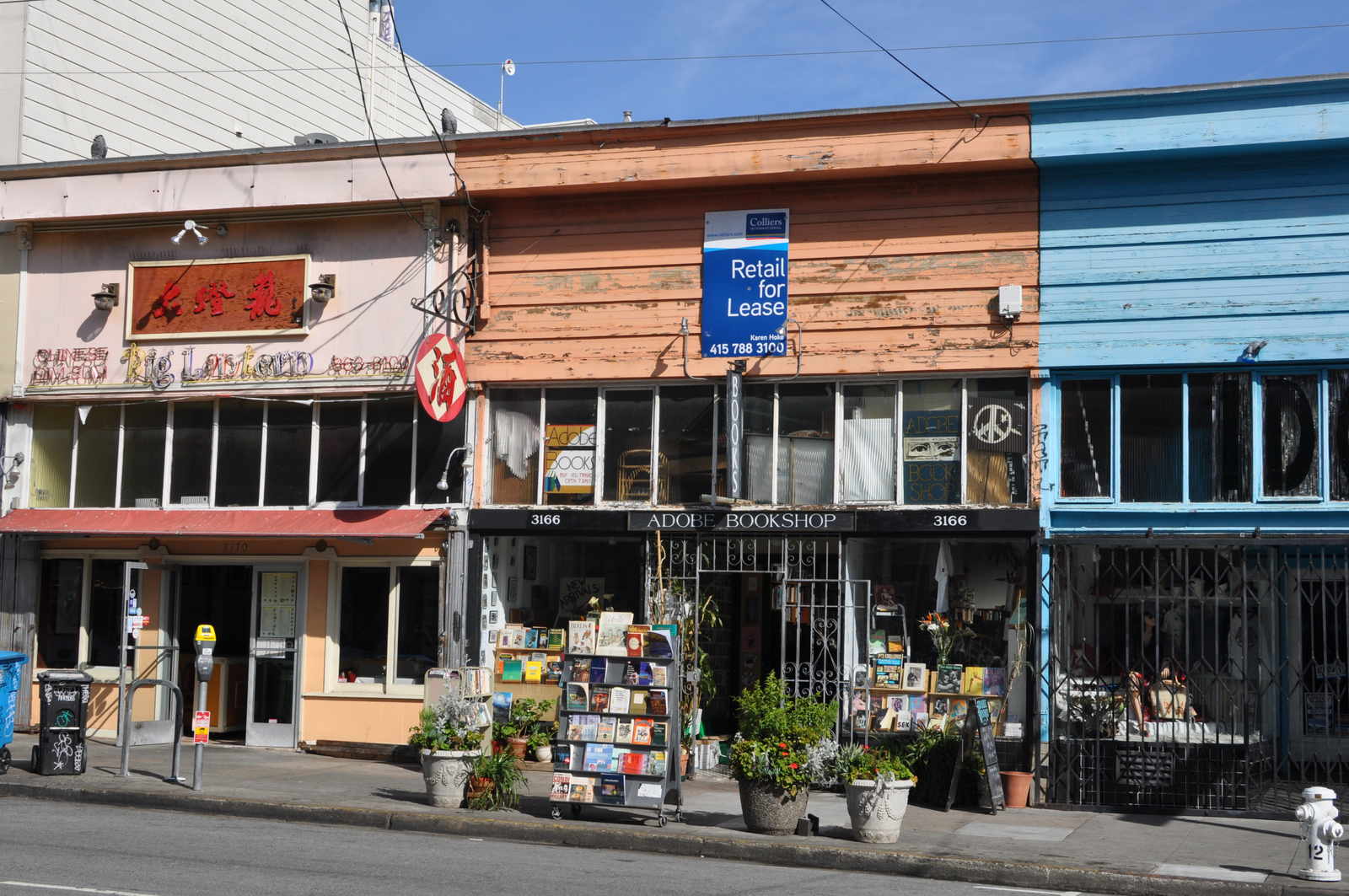 Following last week's report that Jack Spade is pushing for Adobe Books' eviction, we just learned that the 25-year-old bookshop has been served its final eviction notice.  A member of the Adobe Books Collective relayed the news, telling Uptown Almanac "the property owner of the Adobe space served [owner Andrew McKinley] an eviction notice for June 15."
The eviction notice comes less than two weeks after Adobe Books raised $60,000 to cover a year's worth of rent increases.
The biggest unknown surrounds the future of the space.  As you may recall, Jack Spade—a subsidiary of the Liz Claiborne conglomerate—sought a Letter of Determination from the Planning Department regarding the brand's status as a formula retailer last summer.  But besides job ads and reportedly sizing up Idol Vintage next door, they've been completely silent about their plans. (To us, having your press person decline to confirm or deny you intentions is a de facto admission of ill intent.  Alas.)
It stands to reason that Jack Spade is sprinting to open a location in the Mission, hoping to avoid a damaging fight with residents the likes of 2009's protest that kept American Apparel from opening on Valencia Street.  As Jack Spade only operates 10 stores in the United States, they are one store shy of meeting the city's definition of formula retail, which is banned along the Valencia corridor.  Their proposed location at 3166 16th Street would be that store.
A press release from earlier this month confirms Jack Spade's aggressive growth:
Jack Spade, Kate's little brother is more than ready to step out of his sister's shadow as the brand becomes a major focal point and potential growth driver for [parent company] Fifth & Pacific. The brand is now poised for broader expansion, as Fifth & Pacific's CEO William McComb said that Jack Spade 'can be a $100 million men's business with very high margins." The company has invested heavily in the brand as it moves closer to attaining lifestyle brand status. The investment has taken the form of store expansions as the brand grew from three units to 10 stores. Those numbers are also expected to rise as retailers set its sights on domestic and international markets, notably China, according to vice president and brand director Cuan Hanl
It seems the purveyor of $495 lemon raincoats is trying to sneak their way into the Mission District before it becomes illegal to do so, skirting the intent of the city's anti-formula retail legislation.  Adobe Books just happens to be a casualty in their pursuit.
We'll update if we hear anything else.  If you have any inside knowledge of Jack Spade's plans, drop us a line at tips@uptownalmanac.com.