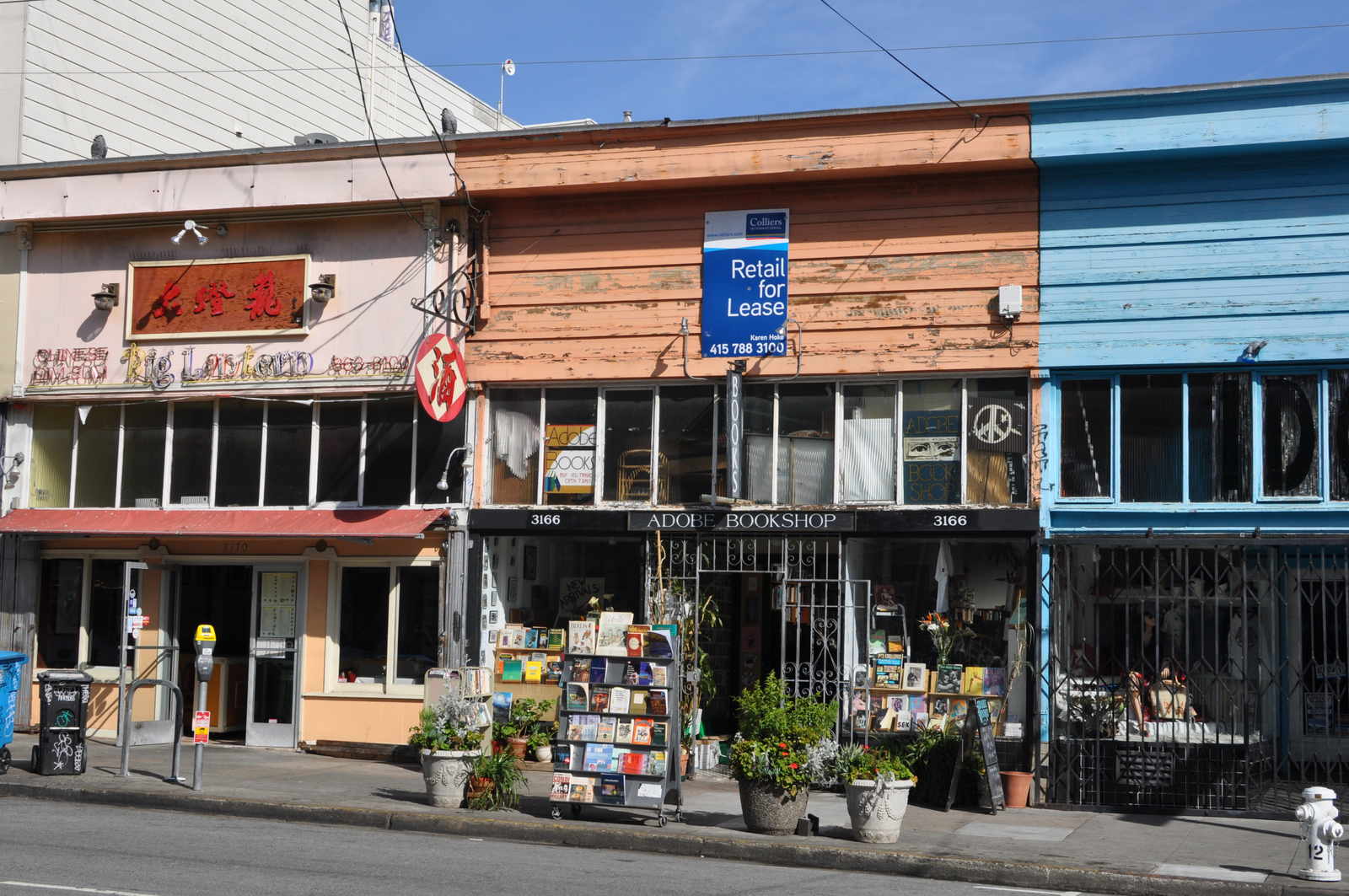 When Adobe Books' landlord raised the 25-year-old bookshop's rent from $4,500 to $6,000 last spring, the shop and the community it serves rallied for its future. Authors Stephen Elliott, Rebecca Solnit, Michelle Tea, and musicians The Dodos held in-store fundraisers that saw overflow crowds spill out into the street.  Over 600 people donated to an Indiegogo fundraising campaign to save Adobe and create a co-op to manage it.  Just last week the fundraiser successfully raised $60,000, giving the shop at least a year of rent money.
"It's obvious the community supports us," Liz, one of Adobe's employees, told me this morning as she sorted a box of yellowing Playboys.
But their landlord was less inspired by the effort.  They responded by further raising the shop's rent to $8,000 and demanding improvements be made to the space.
"We cleaned up everything, reorganized the space, even painted behind bookcases… spots that haven't needed to be painted since forever."
Unfortunately that hasn't been enough for the landlord—they have decided they want Adobe out.  And they're being emboldened by a fashion retailer valued at $2.3 billion and traded on the New York Stock Exchange.
According to public records, Fifth & Pacific Companies Inc.—better known by their former name, Liz Claiborne Inc.—has been eying Adobe's storefront at 3166 16th Street since at least July 30th of last year, when Melissa Xides, the self-described "co-leader" of Fifth & Pacific's upscale Jack Spade label, wrote to the San Francisco Planning Department asking if the company fell into the city's "formula retail" category.
"I am writing on behalf of the fashion retailer Jack Spade to request a Letter of Determination regarding a proposed retail store that Jack Spade is pursuing on 16th Street in the Valencia Street NC district," the letter began. "Jack Spade designs men's bags, accessories and apparel that blend functionality and style. Jack Spade is based in New York City and only has seven stores in the United States. We are not a Formula Retail store and are asking for confirmation of this from the Planning Department."
"Jack Spade stores operate more like a traditional haberdashery with a focus on customer service and relationships with our clients and community… direct community outreach is very important to the Jack Spade brand team."
While the Planning Department later agreed Jack Spade wasn't formula retail, citing their relative independence from their monied parent company, the business has been remarkably secretive about their plans.  They have held no public meetings about their move into the Mission District, the job ads for the soon-to-be-opened store do not disclose the neighborhood it will be located in, and the staff of Adobe has been kept in the dark from their landlord (Liz told us she knew "nothing" about Jack Spade's intentions).  Another source told us that representatives from Jack Spade allegedly went into neighboring retailer Idol Vintage "without warning" and "literally measured the store with a tape measurer" with future expansions in mind.
With Jack Spade's deep pockets giving Adobe's landlord unmatchable financial leverage over the small used bookstore, getting pushed out of their home since 1988 is almost certain.  "It just doesn't make sense to run a bookshop [when paying] $8,000 a month in rent," Liz conceded, acknowledging the shop is bracing for a forced relocation.
"There's just no way."
Representatives for Jack Spade could not be reached for comment.