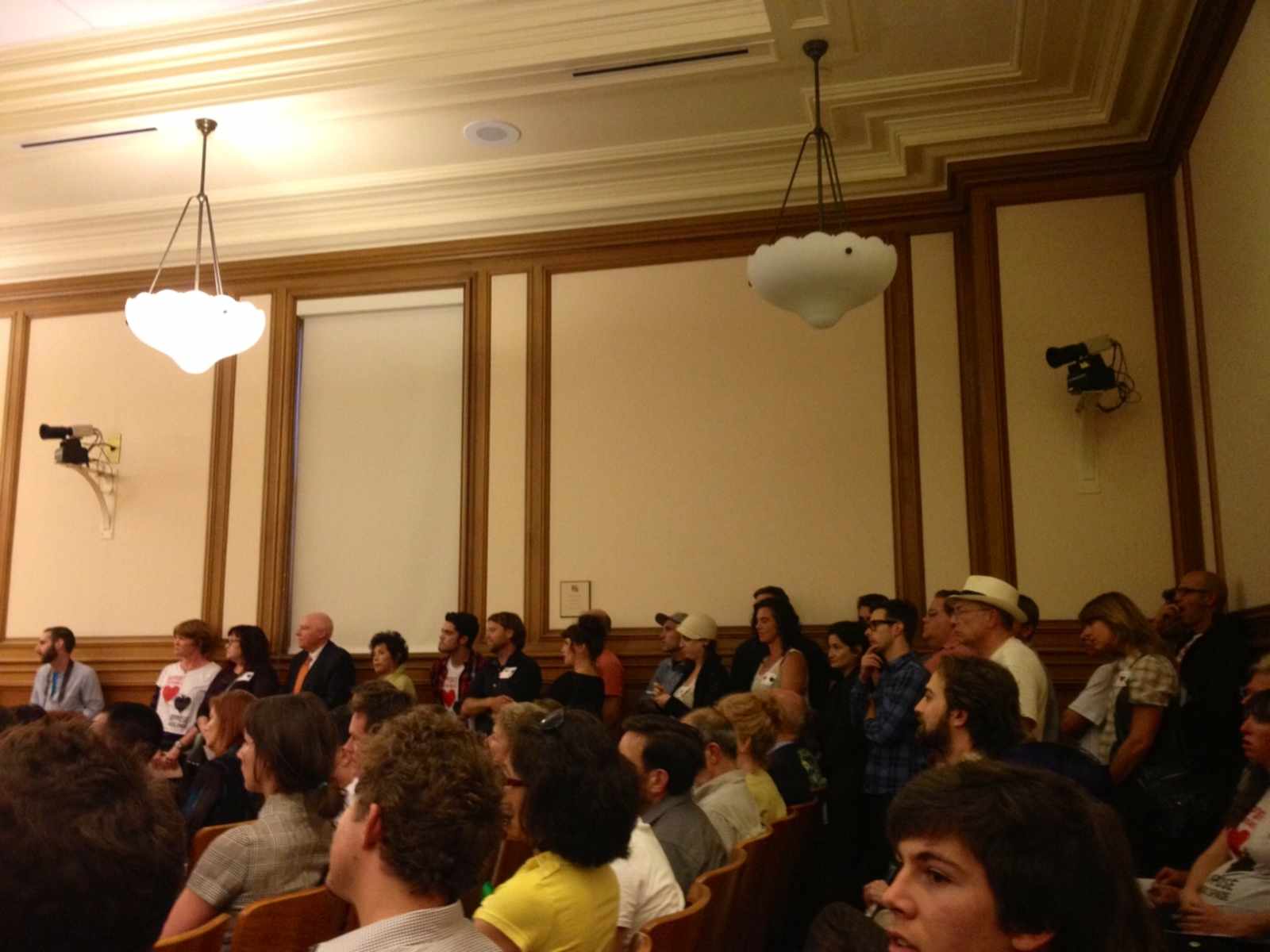 Wanting to capitalize on the recent influx of immaculate artisans on Valencia, Jack Spade has been pushing hard to move into the neighborhood—from getting a local bookstore kicked out of their 25-year-old home through rent increases, to aggressively demanding local businesses support their efforts, to even—as Zoning administrator Scott Sanchez told the Board of Appeals last week—misleading Sanchez in making his formula retail letter of determination, which allowed Jack Spade to initially move forward with their 16th Street expansion under false pretenses.
Given the situation, the Valencia Corridor Merchants Association was successfully able to get Jack Spade's construction permit suspended early last month.  But last night, the Board of Appeals fell one vote short of permanently overturning their building permit, allowing Jack Spade to resume construction.
Jack Spade co-leader Melissa Xides flew all the way in from New York to attend the meeting and praise Jack Spade as a community company and small business—distinguishing it from the billion-dollar enterprise which it is a subsidiary of. As quoted by Mission Local, she praised the neighborhood's gentrification and her business:
"We are a neighborhood retailer through and through, there is nothing formulaic about our stores," said Xides. "We fell in love with the uniqueness of 16th Street…We fell in love with the food scene and gentrification that's happening there."
Somewhat contradictorily, Jack Spade's supporter's main arguments is that 16th Street is a rotten shithole that only a multinational business can fix—Bell Jar's Sasha Wingate complained about graffiti and feces outside her shop; skateboard badass-cum-fashion designer Benny Gold spoke about his concern for his young daughter's safety on the block.
But the real gem came during last week's Board of Appeals meeting, when pro-Jack Spade neighbor came up to the Board and began showing pictures of graffiti along 16th Street. At one point, she highlighted a sticker on a parking meter reading "BOOKS BOOKS BOOKS" and stated that we needed to clean up the neighborhood, and Jack Spade would make it happen. How ironic, the very person who wants to remove a "BOOKS BOOKS BOOKS" sticker sided with the retailer who removed Adobe Books Books Books.
VCMA members admit that their only course of action left is to put pressure on Jack Spade's CEO and management to back out. But Jack Spade's employment page is filling up with positions for their future 16th Street store, those prospects seem dim.