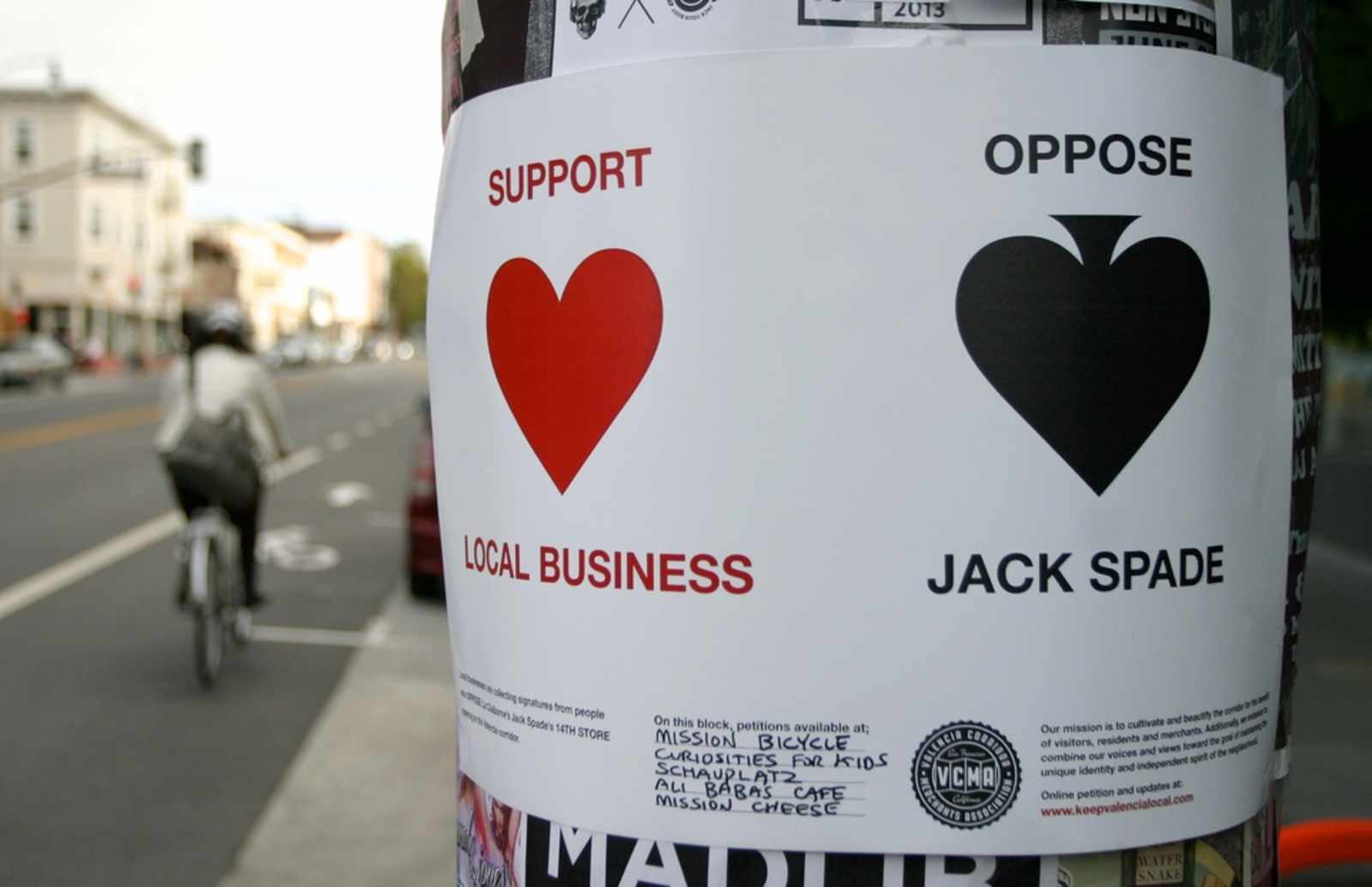 With Adobe Books packing up their 25-year-old 16th Street location, evicted financially by their landlord on behalf of Liz Claiborne's Jack Spade label, the Valencia Corridor Merchants Association is petitioning to keep the luxury men's store from moving into the location.
The organization is hoping to repeat the success of their outreach campaign against American Apparel, which successfully swayed the clothing manufacturer from opening on Valencia in 2009.
"American Apparel made the decision to abort their efforts to open up a retail store in the corridor [in response to community backlash]," Jefferson McCarley of Mission Bicycle told us. "We are hoping that when Jack Spade sees how strongly the community feels about this, they will also decide not to pursue this location here."
Jack Spade's lease of 3166 16th Street reportedly begins on June 15th, but their opening date remains shrouded in secrecy.  As their move-in looms, the VCMA feels they have exhausted all other means to sway Jack Spade.  The company has refused to engage the local business community, declining through a media spokesman to meet with the organization and discuss alternative locations in the city.  Neighborhood Supervisors Wiener and Campos remain ambivalent towards the the store, and the Planning Department will not host a public meeting on the company, as it ruled the company does not meet the city's "formula retail" definition on a technicality that only 10 of their 13 locations are in the United States.
As Eileen Hassi of Ritual Roasters tells us:
Jack Spade is clearly formula retail by the SF Planning Department's definition, but unfortunately the way the law is written, it's not until AFTER the 11th [U.S.] location that a business is required to have a public hearing.  Without a public hearing, we have to find other means of getting the public's opinion and sharing it with the business and the Planning Department.  What better way than a petition?  It will show that it's a diverse cross-section of the population of the Mission, and of San Francisco, that is opposed to Jack Spade opening on the Valencia Corridor.
She adds:
I'm a fan of the [Planning Department's] hearing process.  I think it works.  I'm happy to say it worked with American Apparel, it worked with the Starbucks that just tried to go in to the Castro, on Market at Sanchez.  It's frustrating that Liz Claiborne/Jack Spade has figured out how to game the process.  It's no accident that this is their 11th US location.  I think the very fact that this multinational corporation figured out the loophole and exploited it should be a very clear message to the Planning Department that the ambiguity of the law should be corrected.
Many have received that message.  Following GANT's controversial opening in Hayes Valley, Supervisor London Breed proposed legislation that would count all worldwide locations when considering a chain's formula retail status.  However, that legislation only applies to Hayes Valley and would not affect Jack Spade.
Supervisor Scott Wiener, whose district includes the planned Jack Spade location, instead favors relaxing formula retail restrictions for the Mission District. Andres Power, legislative aide to the supervisor, has told VCMA members that Wiener would like to increase the allowable number of U.S. locations a store may have to 20.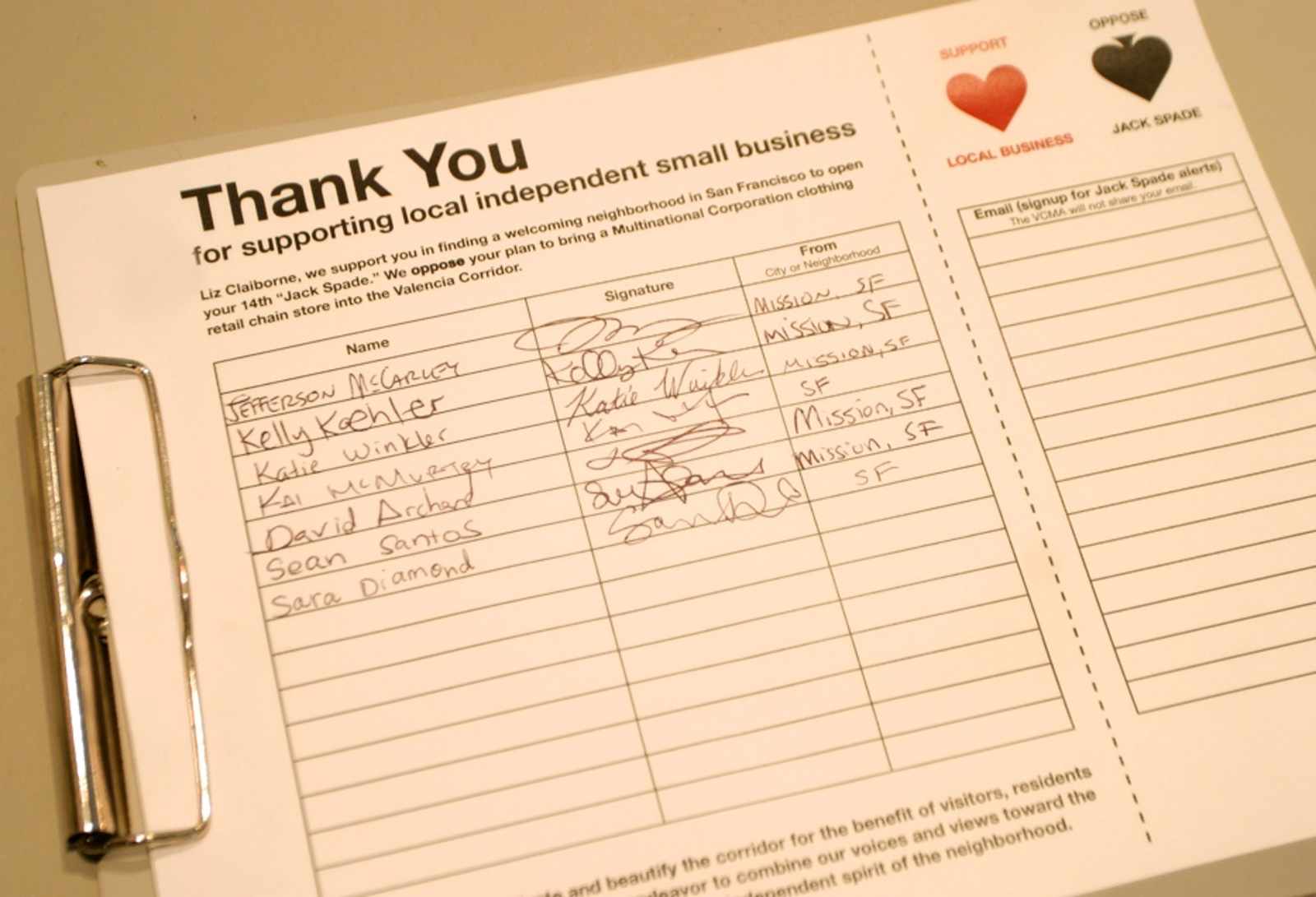 Dema Grim from DEMA tells us that over 30 stores in the neighborhood are hanging posters promoting the petition in their windows.  At least 20 with host the petition on their sales counter.
The only public supporter the Liz Claiborne subsidiary has found is Phil Lesser of the Mission Merchants Association; however, Spade allegedly had to pay Lesser a hefty sum as a "permit expediter" to get his "blessing."  The Mission Merchants Association is yet to take a position on the company, but their president, Casanova owner Don Alan, has reportedly told Jack Spade that "they would be unwelcome on the Valencia corridor" and "strongly suggested they look for alternate locations" in the city.
With so few legal options available to the VCMA, they hope that public opinion will convince Jack Spade to explore more commercial locations.
"I don't oppose Jack Spade," Haley Lynn, manager of Five & Diamond, conceded. "I just oppose them moving into the Valencia Corridor."
"The best part of San Francisco is all the different feelings in each neighborhood. Each neighborhood really identifies with a certain culture. That atmosphere is created by the merchants and residents in those areas. The Mission District is no exception: it is filled with so much rich, local flavor—people come here looking for a different vibe than they have experienced anywhere else. But if we have multi-national corporations like Jack Spade moving in to the Valencia Corridor, our neighborhood will lose its independent feeling."
Mark Holcomb, a spokesman for Jack Spade, has not responded to our inquiries.