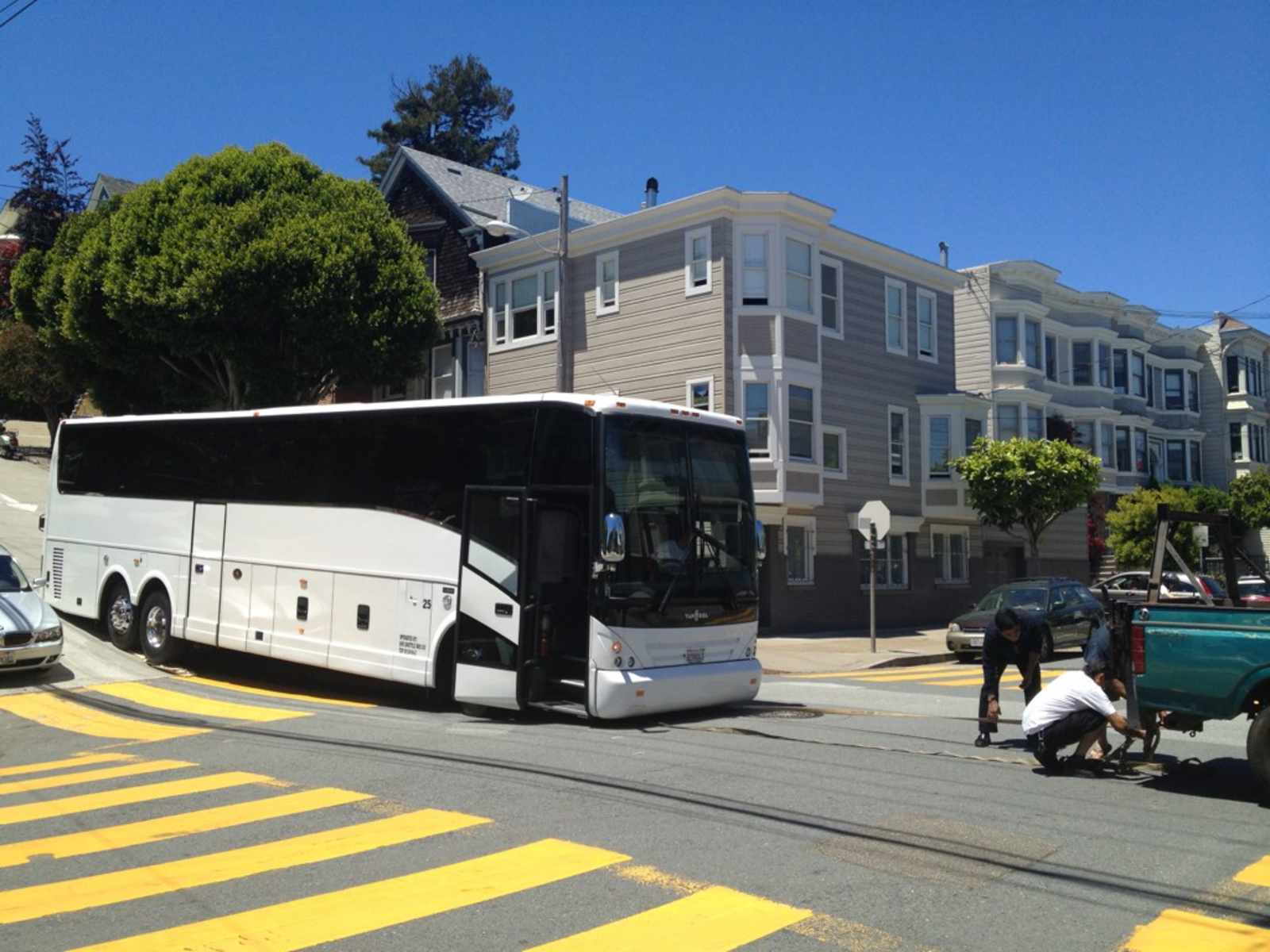 Google Buses have been around for a while, but with the mobile boom raising rents and giving way to weird new semi-spiced fusion restaurants, they are suddenly BIG NEWS.  So big that the controversy surrounding them has leaped form humble stencils outside of coffeeshops to the likes of NY Mag.  And now the London Review of Books is getting in the mix with an essay by 30+ year San Franciscan Rebecca Solnit.
It's long and comprehensive, tackling more than I could possible summarize in an early morning blog post.  But it goes beyond the usual whine of rental costs and Those Damn Kids With Their Cellamaphones and tries to give the boom some historical context.  So rather than pick out some highlights, I'll just leave you with the first few paragraphs and encourage you to read on:
The buses roll up to San Francisco's bus stops in the morning and evening, but they are unmarked, or nearly so, and not for the public. They have no signs or have discreet acronyms on the front windshield, and because they also have no rear doors they ingest and disgorge their passengers slowly, while the brightly lit funky orange public buses wait behind them. The luxury coach passengers ride for free and many take out their laptops and begin their work day on board; there is of course wifi. Most of them are gleaming white, with dark-tinted windows, like limousines, and some days I think of them as the spaceships on which our alien overlords have landed to rule over us.

Other days I think of them as the company buses by which the coal miners get deposited at the minehead, and the work schedule involved would make a pit owner feel at home. Silicon Valley has long been famous for its endless work hours, for sucking in the young for decades of sixty or seventy-hour weeks, and the much celebrated perks on many jobsites – nap rooms, chefs, gyms, laundry – are meant to make spending most of your life at work less hideous. The biotech industry is following the same game plan. There are hundreds of luxury buses serving mega-corporations down the peninsula, but we refer to them in the singular, as the Google Bus, and we – by which I mean people I know, people who've lived here a while, and mostly people who don't work in the industry – talk about them a lot. Parisians probably talked about the Prussian army a lot too, in the day.

My brother says that the first time he saw one unload its riders he thought they were German tourists – neatly dressed, uncool, a little out of place, blinking in the light as they emerged from their pod. The tech workers, many of them new to the region, are mostly white or Asian male nerds in their twenties and thirties; you often hear that to be over fifty in that world is to be a fossil, and the two founders of Google (currently tied for 13th richest person on earth) are not yet forty.

Another friend of mine told me a story about the Apple bus from when he worked for Apple Inc. Once a driver went rogue, dropping off the majority of his passengers as intended at the main Apple campus, and then rolling on towards San Jose instead of stopping at the satellite location, but the passengers were tech people, so withdrawn from direct, abrupt, interventionary communications that they just sat there as he drove many miles past their worksite and eventually dumped them on the street in a slum south of the new power centre of the world. At that point, I think, they called headquarters: another, more obedient bus driver was dispatched. I told the story to another friend and we joked about whether they then texted headquarters to get the email addresses of the people sitting next to them: this is a culture that has created many new ways for us to contact one another and atrophied most of the old ones, notably speaking to the people around you. All these youngish people are on the Google Bus because they want to live in San Francisco, city of promenading and mingling, but they seem as likely to rub these things out as to participate in them.