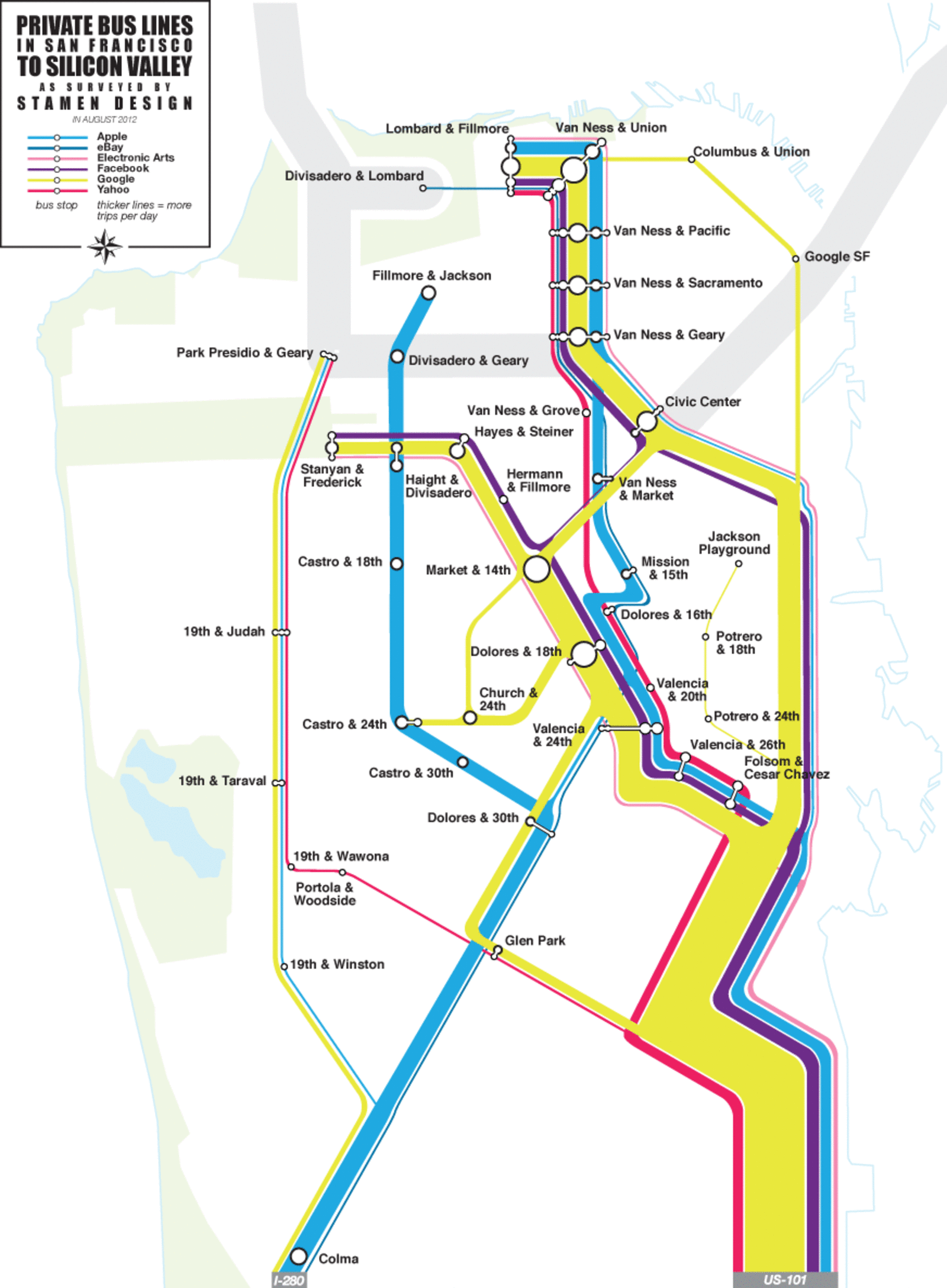 The folks over at Stamen Design, famous for their Crimespotting and Cabspotting maps, created this handy transit map explaining the approximate routes all those pesky 'gentrifying' (according to some stencil outside of Ritual, at least) wifi-equiped white buses full of tech workers take:
Fundamental shifts are underway in the relationship between San Francisco and Silicon Valley.

Historically, workers have lived in residential suburbs while commuting to work in the city. For Silicon Valley, however, the situation is reversed: many of the largest technology companies are based in suburbs, but look to recruit younger knowledge workers who are more likely to dwell in the city.

…Several Stamen staff live on Google shuttle routes, so we see those shuttles every day. They're ubiquitous in San Francisco, but the scale and shape of the network is invisible.

We decided to try some dedicated observation. We sat 18th & Dolores one morning, and counted shuttles. We counted a new shuttle every five minutes or so; several different companies, high frequency. We also researched online sources like Foursquare to look for shuttle movements, and a 2011 San Francisco city report helped fill in gaps and establish basic routes.
As you can imagine, this map isn't completely accurate.  They wanted to imagine what this all would look like if the private shuttles were an actual transit system, so they simplified things a bit.  But, at the end of the day, this alt transit network carries 35% of the Caltrain load every day—and the Mission is well represented.
Now, if someone would mash this map with average rents, things could get really interesting.
[Stamen]