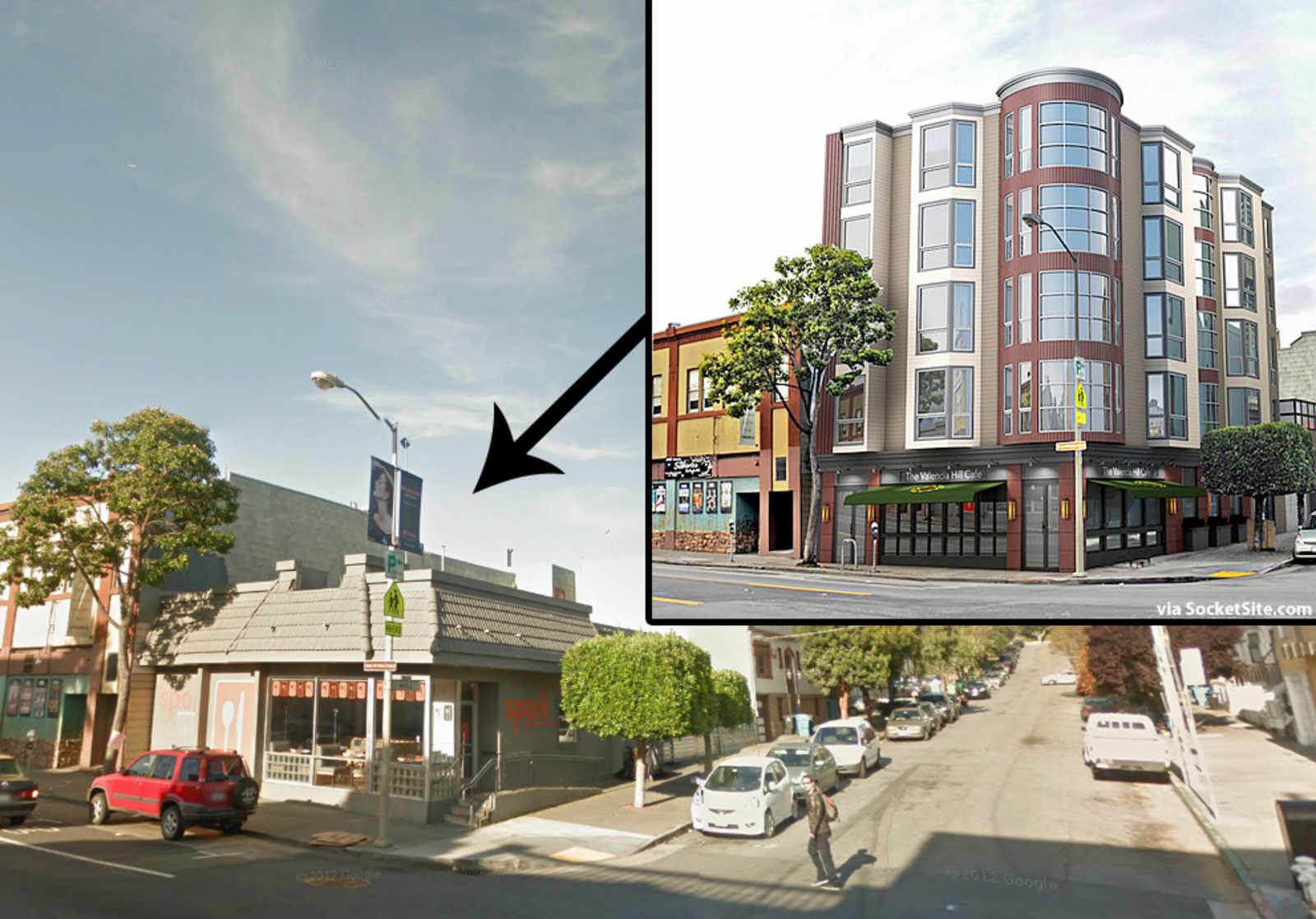 While the "artisan haircut"-promising 299 Valencia has been attracting a lot of negative attention lately, another forthcoming development down the street is getting neighbors all worked up.
Apparently people are fuming over plans to convert the historic Kentucky Fried Chicken building into another boring, tasteless, cookie-cutter condo development.  The problem?  It's too tall, it doesn't provide any parking (it's a "bike-centric" building, whatever that means), would "devastate" The Marsh Theater next door, and is irresponsible towards the "character, culture and integrity" of the community.  But it gets worse:
[At a meeting discussing the project], one neighbor kept it simple. "My concern is trivial but I will voice it — the building is ugly," he said.
Yup, it's ugly.  Fact.  It's so ugly that the ugliness of what is slated to replace the neighborhoody KFC is at the heart of the petition letter area businesses are sending to the Planning Commission:
As an owner/manager of a business on Valencia Street I oppose the proposed construction of a five story, fifty-five foot tall, twelve unit apartment building on the corner of Valencia and Hill Streets (1050 Valencia Street). This blandly-designed project is out of character with the charming stretch of mostly one, two and three story buildings and stores along this stretch of Valencia Street and surrounding blocks. It threatens the unique neighborhood feel that attracted us to locate our business here and which draws the clientele that we depend upon for our survival.

We respectfully request that you reject the plans submitted for 1050 Valencia and ask the developer submit plans that are compatible with our neighborhood.
I don't personally have any food in this fight, but I can see where neighbors are coming from.  When I look at the plans, I see yet another pricy see-thru box with a UPS Store on the ground floor, disrupting the unique vibe of the neighborhood.  When I look at what stands today, I see a Kentucky Fried Chicken.
With that, the Liberty Hill Neighborhood Association has lined Valencia Street with a heap of soon-to-be-torn-down fliers, requesting that every able-bodied fist-shaker storm City Hall tomorrow and let the Planning Commission know they're not down with "blandly-designed" buildings on Valencia.  So if you want to defend Valencia against this glass-paned bane and preserve our unique architectural character, you best show up to Room 400 tomorrow at noon.  There's a Kentucky Fried Chicken at stake.