Readers, it's tough to stay ahead of the culinary curve in a city like San Francisco. Here at Uptown Almanac, we try to keep you, our foodie readers, abreast of the hottest trends in cocktailology, foodification, and general eatistry. We know that your discerning palates won't accept just any burrito, even if its strapped to your hands and inserted forcefully down your gullet. Uptown authors have sacrificed their stomachs, intestinal tracts, taste buds, and self-respect in the name of keeping you informed. Today we bring you the most recent installation in this pursuit.
Cheeto-infused vodka is the final frontier in trashy American drinking. We can't even tell you how we came up with this idea, but when you hang out at bars like Clooney's, sometimes inspiration comes in mysterious forms. Read on, fellow maverick drinkers, as we walk you through the step by step process of making (and enjoying!) a Cheeto-infused vodka shot of your very own.
Step One: Put Fergie's "Glamorous" on the jukebox. Flossy flossy!
Step Two: Order a shot of well vodka, neat.
Step Three: Open your bag of crunchy Cheetos and select the two beefiest, most robust curls to use in your shot. Set them aside, protected from your friends' grabby hands. Devour all remaining weak, puny Cheetos before proceeding.
Step Four: Place your finest Cheeto specimens in the vodka shot. They will float at first. This is because Cheetos are mostly air. That's why they're a health food; your body spends more calories digesting all that air than are in each Cheeto. It's science. Anyway, be patient with your floaty Cheetos as they will eventually absorb enough vodka to sink. Pound a beer while you wait to fortify your insides for the assault to follow.
Step Five: Gently prod your Cheetos to aid in vodka absorbtion and general mixification. Like so:
Step Six: Your Cheeto shot should now be ready for consumption. But wait! Here lies the best part about the Cheeto shot - it's a two-part treat! One part shot, one part tasty vodka soaked Cheeto. Remove Cheetos from the vodka, and pop 'em in your mouth. At first you feel like you have a normal but somewhat wet and soggy Cheeto in your mouth. But then you bite into it, and your mouth is suddenly filled with an acidic, lukewarm geyser of Popov's vodka and MSG. Mmm mmm tasty! Results should look something like this: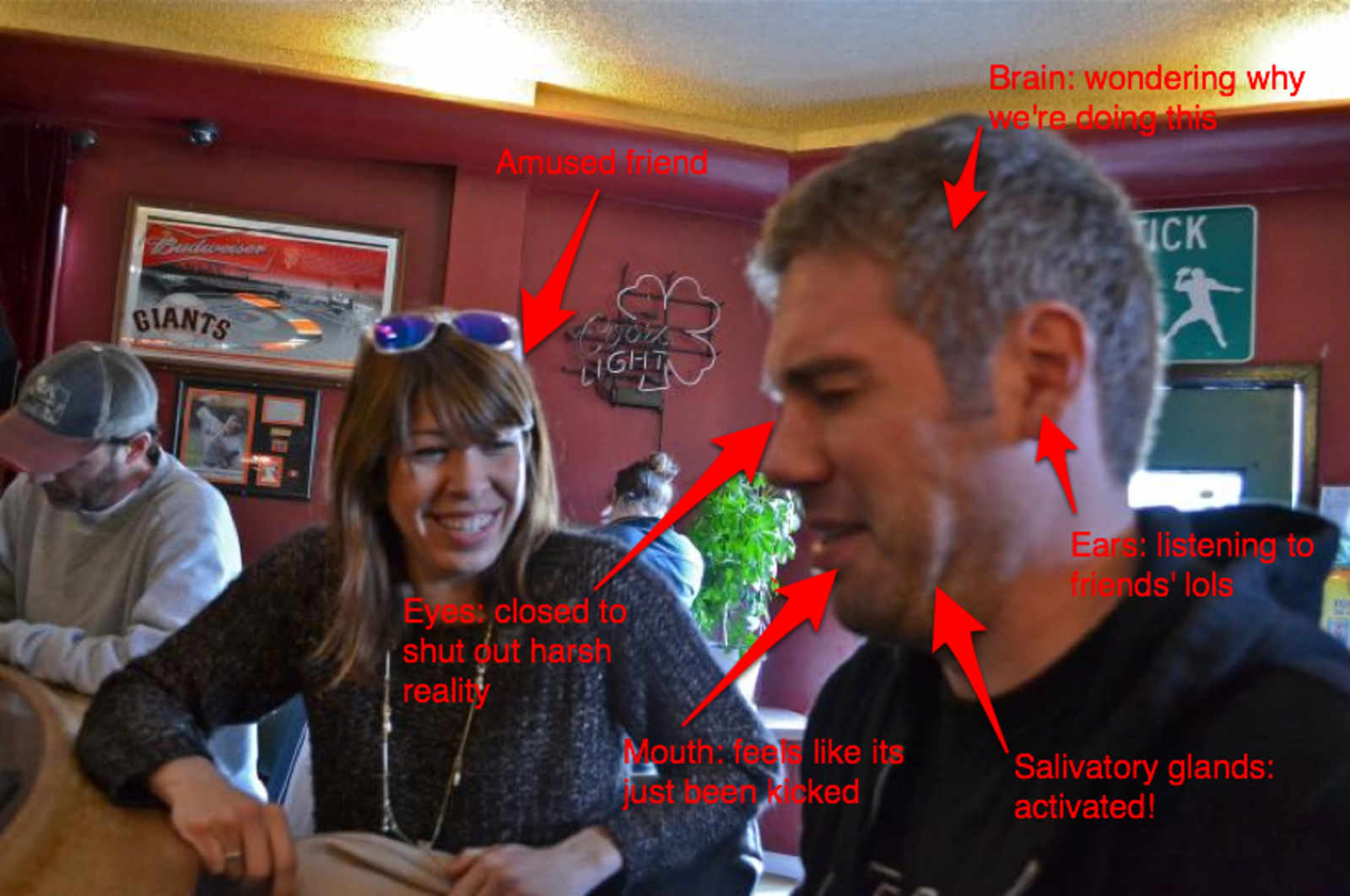 Step Seven: Take the shot. You know how this is done. Expect a reaction similar to this: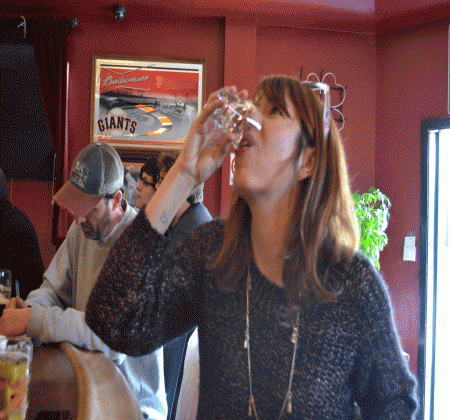 The bitterness of the vodka is quickly overwhelmed by the perverted pang of MSG. The assault of the Cheeto shot befuddles the tastebuds and confuses the mind of the consumer. It's so disgusting, you don't want to swallow it - yet you know that holding it in your mouth is the only thing worse than swallowing. Cheeto-infused vodka is the ultimate bridge between childhood and adulthood, where your whimsy and youthful sense of adventure compels you to find new uses for your favorite childhood snack and your favorite adult beverage. It's the perfect balance, for when you want both vodka and cheese without the inconvenience of consuming both separately.
Estimated Cost: $5 ($4 vodka shot, $1 baggie of Cheetos from behind the bar)