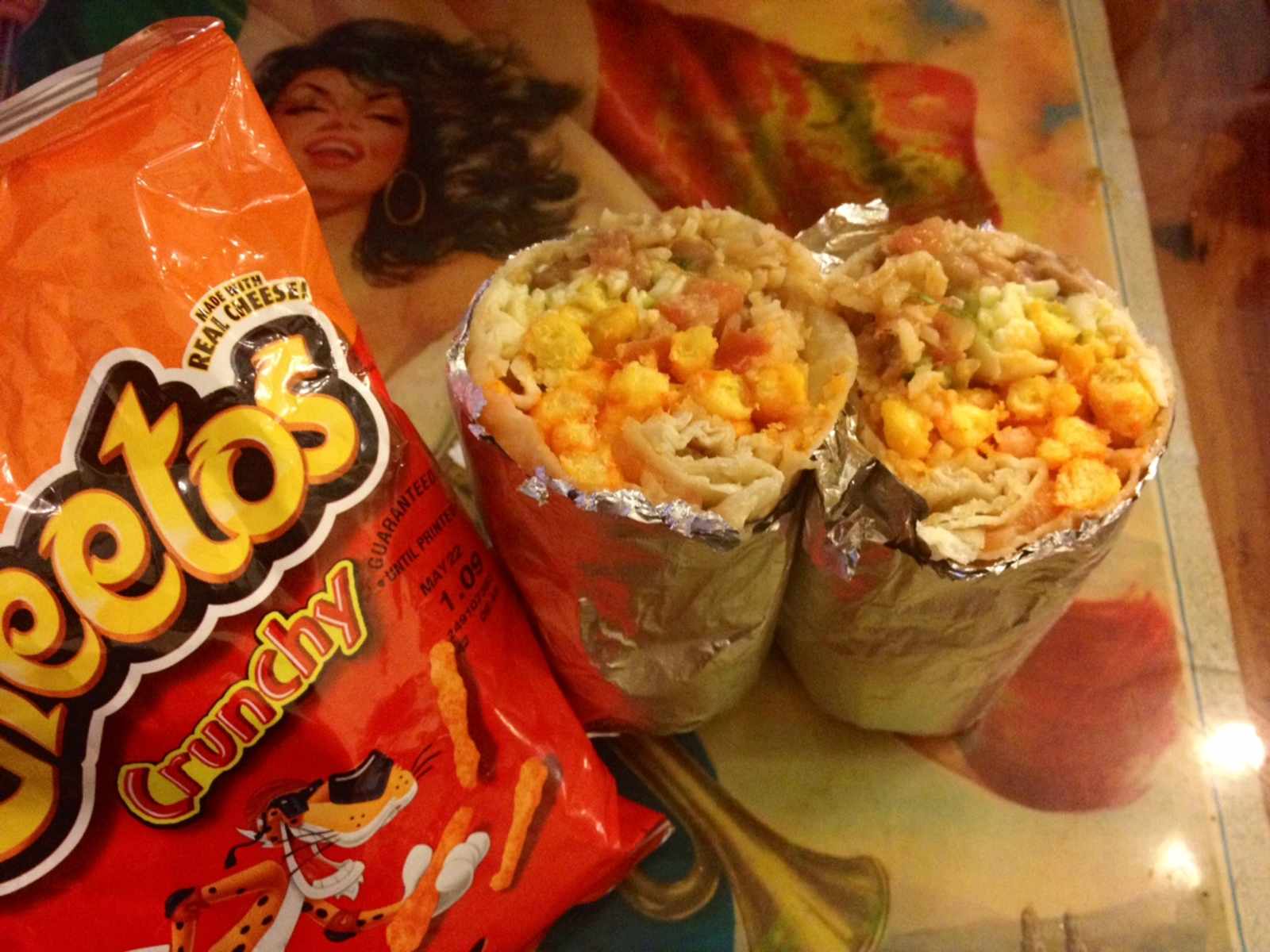 I love Taco Bell.  Not for their "food," but because they are the gastronomical incarnation of America's greatest hopes and aspirations.  A food product resembling a burrito stuffed with Fritos?  Doritos tacos?  It's this very freedom—the freedom to take what we want to eat (MSG, imitation cheese product) and turn it into a bona fide meal that costs a buck—that makes America the best country on God's trash-littered Earth.
That said, I have my issues with Taco Bell.  Namely, Fritos and Doritos suck.  As anyone who has ever smoked pot and doesn't value their body can tell you, Cheetos are the superior bag-based snack food.  And there's also the issue that digesting Taco Bell feels a lot like dying.
But my hunger for Mexican fast food adulterated by American junk food remains unchecked.  And that's where Taqueria La Cumbre comes in.
Some four months ago, the Valencia Street taqueria (and claimed inventor of the Mission Burrito) began selling a "nacho burrito," in which a regular burrito is stuffed full of tortilla chips.  SFist hailed it as "Mmmm, good," noting, "while the chips did get a bit soggy, they provided a necessary buffer to the burrito's inherent one-dimensional flavor and greasiness factors."
So why not a Cheeto Burrito?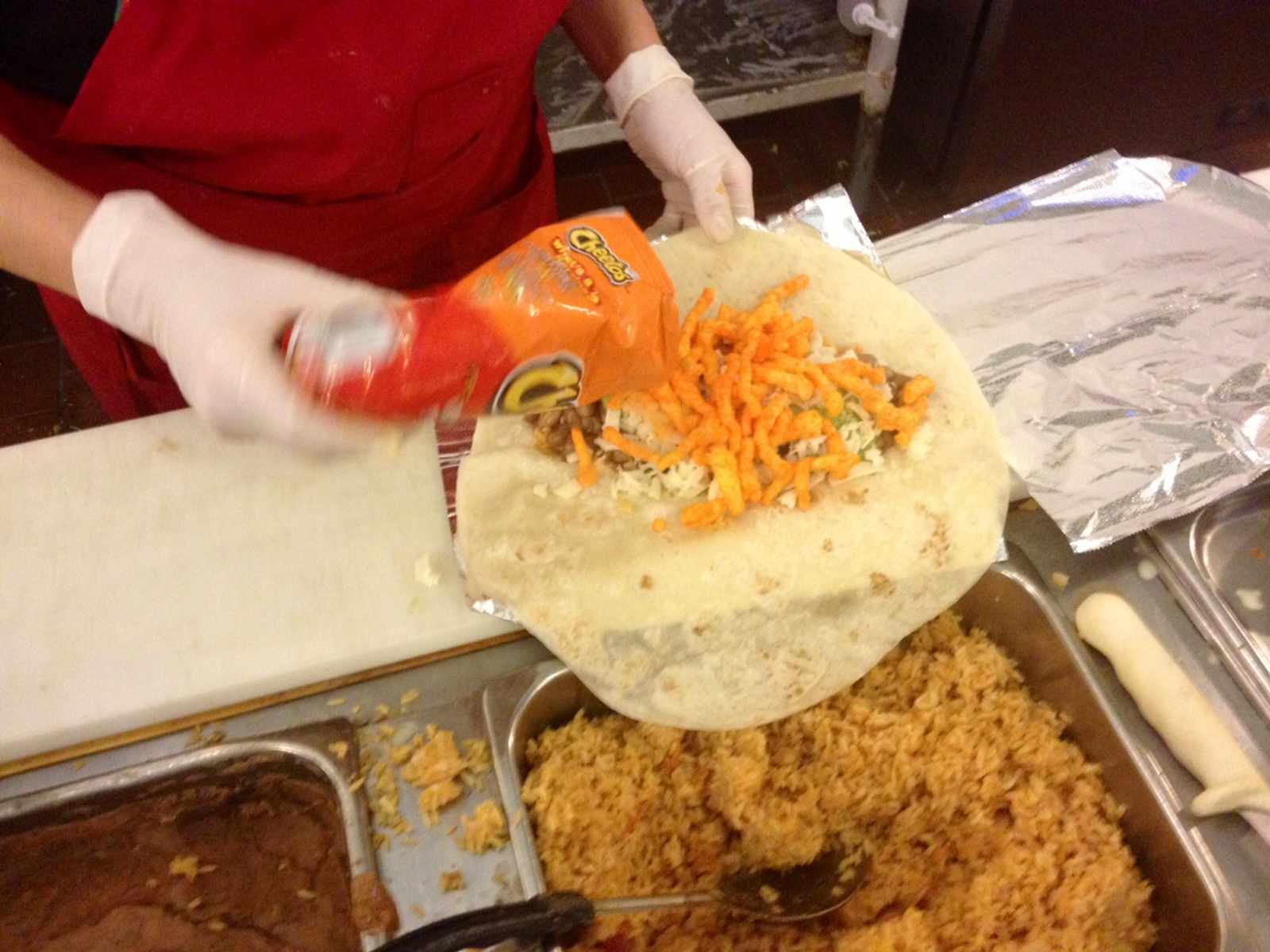 This particular item isn't listed on their menu because of copyright issues (and because they don't actually sell it), but it's among the best veggie burritos I've downed in some time.  As SFist remarked in their review of the original, the texture of the cheese puff adds the necessary crunch to take the burrito to the next level.  But, unlike the tortilla chip, Cheetos don't get all limp and soggy; rather, they maintain their proud stick-like rigid munch throughout the entire ordeal.
Plus, the cheese product on Cheetos far surpasses any real cheese you could dump in a burrito.  When combined with grease, it begins to soak through your tortilla, giving you a pseudo-Taco Bell-style Cheetos-flavored exterior.  "Mmm, good," indeed.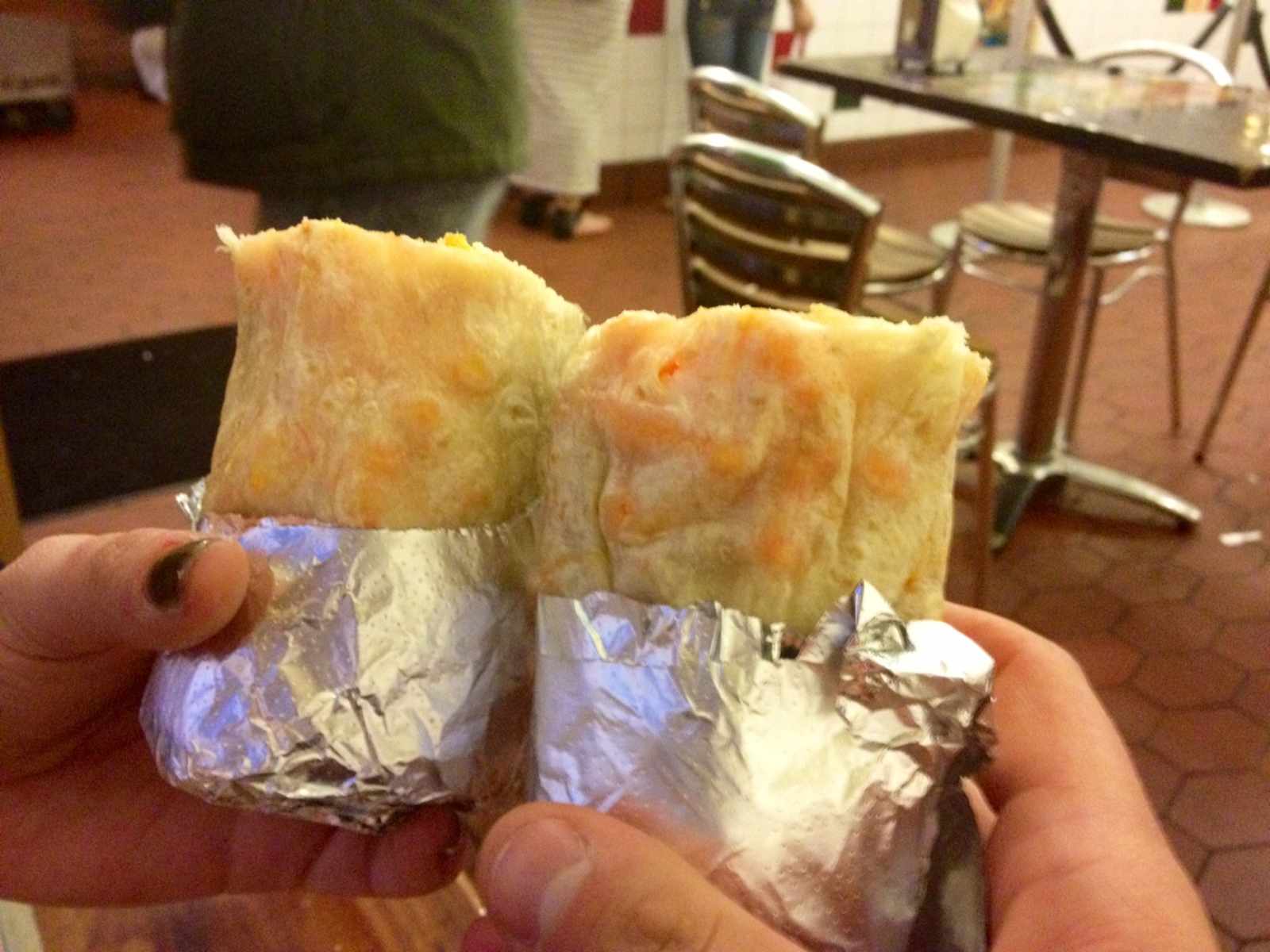 Perhaps my only regret was not getting the burrito stuffed with the Flamin' Hot variety, but you need not make that same mistake.  Just walk into the corner store at 16th and Valencia, put down $1.09 for your Cheetos bag of choice, then go two doors down to La Cumbre and order a Nacho Burrito made with your freshly acquired bag of Cheetos.  You won't regret it.