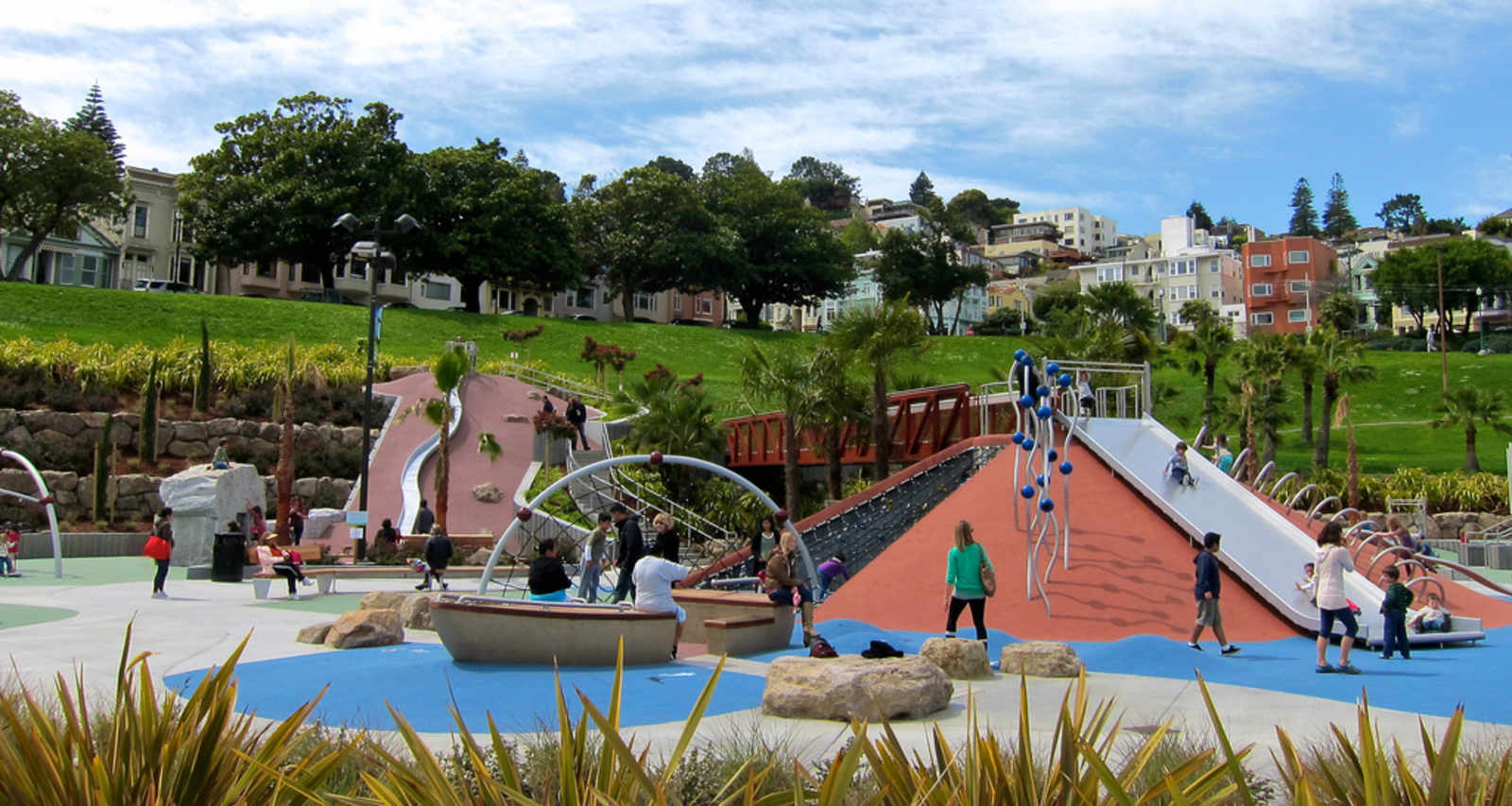 Ever since that silly playground opened a month ago, there seems to be a real effort to "clean up" the park.  It's been alleged, repeatedly, that SFPD has been trying to make gay sunbathers feel uncomfortable.  Then SFPD came after people who really need to pee.  And someone managed to rouse our city-sanctioned thugs into busting Cold Beer, Cold Water n' crew.
But that wasn't enough.  Oh no.  Now the neighborhood's population of persnickety parents wants to fence off the playground to keep their little 30 pound disasters shelthered from the savage realities of the outside world:
Some parents have said they are concerned that the recently opened Helen Diller playground in Dolores Park lacks a fence to keep out dogs, which can scare, chase or hurt their children.

Andre Kellerman, a neighbor who lives opposite the park, said she recently saw a pit bull wandering in the playground.

"It was just running aimlessly through the playground and it knocked down a toddler as it went though," she said […]


Jana Thompson, another neighbor living close to Dolores Park, also saw the incident. To her, it feels as though "dogs have taken precedence over kids" in Dolores Park. Several neighbors have written to both the San Francisco Recreation and Park Department and district Supervisor Scott Wiener.
Ugh.  UGH.  UUUGGGGHHHHHHH.
To Scott Wiener's credit, he thinks the people crying for a border fence are 'fucking dumb' (or, to quote, "The playground, he said, is 'an asset to the park,' and 'radically changing its design' would be inappropriate.")  However, Dolores Park's manager wants to "keep the option to put up a fence" and quasi-community organization Dolores Park Works thinks a small fence "may be a good idea."
And, sure, the fence "may be a good idea," but it would cost money and divide the park and make throwing big events more difficult and generally suck.  Instead, why not enact a city ordinance mandating that parents leash their children so our beloved pups can run around without fear of bumping into some unattended biped?
So vote for me this November 6th.  For the unleashed children.