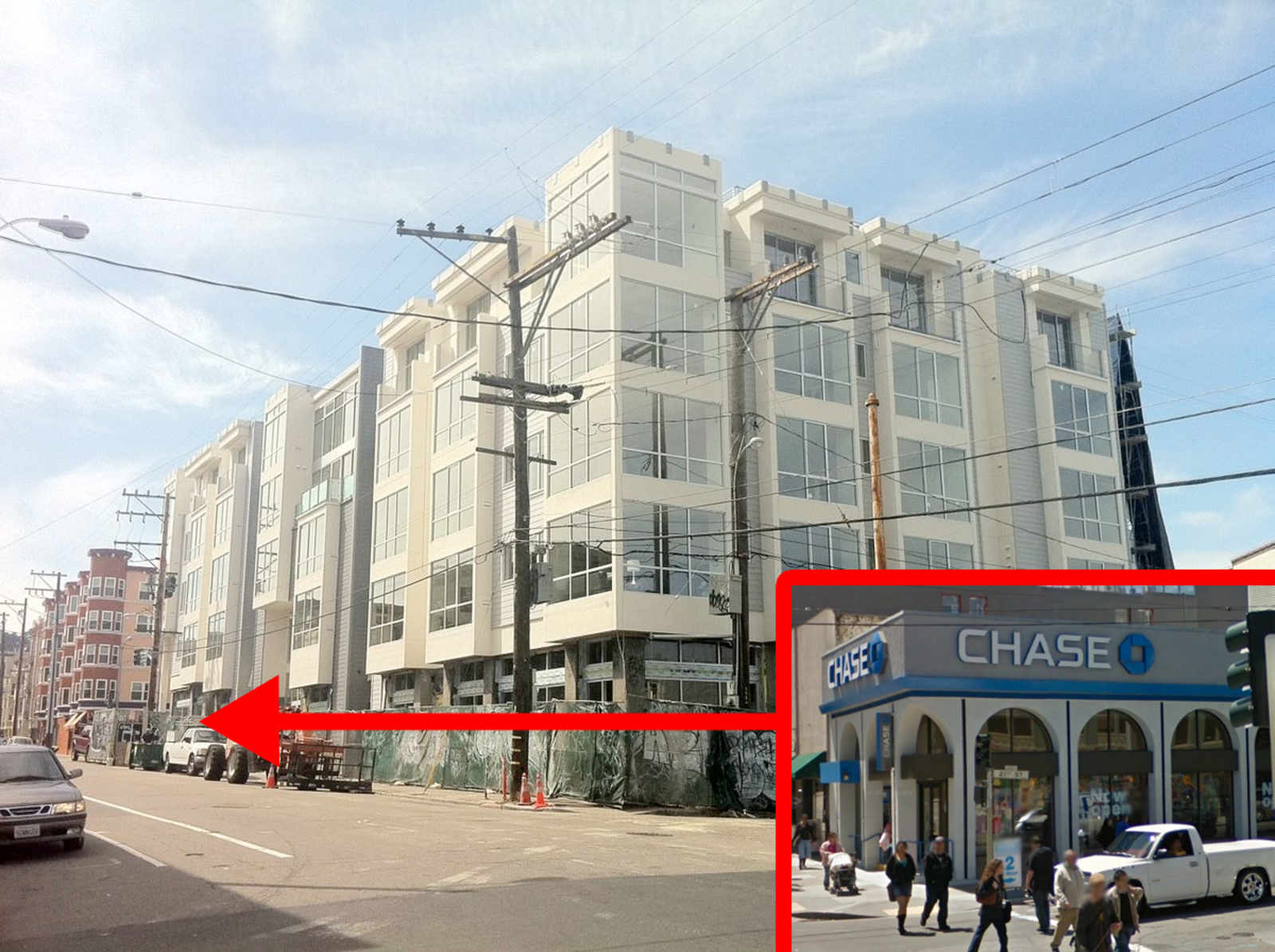 Following this morning's post about the view from the new condos at 299 Valencia (at 14th), we began receiving word from a few readers about a Chase Bank moving into the first floor retail space (which a job posting confirms as true).  From one such tipster:
By the way, do you know who one of the tenants will be at the god awful condo at 14th/Valencia? None other that Chase bank. Ergh. A group was trying to push back against this, but since big banks aren't currently included in formula retail law, they kinda gave up.
That group is focused around a Change.org petition created by Quinn Avery asking Chase Bank to "cease plans to build a new branch on 14th and Valencia in San Francisco."  The petition reads:
This petition represents the residents of San Francisco who, in support of local and communal commerce, demand that plans to build a Chase Bank branch on 14th Street and Valencia cease immediately. While there are two Chase branches in the immediate vicinity (within several blocks), this plan to dominate banking in the area represents a larger dilemma in the Mission district and beyond. The branch's planned location is 299 Valencia, a new loft residence currently under construction. The starting price of these lofts is $400,000. People of color and the poor will be further pushed out of the neighborhood by such housing units. Chase Bank funds foreclosure and purchases apartment buildings in San Francisco, evicting low-income, senior, and disabled tenants. Chase Bank pushes families out of the neighborhood, but also forecloses upon them nationwide for profit. By signing this petition against the opening of a new Chase branch on 14th and Valencia, you show your support of local San Francisco business against big business, big banks, and for-profit home foreclosure and eviction. San Francisco does not need another Chase branch, but rather more communal and locally owned and operated endeavors.
While the Occupy Wall Street sales pitch will likely fall on deaf ears in the neighborhood, the situation, yet again, raises the important question: is this the type of business we want to see on Valencia?
Valencia Merchants are understandably sensitive about corporate businesses moving onto the street, fearing their foray into the neighborhood will provoke landlords to evict local businesses in an effort to raise rents.  Never mind the fact a big Chase facade will just look horribly out of place on an otherwise good-looking stretch of Valencia.  And while American Apparel was blocked from moving onto Valencia in 2009 by way of San Francisco's anti-formula retail laws, Chase Bank faces no such threat, as the Planning Commission ruled that banks are not subjected to the legislation.
We're told that, in a last-ditch effort, neighbors have gotten together and pushed Supervisors Mar and Olague to co-sponsor an amendment that would classify "financial services" as formula retail, allowing neighbors to weigh in on Chase moving onto Valencia.  There's a hearing scheduled for April 12th at City Hall to review the issue, but the situation already looks pretty grim for the neighbors.