So I'm risking a bit with my first post for this blog being both about the the totally-not-cool, touristy subject of Alcatraz and the thoroughly covered, over-analyzed subject of Banksy in SF, but fuck it. It's just the Internet.
Today, my lady friend and I went to Alcatraz on a lark. It ruled, especially the part where you're in "The Hole," and the dude is talking about tossing a button around to save his sanity. I love that shit. Anyway, we got to the part where we could go chill in the rec yard. We traipsed about, and climbed the huge bench-stairs, and at the top we found this: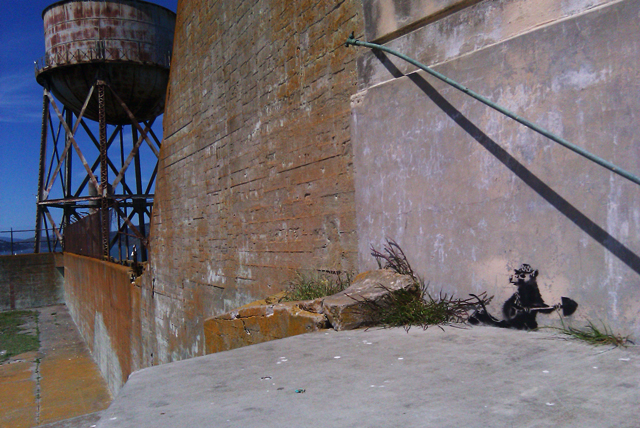 OH SHIIIIIIIIIIIIT!!! Why the fuck WOULDN'T Banksy hit up one of the most well-known historical monuments our city can offer? Really, I'm not into graffiti, at all, but this rules. And don't try to tell me a stencil of a rat trying to dig its way out of Alcatraz ISN'T the work of Banksy. Here's a close up for the skeptics: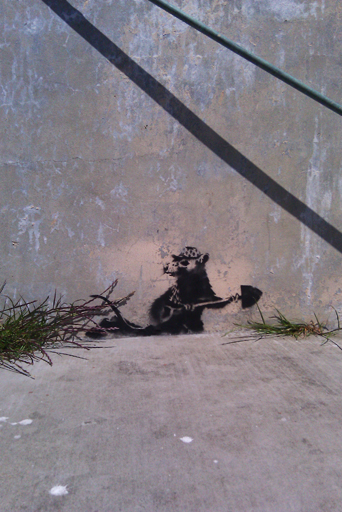 Hopefully, the powers that be won't see this and remove it. I'm kinda stoked now. This is like when you were a kid, and you would check every Tootsie Pop wrapper for the Indian shooting the star. But this time there's no rumor of free candy, and no kids lying about that one time the guy at the store totally gave them a free sucker. Maybe now we should go check under the Golden Gate Bridge and in Janis Joplin's house's bathroom, or something. Anyway, hopefully I can keep posting after this.