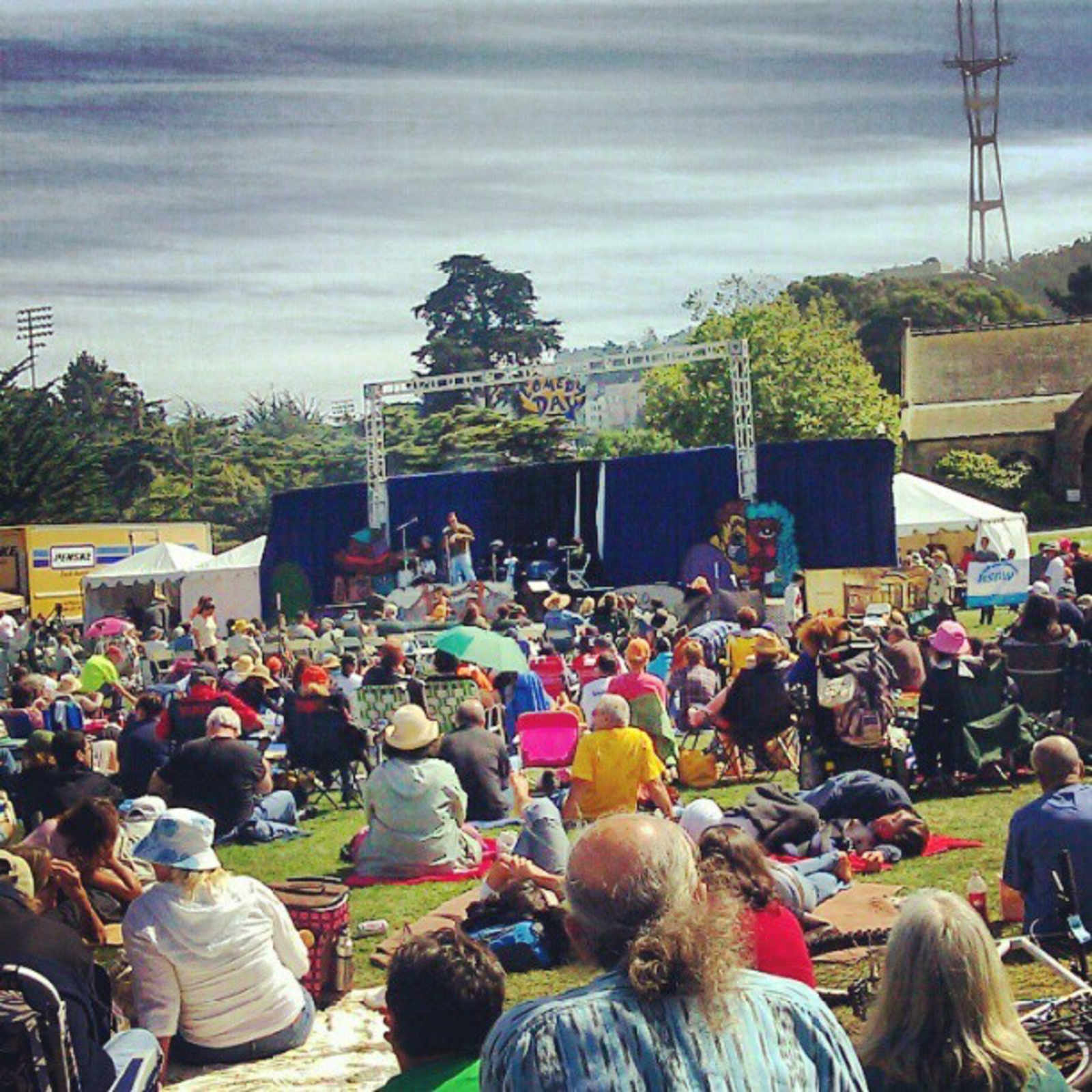 This Sunday is Comedy Day at Sharon Meadow in Golden Gate Park from noon to 5pm. Comedy Day has been running for forty years. When I was in high school, it was still in the Polo Fields and drew tens of thousands of people. Part of its legend was that Robin Williams was always the unannounced guest who closed the show.
Every year, I'd arrive early to get a good patch of lawn. The Chronicle, back when it still cared about local comedy, would print the schedule in the Pink Section. Watching five hours of comedy is a good way to check in on the zeitgeist. ("I guess the witness relocation program is a thing this year.") When I saw someone new and awesome, I would note their name so I could go see them live at Cobbs or the Punchline or the Other Café.
Now that I have performed at Comedy Day, I've learned that performing outside under a beautiful San Francisco fog, for an audience of people who are lying down, is not the optimal conditions for the enjoyment of comedy. But it's like the company picnic for our community, so we love it.
To see comedy indoors at night, as the #GoodLord intended, go the Punchline on Tuesday or Wednesday to catch Ryan Stout. Ryan was one of the hot kids of the local comedy scene when I first started. He wore a suit, which is a bold choice in this hoodie-jeans epoch we're living through.
I've always loved Ryan's standup. He manages to make jokes about appalling topics without being mean-spirited or insulting, because the jokes are completely logical:
On Thursday, head to Lost Weekend Video for the Mission Position. Mission Position goes down every Thursday, and is produced by a crew of killer local (for now) comics.
Or later that same night at Lost Weekend, check out Jesse Elias. Jesse rocketed out of the San Francisco scene in the last couple of years.
A few years ago he opened for me and people asked me afterwards, "Is he ok? Is he disabled? Does he have mental disorder of some sort?" Don't be fooled. Jesse is unique and smart and hilarious.
You can listen to these recommendations on KALW 91.7 FM public radio during my segment FSFSF, which airs every Tuesday during All Things Considered. FSFSF shines on spotlight on great Bay Area comedians past and present.
On Wednesday, September 23, I've put together a showcase of my favorite Bay Area comedians at our newest comedy venue, Pianofight. KALW is taping it for future FSFSF segments. Plan ahead not to miss it.
Go see some comedy.
Nato Green is a comedian and writer and activist and dad and native and Jew and . Send grievances to @natogreen.
[Photo: duluoz cats]