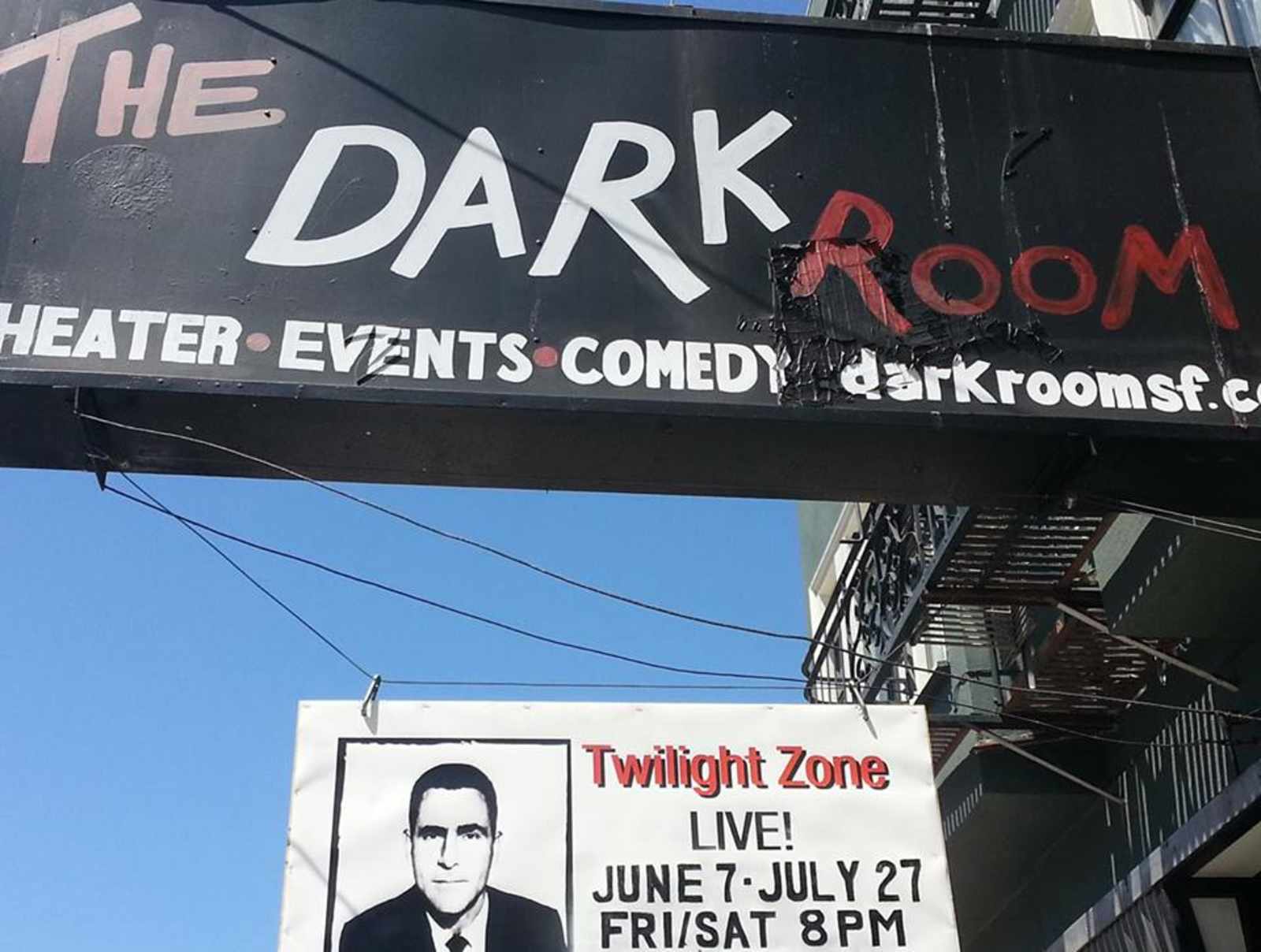 The announcement late last month that The Dark Room Theater would close at the end of August came as an unwelcome surprise to many. The tiny theater on Mission Street was home to live comedy, theater, and Bad Movie Night (among many other things). 
In a just-released interview on Born Ready, a podcast discussing San Francisco theater and comedy, The Dark Room Theater founder Jim Fourniadis goes into detail about what forced the closing of the venue—and how it has nothing to do with their landlord wanting more money for the space. Instead, Fourniadas explains that he and several other artists are living in the commercially-zoned building, and that someone called the city to complain about the situation. 
"Well I can actually turn all the cards over now and just give you guys the whole story, because we've always played the cards pretty close to the chest. We're basically living and working in the same space—commercial space. And like so many live/work spaces that were questionably zoned, blah blah blah, we just kind of persevered and hoped that no one would bother us. And it worked that way for about twelve years. […]

"So what ended up happening is, some nozzle just decided that they were going to rat us out to the city. Someone called in an anonymous complaint. And I don't know who they are, because it was an anonymous complaint. And I don't know why they would do it. I've tried to rack my brain and figure did I piss somebody off really bad? And the answer is 'no, I don't think so.' My feeling is that it was probably just somebody, some new arrival to the city who just thought 'those guys are making noise.'"
That a noise-averse new arrival possibly led to the closure of The Dark Room Theater is upsetting, but not surprising. New arrivals complaining about sound from performance venues or bars has a long history in the Mission. However, the fact that this time around the venue in question is a theater—and not a club or bar—is a bit startling.
And while the entire interview is worth a listen, the below excerpted bit is especially frustrating and worthy of attention:
Host Rob Ready: Do you think, Jim, that The Dark Room closing is at all a barometer or bellwether for indie arts in San Francisco?

Jim Fourniadis: That's tricky, because like I said I don't think we were closed by a developer. I don't think we were closed—I mean, our landlord is a great guy. He's always been very on board with us, and I don't think it's a matter of market pressure in the sense that they were trying to get us out our space so they could, you know, put in another like, you know, fusion-noodle place. […]

I think it was really more of a matter of fact of the changing demographics of the neighborhood. And I think the person who probably called up and ratted us out, probably just… One of my biggest problems with people like this is they'll come to a place and they'll get a good deal because they've moved into place like the Tenderloin or the Mission or something like that, and then suddenly they've forgotten that they got a good deal because of where they are. They start complaining that it isn't where they want to be. And it's just like, you know, hey motherfucker, you want a quiet neighborhood? Pay a little extra money and go live in a quiet neighborhood. Don't move into a noisy neighborhood where everybody's having fun doing what they're doing and then just start complaining about things.

Back in the suburbs I remember they used to do this thing where, you know, they used to cut off the street in the middle and make it a cul-de-sac because there was too much traffic coming through. But it's like, when you moved in you knew that there was traffic coming through. But now it's like, it doesn't matter everyone else has to get from point A to point B, what matters is that "these cars are whizzing by my yard."  It's just like, hey, you know what? There's a lot of cul-de-sacs already—GO MOVE. You know? And I think a lot of people are coming in and they're like "oh this is a hip, funky, neat neighborhood—the Mission—I've heard all about. It's kinda neat. But now that I'm here…well, isn't it kinda a little noisy at night?" […]

I'm sure this person, who did this to us, has absolutely no fucking idea how much they've disrupted my life, and all the other lives of the people there. And how much they've taken away this resource for both the audience and the artists. I'm sure they have no clue how they fucked up this shit with their little phone call. And I think that's what up ended closing us. It wasn't really a market pressure, it was really just changing demographics of the neighborhood.
The Dark Room Theater's farewell show is going to be staged reading of an original script based on the Adam West Batman television show. It takes place on August 22nd, and you can buy tickets here and tickets are donation only, at the door.
[Photo: The Dark Room Theater]