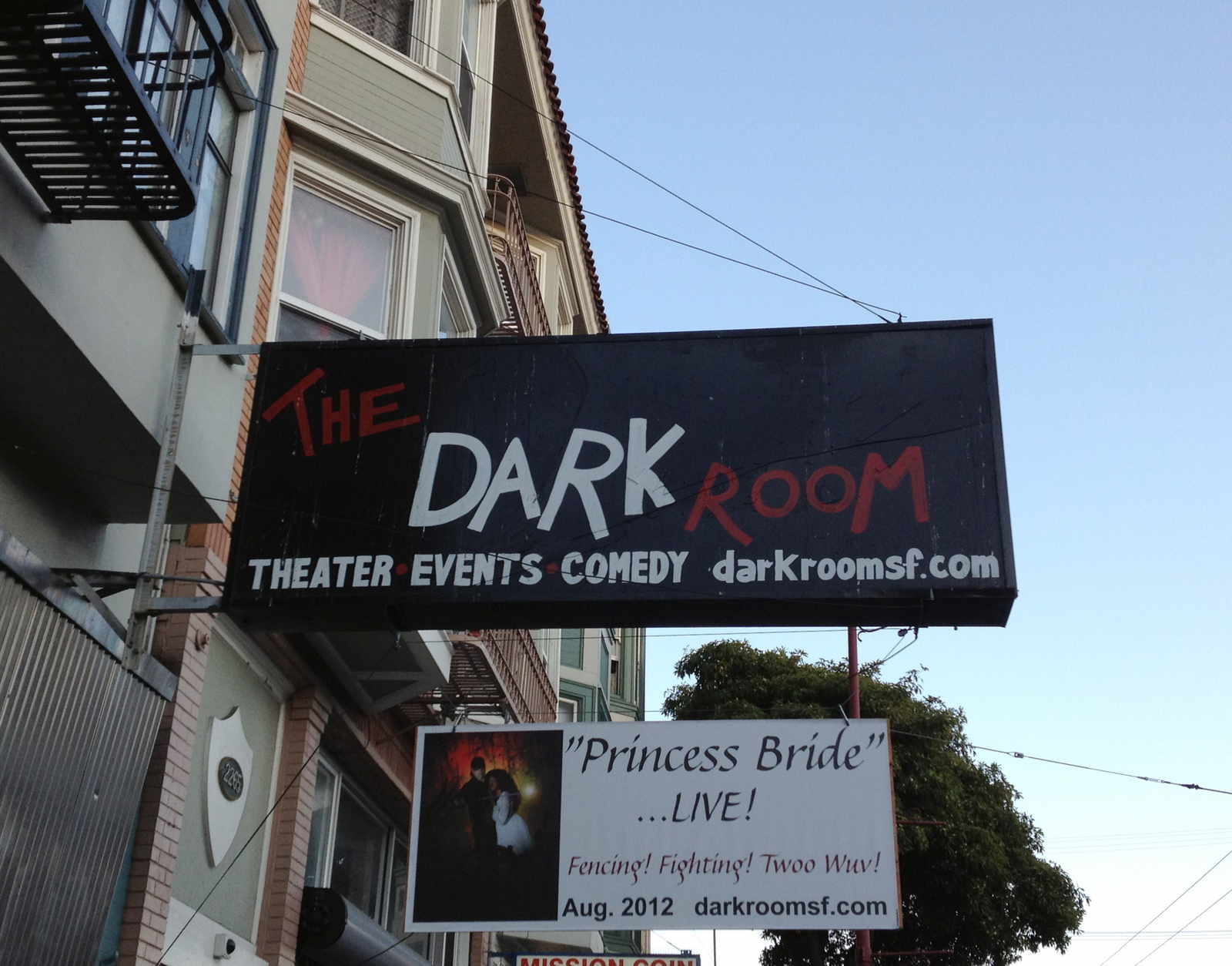 It seems The Dark Room Theater, the rad venue on Mission Street that did everything from live Twilight Zone episodes to Bad Movie Night is closing. From the venue's Facebook page (emphasis added):
Effective today, 7/25/15, The Dark Room Theater, LLC will no longer be taking any new rentals. We will work with any outstanding rentals on options, in some cases we may need to cancel those shows, that will be the exception for the immediate future. All of our full length shows are on indefinite hold, with no plans to produce in the future at this time. […]At the end of August we will officially cease to operate in any capacity as The Dark Room Theater. Jim Fourniadis will be posting later today to thank everyone for their years of service and help, love, and just generally allowing such a unique and amazing place to stay alive for all these years. […]


It has been an honor getting to know everyone over the years, and I hope people are able to maintain dignity and composure as we move through this. It's a shame to lose people we considered friends, but already even we've begun to see lines drawn, and I URGE EVERYONE to stop this behavior at once. This is not the time for petty bullshit. […]

If you don't like what we stood for, or what we tried to do, we kindly ask that you please leave us alone. This is a highly emotional situation for at least the core group directly affected, and we would love to think that love, not hate, can triumph in the world.

We seek no revenge on whomever sent in the initial complaint, have no desire to speculate. We want to move forward as loving humans and just grow from this experience. Thank you all again, and I personally wish you all the best in everything that you do.

This theater saved my life. I owe it my upcoming marriage. There is a hole in my heart as we part ways yet hope in my eyes that something good will come from this.

Please be well,
Sean D Wigglesworth
Sean went into additional detail in a comment on his original post announcing the closure, explaining that the venue was not shut down. Rather, the closure was a decision they made based on safety concerns. From the comment:
Jim, Tess and I (Sean) made the decision to shut the doors on the business side. We were not 'shut down' by the city. With everything that's happened in the last few years, it was clear that in terms of priorities the HIGHEST focus was making sure the space can continue to support the artists that live there, SAFELY. Key word there is safely, and as many of you know we were struggling recently to try and rectify some safety issues in the theater.
[Photo: Save Me, San Francisco]