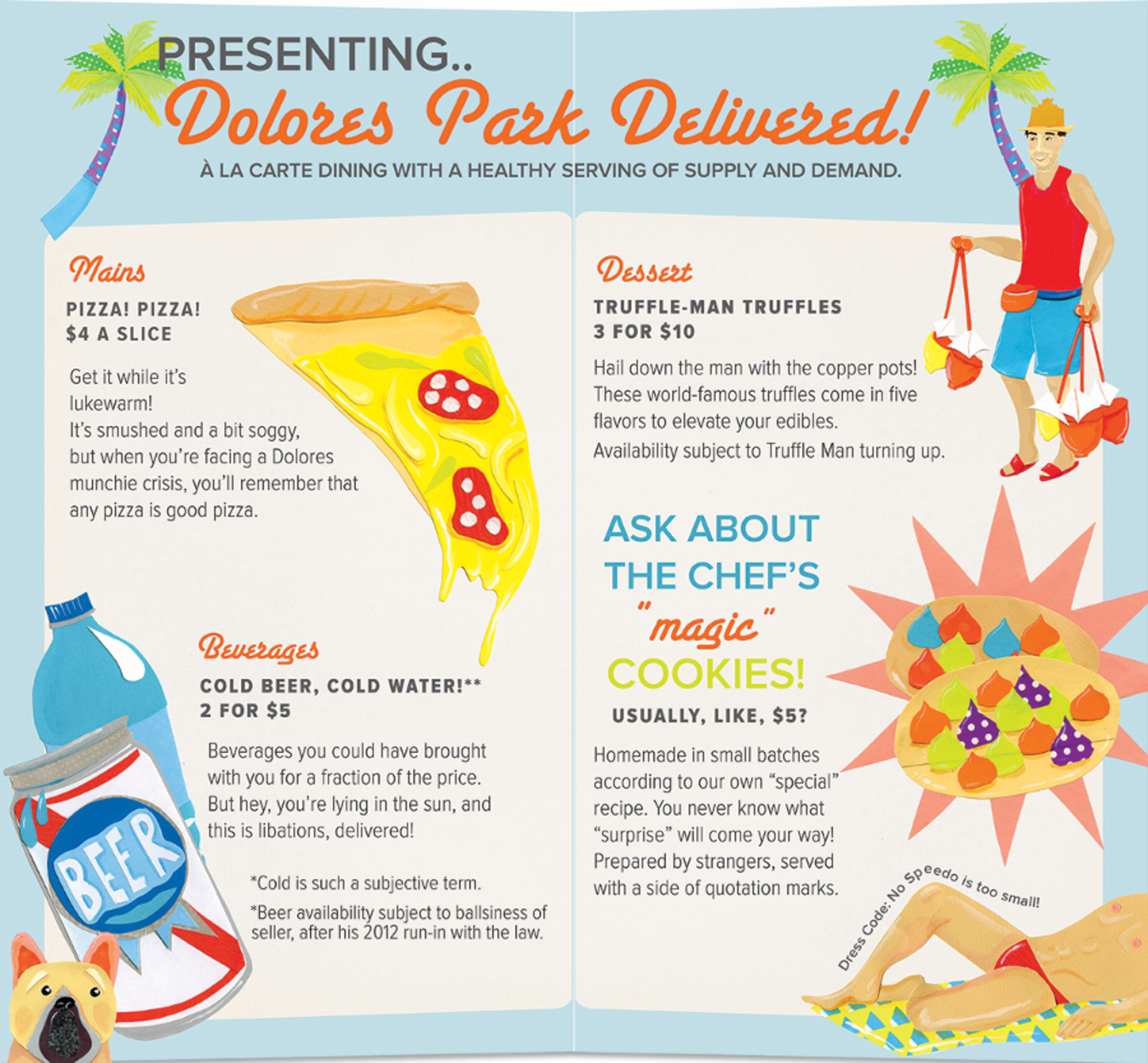 In their continuing effort to appeal to a demographic that by now should really know better, The Bold Italic, owned by the New York-based Gannett Media Corporation, has helpfully decided to publish "one easy menu" of "all the classic DP options." "DP," of course, being the slang term used by the in-the-know kids of San Francisco to refer to Dolores Park.

Presented in a style custom tailored for someone who spends his days disrupting established industries, but secretly considers himself an artist because he keeps an elaborately curated Pinterest board, the not-so-exhaustive list touches on some key points. To wit:

Cold Beer, Cold Water: A Dolores Park institution, James is mostly known for his sour demeanor and short temper. Less well known is the fact that he will wager a cold beer on a coin toss. Heads and that icy goodness is yours, free of charge. Tails, well, you know how it works. 

The Guy Slingin' Costco Pizza: Not mentioning that the pizza is from Costco is forgivable, as is getting the price wrong (the going rate is $3.00 a slice), but omitting entirely the fact that this dude has a thriving business selling "water, ice cold beer" on the side overlooks an essential Dolores Park rivalry and speaks to a lack of journalistic due diligence.

"Magic" Cookies: Yes. There is weed food in the park, and some of it is sold by a dude dressed as a Ninja Turtle with a giant staff (PROTIP: don't buy from that guy).

The Truffle Guy: While this version of The Truffle Guy is inexplicably presented as white, Trevor's rad hat and fanny pack are faithfully included. And the fact that there is an entire separate category for generic weed food implies that the author has sampled Trevor's goods, and finds them in a class of their own.

Some park gems that didn't make The Bold Italic's cut:

That dreadlocked, machete-wielding dude who serves coconuts overflowing with Sailor Jerry's rum.
The sweetest person in the park, Hey, Cookie!

The numerous vendors selling iced treats out of push carts.
And while it is clear that this is just another puff piece from our friends working hard to "[inspire] people to think differently about San Francisco," it is difficult not to see the graphic's headline of "Presenting.. Dolores Park Delivered!" in a manner perhaps not entirely intended by the author. That is, this piece perfectly embodies what in many ways The Bold Italic has become: little slices of clickbait delivered to the desks of the aspirant hip taking a moment out of their busy schedules to festishize the bohemian park lifestyle.
Because here's the thing— this "menu" is clearly not for actual park-goers. Rather, it exists as a little, easily digested bland bit of San Francisco culture, graciously made palatable by our friends at Gannett.
Bon appétit.