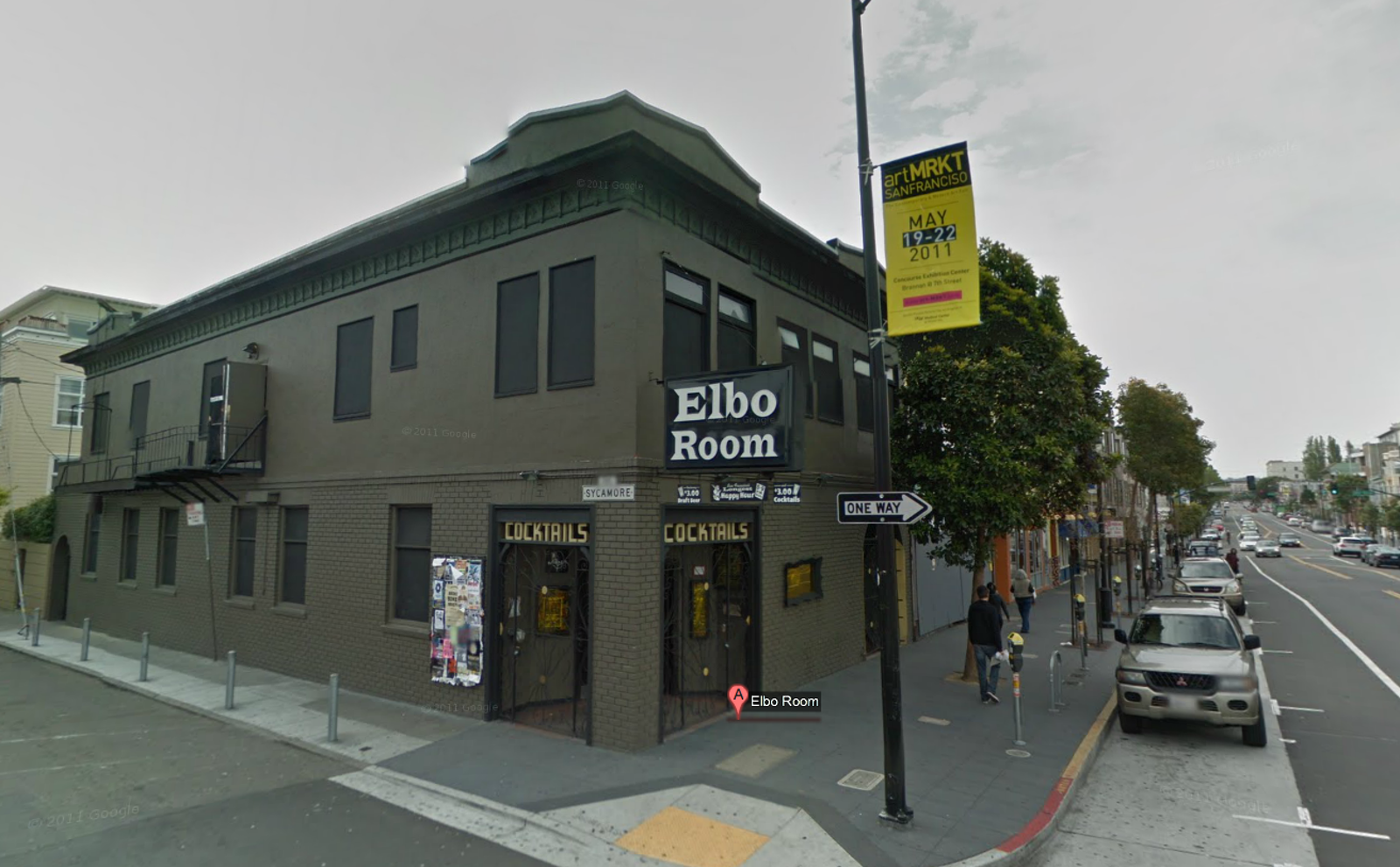 Valencia Street continues its turbocharged tailspin into terrible as developers and landlords club the last shreds of tolerable into a permanent state of soothing unconsciousness.  The latest victim is poised to be the undeniably important two-story venue Elbo Room, which SocketSite reports the owners have "quietly drafted plans to raze the bar and construct a new five-story building in its place."  The grim details:
Early plans for the development include nine (9) residential units, three one-bedrooms and six two-bedrooms, ranging in size from 500 to 1,000 square feet over a 770 square-foot commercial space and parking for six (6) cars on the ground floor.

While the existing building at 645 Valencia Street wasn't deemed to be historic when reviewed as part of the Inner Mission Historic Resource Survey in 2011, the Planning Department has since "received additional information that suggests that the subject property may have associations with the history of Lesbian, Gay, Bisexual and Transgender (LGBT) individuals in San Francisco."
After SocketSite's story broke, Elbo Room quickly shot it down, writing on Facebook:
Once again, despite what the real estate blog says, Elbo Room is Not Going Anywhere, Anytime Soon! But thanx so much for the concern, the kind words, and the support! We appreciate you!
Of course, "anytime soon" is subject to interpretation.  "Our report isn't based on rumor or speculation," SocketSite fired back. "But rather the Preliminary Project Assessment for the development which was submitted to San Francisco's Planning Department for review."
Ugh.
We all agree building more housing is important, and landowners have the God-given right to cash out when the market is drooling over Mission real estate like a starved dog.  But not like this.  Nine units is a drop in our drought-stricken bucket, and won't move the housing cost needle anywhere.  And what do we get?  The undignified death of another venue and stripping away of one of the very institutions that make people want to move here in the first place.
At least the bus stop is nearby…