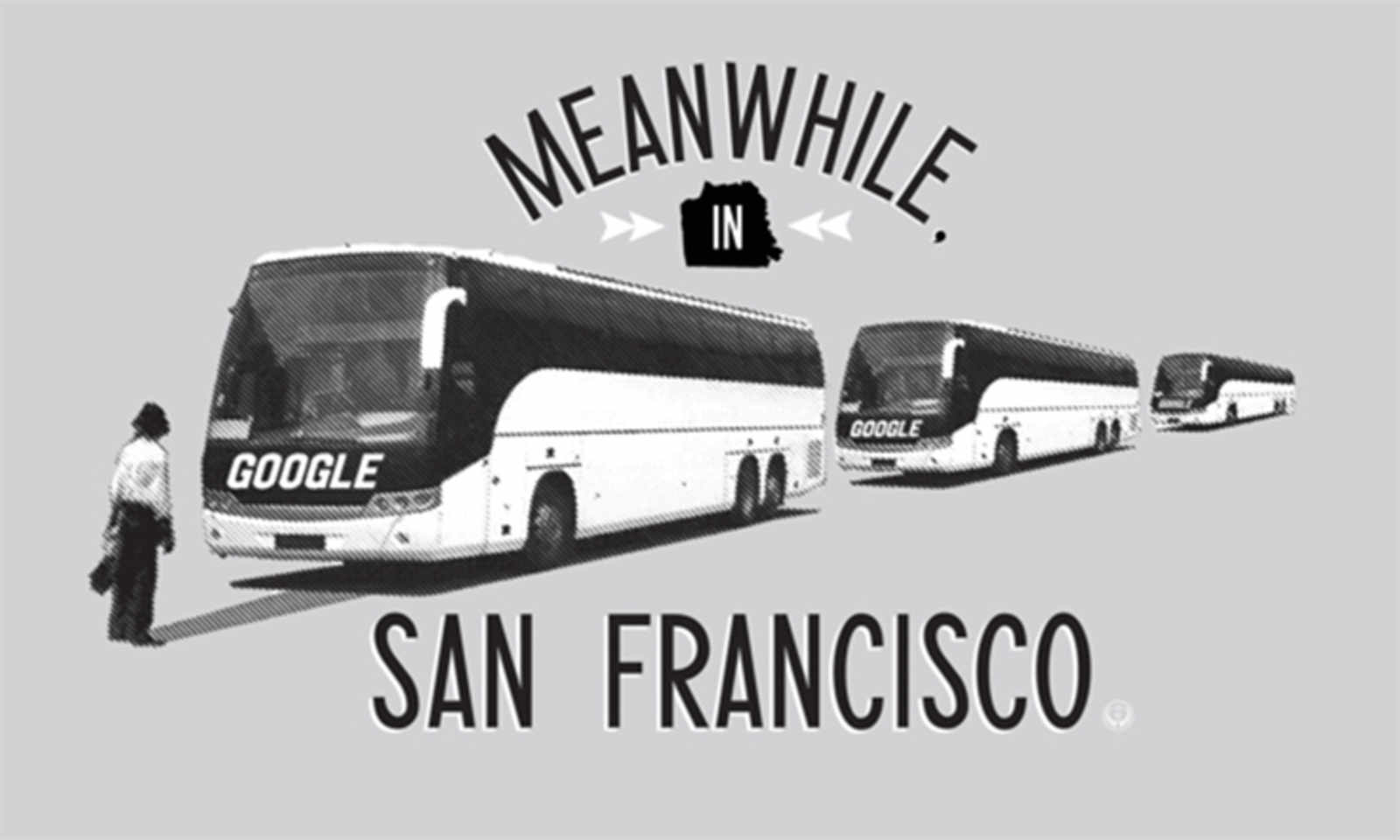 Following a year of roaring criticism of tech buses, ranging from Rebecca Solnit's "alien overlord" essay to December's blockades, Mayor Lee and SFMTA today laid out a proposal to legitimize the shuttles that have been accused of illegally using Muni stops and enabling exorbitant rent increases.
"These shuttles provide more than 35,000 boardings per day in San Francisco, eliminating at least 45 million vehicle miles traveled and 761,000 metric tons of carbon every year from the region's roads and air," SFMTA wrote in a press release.
The release went on to detail the agency's 18-month pilot program for the shuttles, which will be voted on by the MTA Board on January 21st:
Charging a daily fee based on the number of stops that a shuttle provider or employer makes in order to fully cover the SFMTA's cost of administering and enforcing the program and includes private investment to improve select stops. Fees are estimated to raise tens of thousands of dollars monthly to the largest transportation providers.
Approval of 200 bus stops (out of more than 2,500 total in the Muni system) to be used by providers;
Private shuttle providers will pay to use Muni bus zones, based on a per stop, per day, cost recovery schedule. Due to Proposition 218, the SFMTA cannot create a fee structure that goes beyond the cost to provide such a service or policy;
Providers would operate in accordance to agreed-upon guidelines, such as yielding to Muni and pulling to the front of the zone making more room for other vehicles, and avoiding steep and narrow streets;
The Agency would enforce these rules to ensure only participating companies are using shared zones. It will be illegal to use all other bus zones;
Each commuter shuttle will be issued a unique identification placard so enforcement personnel can easily identify vehicles; and
Providers would share data with SFMTA to ensure that location information is available for complaint follow-up, enforcement and to support the agency's transportation system management.
SFMTA didn't detail how much the shuttles will be charged, but reporter Sarah G McBride tweeted it would be "around $100k a year"—far shorter than the $1 billion protesters were demanding last month.
However, the agency promised some community input into the routing of buses, writing "[we] will ask shuttle providers to propose stops for inclusion into the bus zone network and will ask San Francisco residents for their input to determine specific bus zones that can be used."
The Housing Rights Committee issued a press release in anticipation of the Mayor's announcement, in which the group reiterated their demands that "the [tech] industry must contribute significantly for its impacts on local infrastructure and neighborhoods."
"We are prepared to be demand more of City Hall if it appears that Mayor Lee's plan is not realistically aggressive enough to address the concerns of poor, working, and middle-class San Franciscans," wrote Eviction Free San Francisco organizer Jennifer Cust. "The tech industry has fueled soaring rents and accompanying evictions that have uprooted longtime residents, families, artists, teachers, and many others. The industry must step up and contribute to help San Francisco retain its diversity, culture, and affordability."
We'll update as this story develops.
UPDATE 4:15pm: Reuter's reporter Sarah G McBride further clarified the $100k/year amount, tweeting that companies with shuttles will pay "around $100k each for a total of about $1.5 million over 18 month pilot program."