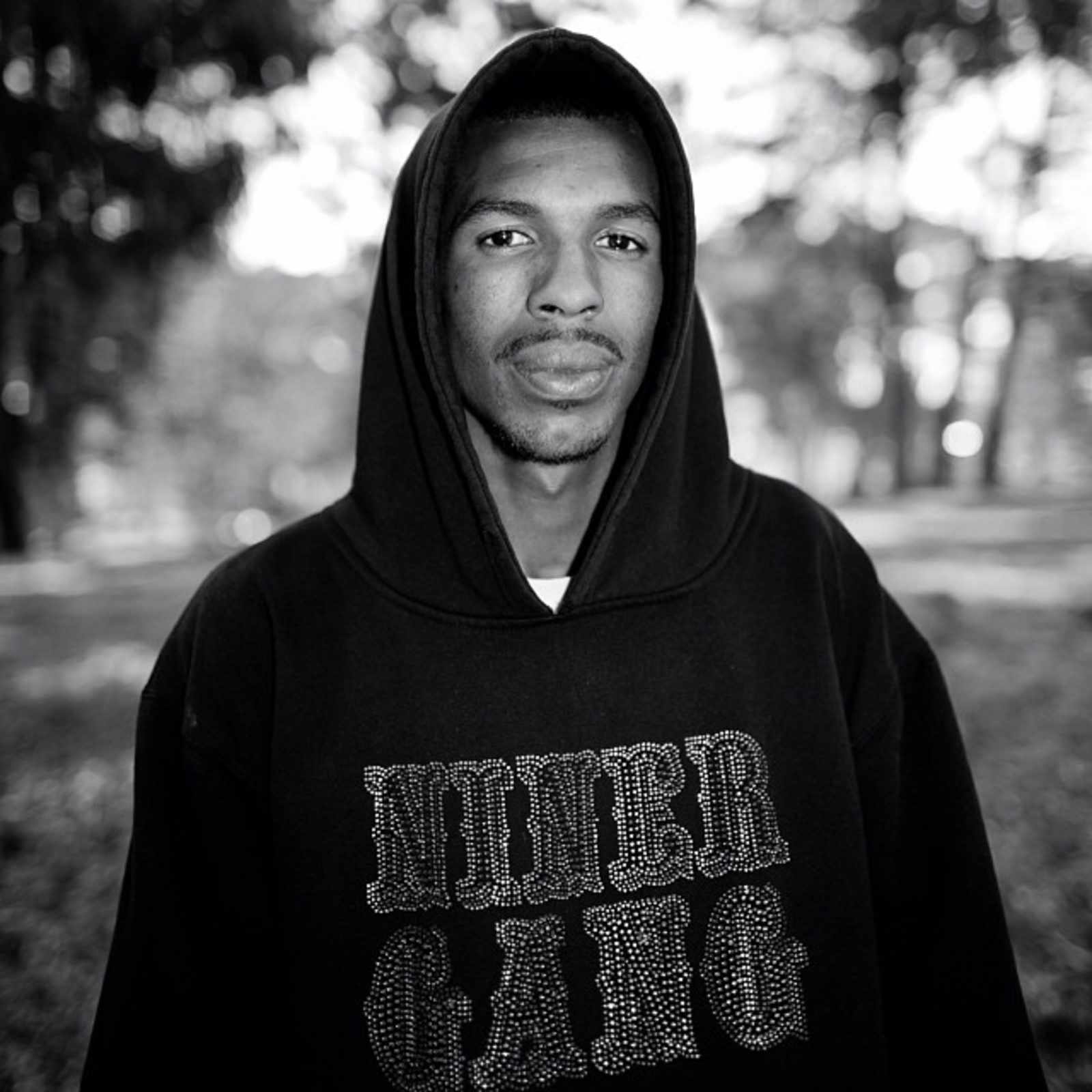 Photographer Travis Jensen reports that 21 20-year-old D'Paris Williams, a.k.a. "DJ," a City College student, was assaulted by SFPD officers Friday afternoon for what appears to be no reason:
Yesterday afternoon, while riding his bicycle home from the Make A Wish Foundation's "Bat Kid" happenings, DJ was confronted by two undercover police officers in an unmarked vehicle at the Valencia Gardens Apartments in the City's Mission District. Apparently, the officers said something to DJ about riding his bicycle on the sidewalk as he was pulling up to his home in the complex. It is unclear whether the officers identified themselves or not, but did proceed to get out of their car, grab DJ from behind as he was entering the home and beat him for no apparent reason. A police search uncovered a cupcake and juice that DJ had just purchased from the corner store. Nobody has spoken to DJ since the incident occurred as he was immediately taken to S.F. General Hospital for treatment, and then to the 850 Bryant police station. So far, it appears no charges have been made against DJ either. There is building video surveillance footage of DJ's confrontation w/ police, but it that has yet to be released by housing authority. Furthermore, three residents came to DJ's aid when they saw officers beating him up, only to find themselves also under attack by officers. By this time, uniformed backup had arrived on the scene. Including DJ, a total of four individuals were beaten and arrested by officers.
As mentioned, after DJ was allegedly assaulted and taken to SF General, the Valencia Garden community spilled out into the street in protest of the violence.  Residents began filming and soon captured footage of officers attacking protesters.  Around 1:30, an officer can be seen punching a detained man on the ground:
That man, who can also be seen earlier in the video trying to pull an aggravated man away from officers and then being attacked, was later seen with his face bloodied: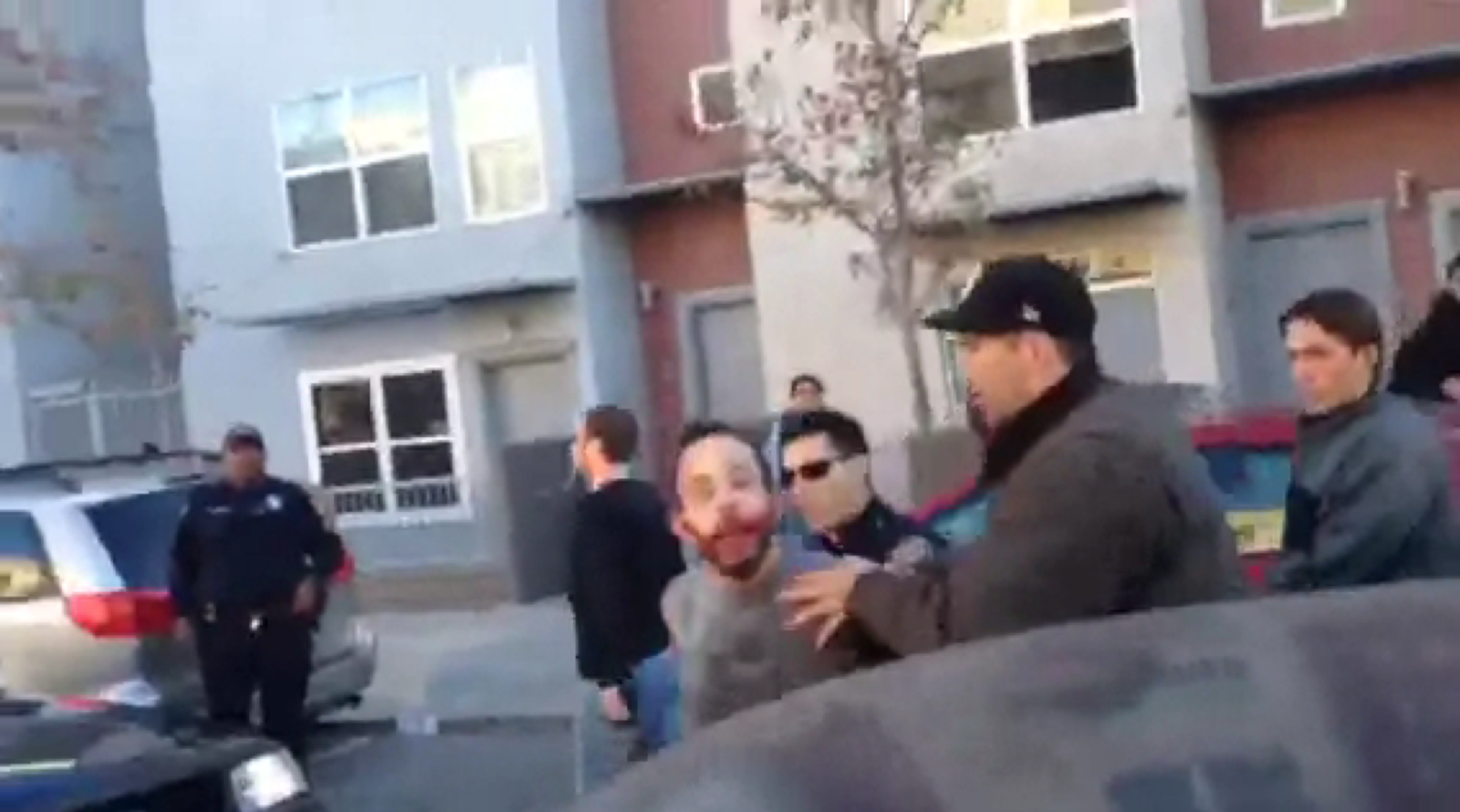 We'll update as this story develops.
UPDATE 2:00pm: We're now getting more information about the incident.
We're told that the scene unfolded right as DJ was entering his house.  As he was questioned by undercover narcotic agents plainclothes officers from the Violence Reduction Team, the officer in the black baseball hat (pictured above) grabbed DJ and shoved his head into his front door.  DJ's sister, who was holding a newborn baby, was witness to the entire scene.  When she approached the door where DJ was being assaulted, a second officer pushed her.
They then dragged DJ into the street and punched him in the head until he was knocked out.  Others in lock-up with DJ report that he blacked out and has no recollection of what happened.  DJ is still in custody and not being allowed to speak to anyone; however, criminal charges are yet to be filed.
Currently two of the other three men who were arrested have been released.
We're told the man seen holding the cane in the video is a gay, HIV-positive man who needs his cane because of medical complications.  The police are continuing to hold him in custody, allegedly because his cane is being considered a "deadly weapon."
Orlando (last name unknown), who had his face bloodied after pulling the man with the cane away from officers, was released "a few hours ago," according to Travis Jensen.
UPDATE 7:45pm: We are still yet to receive a comment from SFPD about the incident.  We'll continue trying to reach someone from their Media Relations Department.
UPDATE 9:00am: SFPD just released this statement:
At approximately 3:41 PM Friday, officers from the Violence Reduction Team, working a plainclothes assignment attempted to stop a bicyclist in the area of Maxell and Rosa Parks for a California vehicle code infraction.  The suspect fled from the officers after they identified themselves as police.  The suspect attempted to flee into a residence.  The officers confronted the suspect near the doorway and requested additional units for assistance.  The suspect failed to comply with lawful orders from the officers and continued to resist the officers.  Reasonable force was used by the officers to effect the arrest.  During this incident, multiple subjects came from the rear of the residence and formed a hostile crowd around the officers.  One subject attempted to strike an officer with a cane, while another suspect bit an officer.  Two officers suffered non-life threatening injuries.  In total, 4 suspects were arrested. 2 felony and 1 misdemeanor arrests resulted in bookings.  One misdemeanor arrest resulted in a cite.
We have requested surveillance footage recorded by the SF Housing Authority and for comment on the officer who charged at a bystander. We'll update if we receive more word.
UPDATE 10:30am: SFPD denied our request for surveillance footage, saying:
The video surveillance is evidence for the assault and battery on the officers.

The officers have not been suspended.  There is a criminal investigation into the suspects that assaulted and battered the officers and resisted arrest.

Persons wishing to file a complaint may do so with the Office of Citizen's Complaints (OCC).
Williams is in court today facing four felony charges and one misdemeanor charge.  Orlando, who has been released, has reportedly claimed Williams has been in the infirmary most of the weekend and "looks like he was in a bad car accident."
UPDATE 4:45pm: At Williams' arraignment at SF Superior Court this afternoon, his bail was set at $143k. Read on.
UPDATE 6:15pm: A new video showing Williams screaming in pain and unable to walk following the beating has been released.
UPDATE 9:30pm: KTVU is now reporting that the District Attorney has "discharged the case against Mr. Williams and another man pending further investigation."