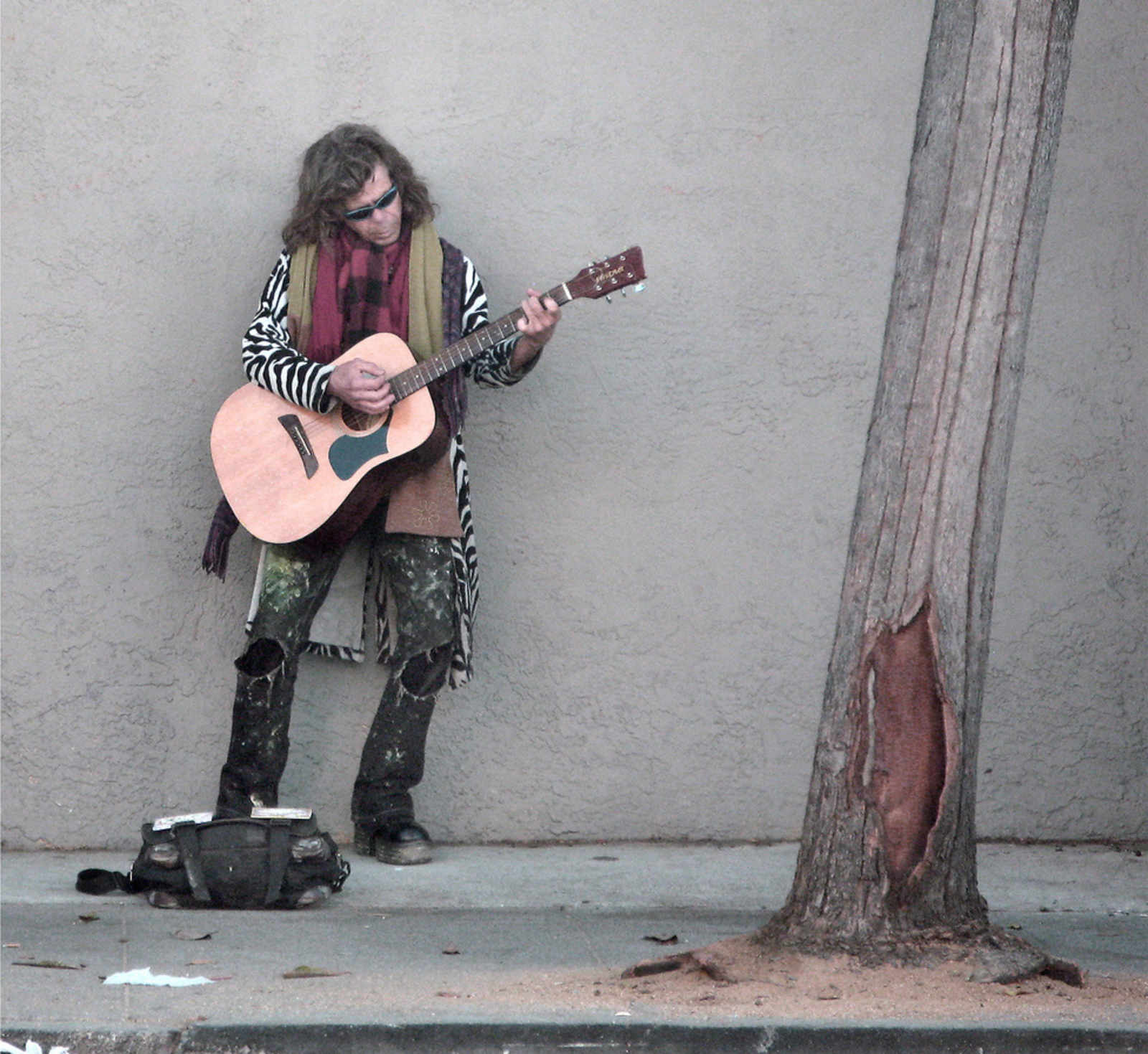 It seems Omer Travers, a.k.a. Bum Jovi, one of the last of the Valencia Street Eccentrics, has finally pushed off.  Your editor hasn't seen him slashing his weathered guitar outside a sex shop in months, and our friends have noted his absence as well.  Now his Facebook profile (which features an amazing Omer selfie) says he's living in Arizona.
Some will probably cheer his departure—to say he was a controversial figure would be underselling his 20+ howling years in the neighborhood.  His litany of Yelp reviews says it all:
"Racist. Dirty. Batshit crazy. Terrible guitar player. Snazzy glam rock fashion sense. Striking resemblance to David Johansen. There are few people left on this earth who posses even even a handful of these qualities, even fewer who REALLY don't care what you think about it." - Jason X.
"I'd like to kick him in the face." - Michael A.
"I just want to kick him in the nuts." - Gabe S.
"My most recent interaction with Omer was two nights ago when at 3-FUCKING-AM I had to stick my head out of my bedroom window and tell him to shut the hell up & stop yelling because I - along with most of the other normal people in the neighborhood - was sleeping & had to get up for work the next morning. The "hipster" Omer's response? He gave me the finger the continued yelling and carrying on…" - Kate K.
"He looks just like William H. Macy, except he has a mullet and dresses like a gypsy commando." - Steven C.
"I work at a cafe and he's constantly coming in to yell briefly and leave.  All you gotta do is yell back at him.  Usually i just yell, "DAD?!" and it smoothes things over with the ruffled customers and he gets embarrassed and scampers off." - Gavbo O.
"Dear Omer (aka Bum Jovi), I'm waiting for the gentrification fairy to turn you into a parklet." - EDW Lynch.
But I prefer his most recent review:
"Legend."