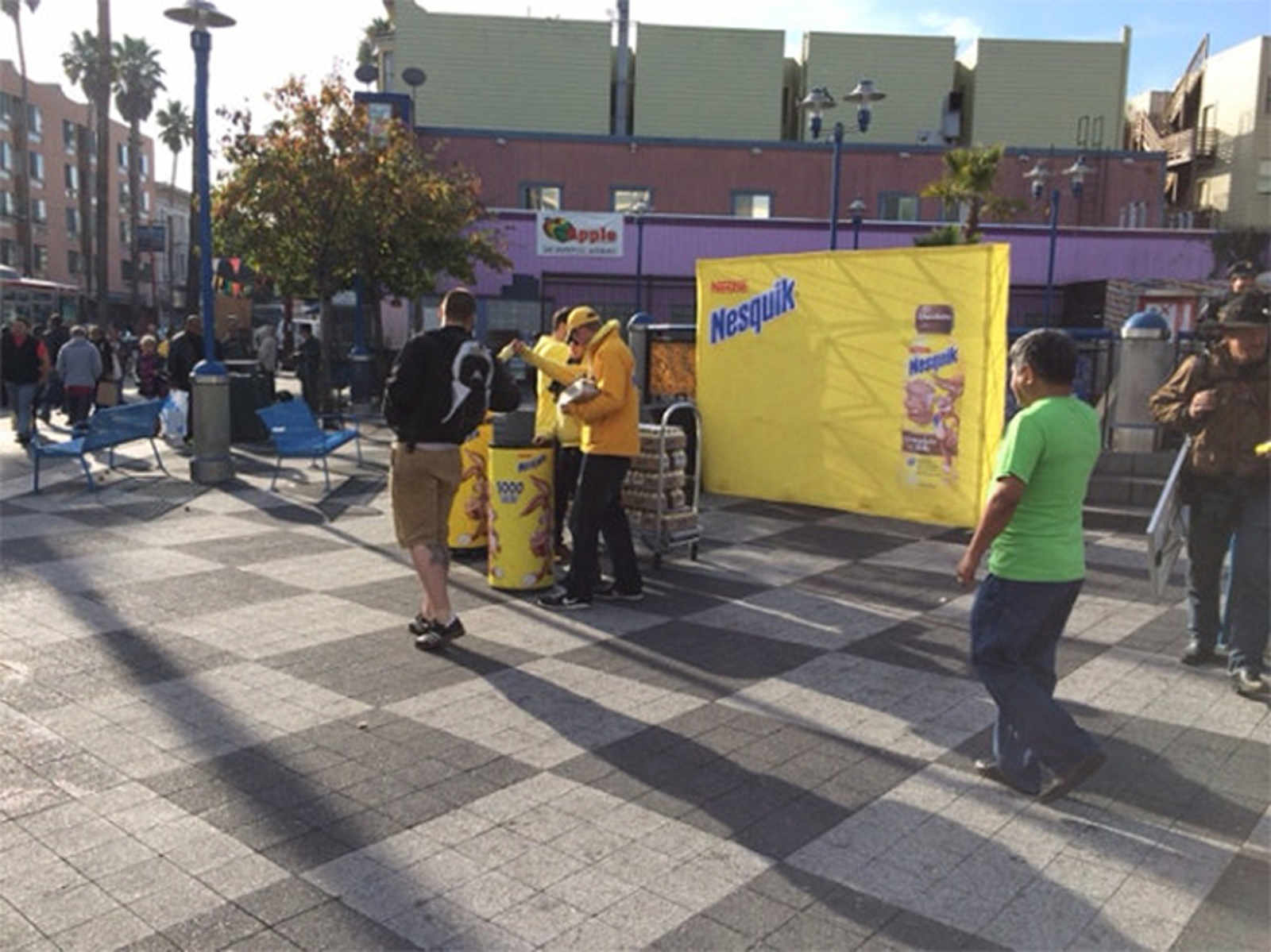 The 16th and Mission BART plaza has gone through an incredible transformation in the last 9 weeks.  It was as only mid-September that you would emerge from the BART station and see a cast of so-called unsavory characters doing everything from drinking tallboys in paper bags to selling (probably stolen) goods rolled out on blankets.  And then there was the violence, drugs, and general loitering that put the neighborhood's more sensitive and vulnerable populations on edge.
But today? Nesquik can be found setting up a booth to give out free chocolate drink.  Even the plaza's notorious scent is wafting away.
The turnaround began on the week of September 22nd, when BART, the Department of Public Works, a private security corporation, and the San Francisco Police Department teamed up to better patrol the plaza and shift the nightly plaza wash-down to mid-day, all at the urging of the shadowy "Clean Up The Plaza" coalition.
Clean Up The Plaza surfaced on June 1st, hanging signs in business windows and launching a petition, which we then noted was "little light on details as to what they want done."  The organization bills itself as a "grass roots [sic] effort" made up of "residents, merchants, and visitors" of 16th and Mission.  From their mission statement:
We are a coalition of Residents, Merchants, and Visitors who use the 16 Mission Bart Station in our daily travels.  The area around the Plaza on these corners is in deplorable condition. We have lived in danger and with the blight of this corner for too long.  Our neighborhood deserves better access to safe, clean and walkable transportation corridors.
Their website lists their core members, painting their bios with broad strokes such as "BART rider," "business owner," "property owner," and "resident."  However, researching the individuals behind the campaign reveal they are anything but the humble neighbors as they are so described.
Of the original core members of Clean Up The Plaza (the organization expanded their membership list earlier this fall), at least four members have downplayed their status in the community to give the petition a "grassroots" feel.  One of these members, David J. Sanchez, Jr., is described merely as a "property owner."  However, Sanchez is deeply embedded within the bowels of the San Francisco government, serving on the San Francisco Health Commission, the Police Commission, the Board of Education, and on the board of the SF General Hospital Foundation.
Gwen Kaplan is similarly described as a "business owner," but also happens to be the former president of the San Francisco Small Business Commission and sits on San Francisco Chamber of Commerce board.  Clean Up The Plaza also lists Gwen Kaplan's business Ace Mailing and the North East Mission Business Association, which is funded by Ace Mailing, as a member organizations without disclosing their link to Kaplan.
Clean Up The Plaza has not returned repeated emails or phone calls for comment.
On the surface, it's hard to argue with the changes happening at the plaza—cleaner sidewalks, less violence, less public drunkenness, less smell.  But the unfortunate truth is these changes are largely coming on the backs of the poor, from the homeless to the hundreds of SRO residents who use the plaza as a common space to escape their prison cell-like living conditions.
The week the "clean up" commenced, Laura Guzman, the Director of Mission Neighborhood Resource Center, told us DPW workers were going around to homeless camps in the blocks surrounding the plaza, telling the homeless that they had to pack up and move or else they would be "sprayed out" with a hose.  She went on to tell us about the strong-arm tactics she saw at the plaza:
I have seen up to five cops closely monitoring what people are doing at all times. I have been told that folks have been harassed for smoking cigarettes… I was there [on September 24th] and I was going to give light to one of [the Mission Neighborhood Resource Center's] homeless participants, and a police officer approached to see what I was doing (he probably thought I was going to smoke crack with my guy or something). Two police men where closely watching an African American lady who was shaving her man's head. It is out of a movie to see it. I also spoke to some of the old timers, who stated to me no one has come to offer not even shelter to them…
Since Guzman's report, we too have seen no less than two police officers in the plaza at any given time, handing out citations for offenses as minor as open containers—issues that easily pass in places as nearby as Dolores Park.  And two weeks ago, private security officers from Legion Corporation were spotted telling smokers outside Kilowatt to "move along" for loitering on 16th Street:
All this makes us wonder: why are people as politically connected as a former Police Commissioner and a Chamber of Commerce board member astroturfing a clean up on 16th and Mission?  Who is paying for private security officers to patrol the area?  And why do they think they need to be secretive about their affiliations?
Regardless, this is what "hyper-gentrification" looks like.