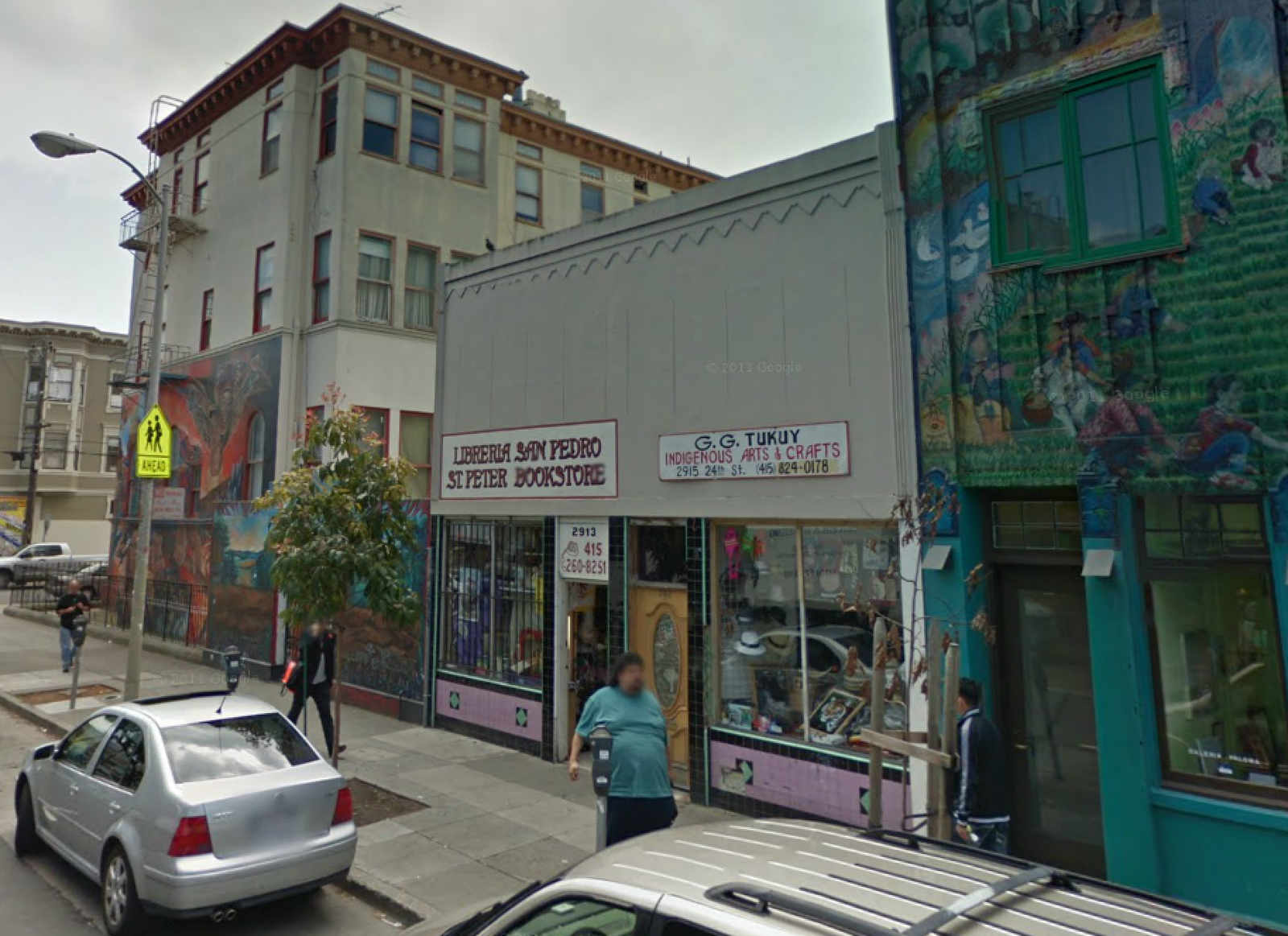 Because nothing is sacred (ha!) (ugh), we're now hearing word that the Catholic Church is plotting the eviction of two long-term Mission businesses.  Praise God!
According to a petition being circulated, which has already amassed nearly 1,750 signatures, the San Francisco Archdiocese is looking to evict St. Peter's Bookstore and G.G. Tukuy Indigenous Arts & Crafts to bring in a high-end restaurant and higher rents:
The community of the Mission District and 24th St. strongly oppose any plans to evict St. Peter's Bookstore and G.G. Tukuy after years of being on 24th St. and convert the space to a high-end restaurant. The plans will not only destroy the social and cultural fabric of 24th St. but displace 2 community serving businesses and their families. We are shocked that the San Francisco Archdiocese would even consider such a move. We are opposed to the change of use from retail to restaurant and will boycott them from forcing themselves on our community. Stop Urban Deportation.
If this sounds like a familiar story, it's because it is: the business's leases have expired, the landlord ("The Church") is keeping them on a short, month-to-month leash, and now the landlord is looking to cash in on the restaurant bubble. Via El Tecolote:
Both businesses are tenants in property owned by the adjacent St. Peter's Catholic Church, and their leases with the parish have expired. They are currently renting on a month-to-month basis.

In the spring, Rev. Manuel Estrada, pastor at the St. Peter's Church, received notification from the Archdiocese of San Francisco that the two businesses may be subject to eviction.

"I told (the Archdiocese) that these spaces are already rented…by families from our parish and that I don't want them to leave," he added. "It's important to preserve these businesses … because this is a Latino neighborhood … I think that is our identity as a neighborhood."

According to [Erick Arguello of the Lower 24th Street Merchants and Neighbors Association], the Archdiocese was made an offer of $100,000 by prospective investors to replace the current tenants with a high-end restaurant.
The Church is already being accused of "bullying" and "harassing" to get their way, so expect this to get worse.  We'll update you as this sad situation develops.