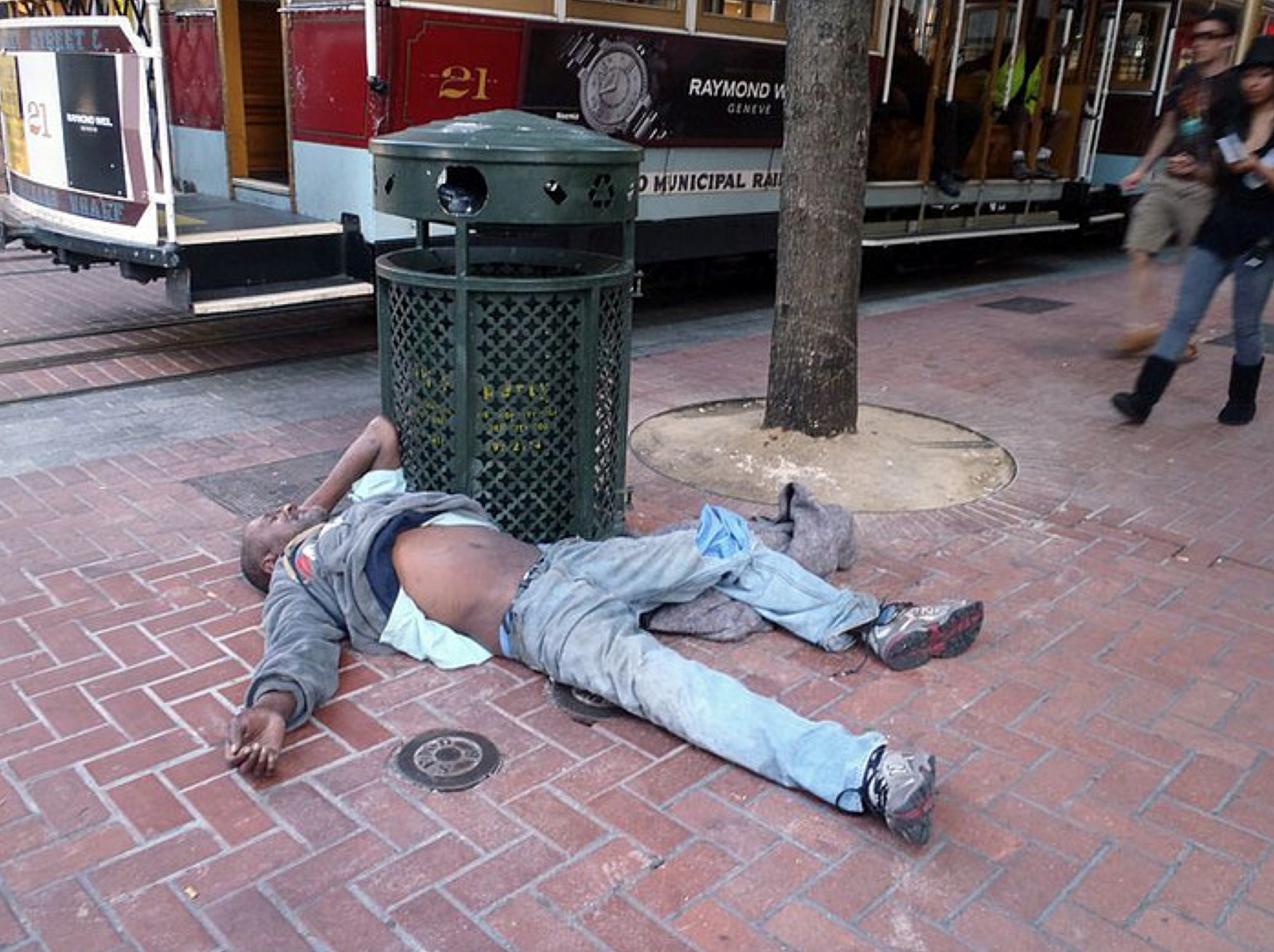 San Francisco! It's the worst. The weather, the people, the cyclists, the dreary architecture and glum landscape… just ugh—why would any sane person want to live in this urine-scented homeless wasteland? Without the skrillions of available venture funding dollars and generous tech tax breaks, it's obvious San Franawful would drift off into an ocean of irrelevance.
At least, that's the opinion of Peter Shih, co-founder of an assuredly ground-breaking credit card-processing start-up who was forced to move to San Francisco by his cruel funders at Y-Combinator.  Peter took to Medium—the thought platform that's currently the darling hood ornament of the tech community—to air his thoughts on his adopted hometown.  Cleverly titled "10 Things I Hate About You: San Francisco Edition"—which I won't link to on principle—he breaks down SF's problems in a conveniently digestible listicle.
Let's take a look at his better points:
1. Public Transportation

If you don't agree with me that the SF MUNI is a pathetic excuse for a public transportation system, then I suggest you visit either of the following cities at your convenience and then proceed to get your head out of your ass: New York City, London, Paris, Tokyo, Taipei, Hong Kong, Seoul, and… actually you know what? Just goto any real city…
San Francisco should be lucky to have Peter.  Peter is bringing the credit card industry to its knees.  Peter is going to change the fucking world.  How dare San Francisco consider itself a real city when its public transportation service isn't exactly what Peter expects.  If Peter lived in a real city, Peter wouldn't need to call an Uber to get where he needs to go.  San Francisco is making Peter use Uber.  How dare San Francisco?
3. Weather

I hate how the weather here is like a woman who is constantly PMSing. I hate how I can't tell the difference between August and February. I hate how I have to turn on the heater in the middle of summer. I hate having to always carry a jacket because of the 20 degree swings between day and night.
Nature, who the fuck do you think you are?  Peter understands that you're Mother Nature, but you're at least 6,000-years-old according to Rick Perry.  Can't you go through menopause already? Peter needs it to be at least 10 degrees warmer outside so Peter can leave his tech-branded hoodie at home.  Peter is about to unfollow @karlthefog on Twitter.
5. 49ers

No, not the football team, they're great. I'm referring to all the girls who are obviously 4's and behave like they are 9's. Just because San Francisco has the worst Female to Male ratio in the known universe doesn't give you the right to be a bitch all the time.
Peter is special.  Peter was accepted into Y-Combinator. Can you imagine some dumb shit woman possibly thinking they are slightly-less-than-perfect around Peter?  Peter is a God.  They should make statues of Peter.  You are a woman in a club.  You are just a 4 compared to Peter.
6. Homeless People

San Francisco has some of the craziest homeless people I have ever seen in my life. Stop giving them money, you know they just buy alcohol and drugs with it right? Next time just hand them a handle of vodka and a pack of cigarettes, it'll save everyone some trouble. I'm seriously tempted to start fucking with people and pay for homeless guys to ride the Powell street cable cars in the middle of the day, that ought to get the city's attention.
Peter has been crushing it lately.  Peter's start-up is seeing exponential growth.  Peter is raising money.  Peter is raising hell. Peter is about to hire a growth hacker.  Peter is king.
But San Francisco is bringing Peter down.  San Francisco is allowing mentally ill, drug-addicted homeless people abandoned by society to be in the same 49 square miles as Peter.  Peter does not approve.  Peter just wants to make apps for other Peters, call out some women for being bitches, and put the world's issues out of Peter's mind.  But Peter is a visionary.  Peter is an innovator.  Peter is going to disrupt the city's blindness to Peter's problem with homeless people by paying the homeless to hang out with tourists.  Peter will solve homelessness for Peter.
8. Nightlife (or lack thereof)

Nowadays I don't even want to go out because getting kicked out of a bar/club at 2AM, which usually is the peak of the night, is just depressing. Pair that shit sandwich with public transit being non-existent past midnight and the Transvestite to Taxi ratio being quite literally off the charts – it is impossible to get home safely, especially if you live far from downtown.
Peter is a warrior.  Peter is not some 9-to-5, color-inside-the-lines corporate drone: Peter is a code-slaying rebel. Peter believes that if you work hard, you should get to play hard too.  Peter wants to shred code all day that disrupts the credit card market, drinking Red Bull and eating Swedish Fish at his desk until 10pm, then go to the club and scold all the 4s who think they're 9s for being bitches.  Can you imagine the gall of California State Law telling him to go home at 2am?
What a bunch of 4s.
10. Bicyclists

Stop being fucking hypocrites. If you want to share the road, then you need to respect the rules of the road and stop running stop signs and lights. Next time I see one of you fuckers bomb through a crosswalk and almost mow down a row of pedestrians I'm going to clothesline you.
Peter drives like he codes: move fast and break things.  Like government regulations and general ethics, bicycles are just getting in the way of Peter's greatness.  Peter will fucking clothesline you.
Peter should go home.
UPDATE: Peter is backtracking.  Peter has deleted the most offensive parts of Peter's article and put up a desperate disclaimer stating it was intended to be satire.  Here is the original post.