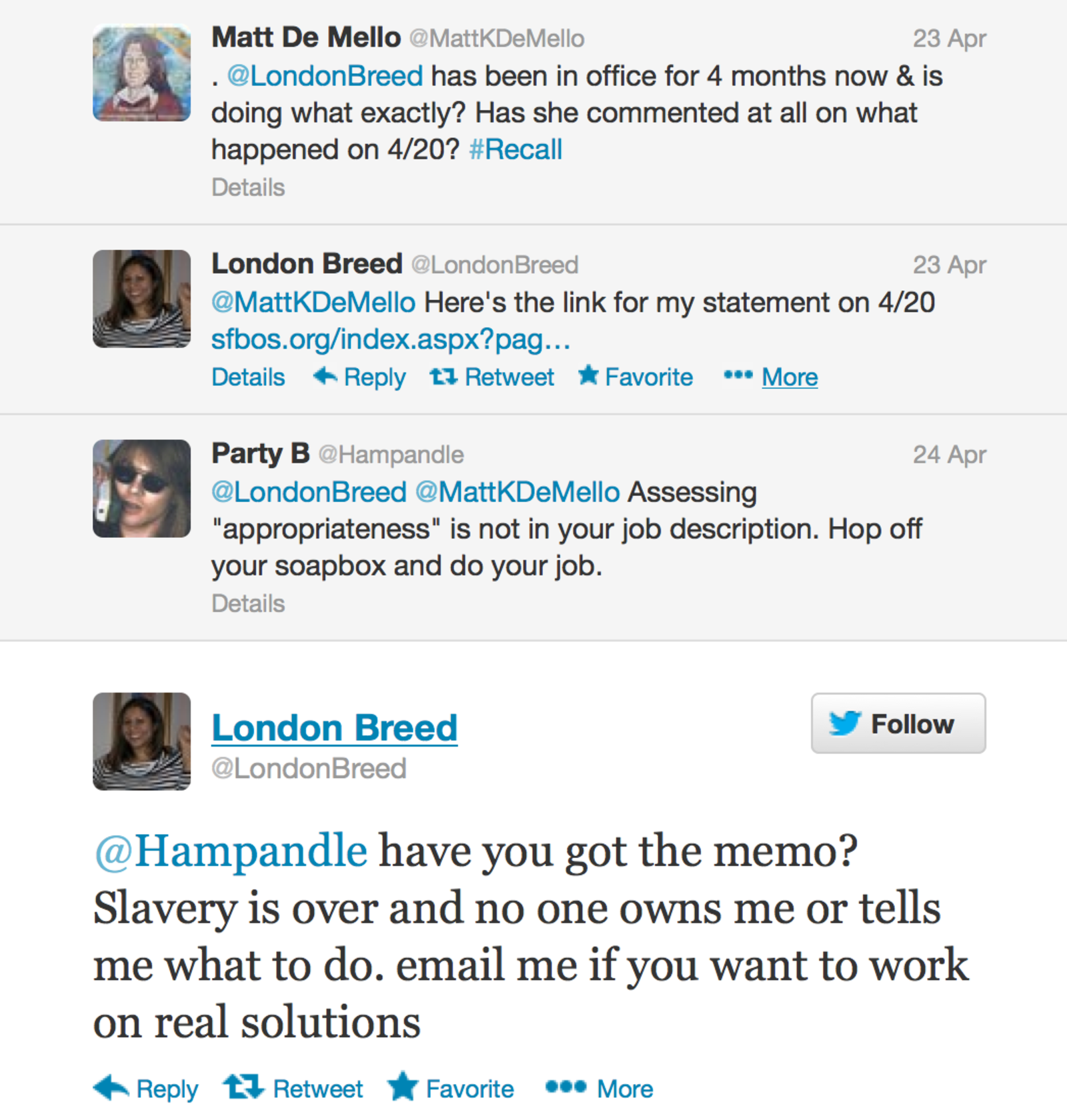 District 5 Supervisor London Breed is perhaps still most famous for her awkwardly foul-mouthed campaign rant about how the Willie Brown/Rose Pak cabal doesn't "fucking control [her]."  (In her own words, "I don't do what no motherfucking body tells me to do.")  Now, she's keeping up her 'independent bad bitch' shtick, chewing out her lowly constituents on Twitter, needlessly pulling out the race card, and implying her detractors and evil wannabe slave-owners.
Her recent blunders follow her "Statement on '4/20' Celebrations in Golden Gate Park," in which she decried the "drug abuse" and "non-medical marijuana use" of the event. Reader Cynthia fills us in:
Did anyone notice London Breed's tweets on Wednesday? She was on a roll. I happened to be tweeting with her as well, until I called her out on tweeting in Budget & Finance.

Me: When @mayoredlee is to the left of a D5 supervisor, it's kind of a fucked up day. #420 #ggp @LondonBreed
LB: seems to be a common occurrence for you. Sounds like a personal problem. The news always take things out of context.
Me: You know, @LondonBreed, maybe it is "personal". I love my district. But the real issue is your stance, not me calling you out on it.
LB: all good. It's welcomed excitement in my life.
Me: Wait! @LondonBreed Are you tweeting while in Budget & Finance Committee?

— radio silence —

I mean, at least she didn't pull the slavery comment with me, as she did another person, but when would that ever be an appropriate response to a constituent?
Good question.  Here are some of her other best hits: