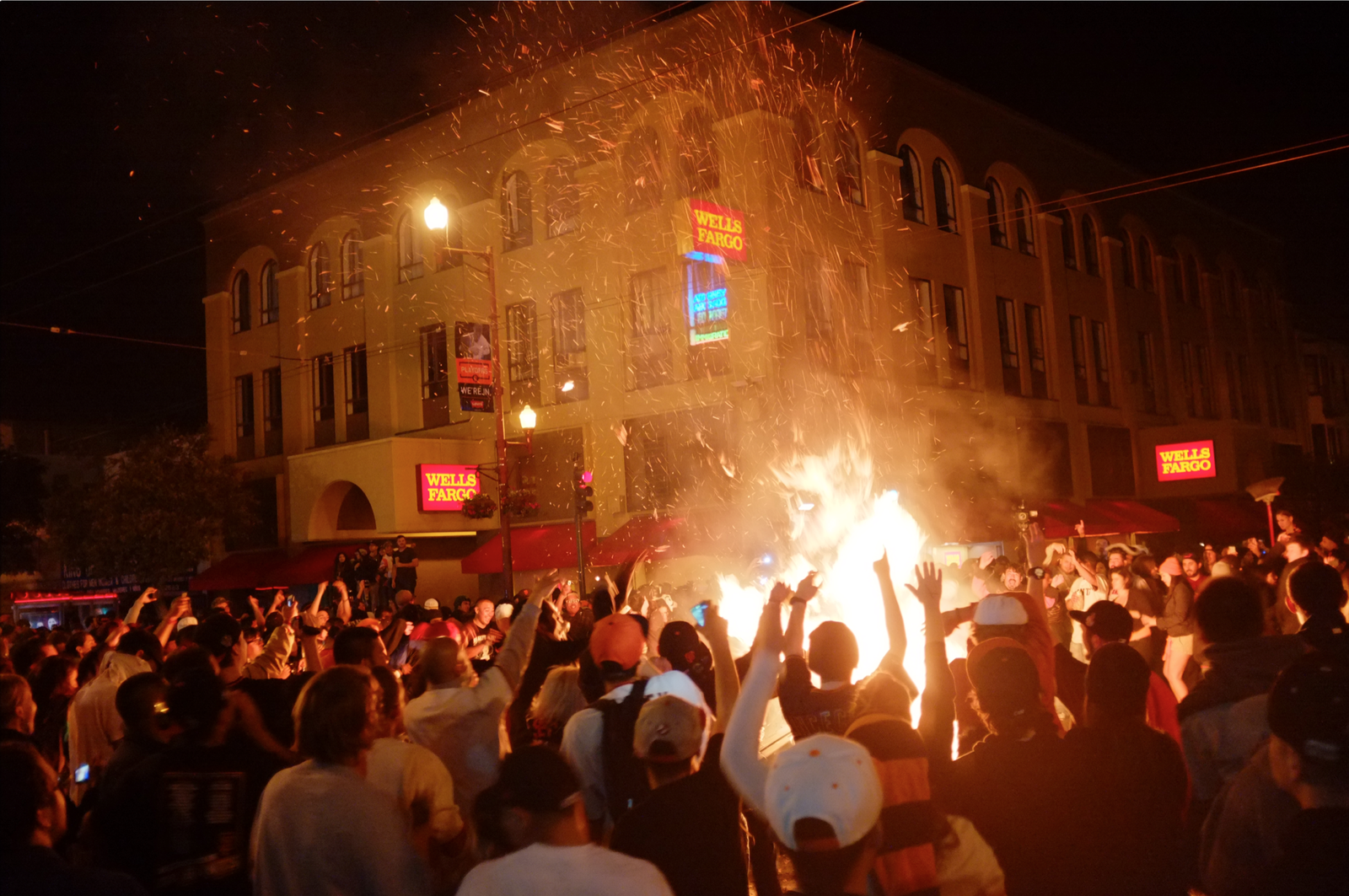 In an effort to cut down on the undeniably uncool vandalism that followed the Giants' crushing World Series victory, Mayor Ed Lee is 'going after booze' instead of 'tackling the culture of violence' that surrounds celebratory rioting.  The Chronicle fills us in:
The mayor said [last] Thursday that [this] week he and Police Chief Greg Suhr will tour neighborhoods hit by vandalism after the World Series and during Occupy Wall Street protests last year to offer support to business owners and "also to suggest that they serve something (other) than heavy alcohol during times of celebration, because that inebriation sometimes doesn't help with people who want to maybe go beyond the bounds of acceptability in their celebration."
In other words, take the booze out of the bro, maybe the bro won't torch your neighbor's compost bin outside of West of Pecos.
However, opt-in from local bars is purely voluntary, suggesting shots will be served well into hour three of Telecopter 4's continuous chaos coverage.  Or, as Adam DeMezza of 16th Street's Giordano Bro's pragmatically told the Chronicle, "it's a good idea, but it's going to be a tough sell."
Tough sell, no doubt.  Considering every bar in the neighborhood will be packed full of folks feverishly drinking away shitty 2 Broke Girls commercials hours before kick-off, these places stand to lose lots of money by cutting-off their supply.  But this is the same strategy used by the city in 2007 when they were looking to dial back the whimsy (and, uhh, shootings) of Castro Halloween, and that effort saw empty streets and all but one bar closed.
Besides, it's good for business:
Lee noted that it was particularly important to keep the celebrations safe and respectful given that the San Francisco 49ers are making a bid to host the 2016 Super Bowl. That game would be played at the team's planned new Santa Clara stadium, however, and not in San Francisco.
So have a sober Sunday, folks. For Santa Clara.