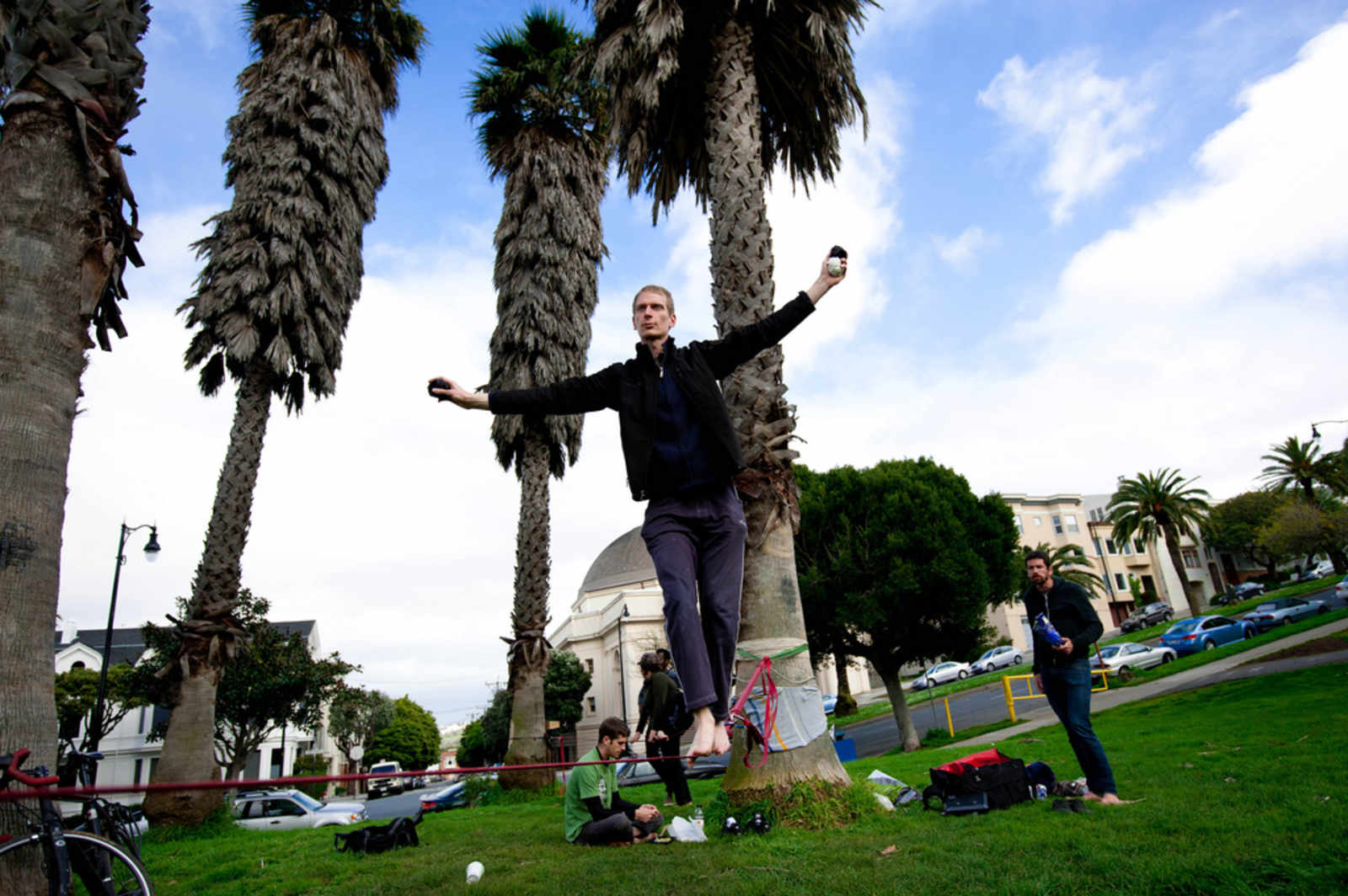 As the City of San Francisco continues its annual temper tantrum over people having fun in city parks, they've found a new menace to direct their attention to: slackliners—you know, those guys and gals who tie ropes from tree to tree and walk across them…real gnarly stuff.  Hide your kids!
See, the city's park policies make this (and many more activities) illegal, and now the slacklining community is looking to get that changed.
Max for SF Slackline fills us in on the situation:
Currently the rule says, "It's unlawful to attach anything to trees" in San Francisco. So technically it is illegal to rig a slackline to tree, attach a hammock, or even place a balloon on a tree in San Francisco. I have meet with the head of Recreation and Parks and they will not change the rule, but If I can prove there is community support and that slacklining is a growing recreational sport, then we can get certain spots (or certain trees) permitted for slacklining.

When Dolores Park was being renovated they wanted to cut down the palms where we slackline. A fellow slacker named Evan sent a complaint and prevented the trees from being cut down. This was first time the city acknowledged slacklining as community supported recreational sport. However in no way did it legalize slacklining, we just prevented trees from being cut down… Dolores Park authorities have tended to turn their back on a lot of things in the park (however, I have still been shut down multiple times in that park). We have always had access issues in city, with occasional ticket threat (in the Presidio in February, I was threatened by federal cop that he would confiscate all gear and give me multiple fines me for illegal movable structure, rigging on trees, and slacklining without permit).
I can understand why the city might want to shut them down, seeing as through they're dirty fucking hippies and what not.  But is it really necessary?  Well, no.  Obviously not—especially since they don't blast dubstep at other park-goers, nor do any real damage to the trees the parks department wanted to cut down in the first place.  But the city is against them anyway, which is causing Max and the SF slackliners to take action:
In response to growing slacklining community and the fact that Recreation & Parks will not classify slacklining as recreational sport, I decided to take action. Slacklining is in a gray area; no one has legalized it, nor is there any rule that says it's illegal. By getting local community support of both slackers and non-slackers, I believe I can pull enough evidence and credibility to designate "slackspots", specific areas where authorities and park services will recognize its a slackline approved area.
Should you want to show 'em some support, Max encourages you to send SF Slackline letters of support, which you might also want to consider sending along to the Department of Recreation and Parks.
[Photo by Matthew Roth | h/t DP Works]