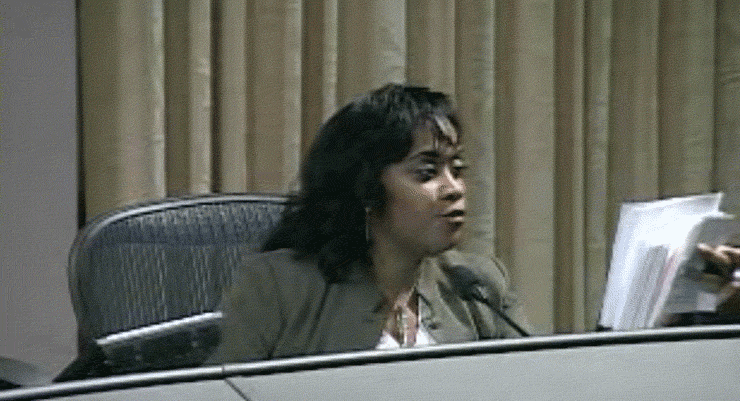 All eyes from civil liberties watchdogs across the Bay Area were on Oakland's City Council meeting last night for the discussion of and vote on agenda item number 14, Domain Awareness Center (DAC) Phase 2 Contract Award. And there would be much discussion, with opponents that included the National Lawyers Guild, ACLU of Northern California and Electronic Frontier Foundation heeding Oakland Privacy Watch's call to "flood the hall." Collectively, the audience submitted 149 cards to weigh in with public comments, now being fanned perpetually above.
Five hours later, the Council voted 5-4 to significantly curtail the effort, restricting it to only the Port of Oakland and Oakland Airport facilities owned by the city (at least until the city can come up with a privacy policy). The decision was welcomed with a mix of applause and jeers, as many had hoped for the project to be scrapped entirely. Mayor Jean Quan broke the tie with a "yes" vote on the more limited implementation after showing up around 10pm and reportedly killing time going through her mail and checking out catalogs.
Those watching at home and playing bingo couldn't see some of the more theatrical moments beyond reach of the cameras, like "One man in a balaclava [who] used his smartphone…to take close-up pictures of city staffers and interim Police Chief Sean Whent as they waited to speak" according to Chronicle reporter Will Kane. He reports another masked man using his public comment time to read Michel Foucault out loud, while Oakland North shared pictures of protestors with LED signs reading "SINK THE DAC." Councilmembers buried their head in their hands and plugged their ears as the boisterous meeting dragged on.
Quan, who backed the full program but was forced to settle for the more limited proposal, was surprised by the vehement opposition but vowed to move forward. "It didn't occur to us … that a system that would just help the existing cameras coordinate better in an emergency would become so controversial." Similar systems, implemented with the help of federal money, exist in New York, Chicago and Los Angeles.
Overtly intended to help first responders in emergency situations, the program and the technology behind it raised concerns that it was a stalking horse for the continuation of a "Total Information Awareness" approach to counterterrorism that would grow beyond emergency response to include surveilling local activists and policing everyday citizens. In the context of the Oakland Police Department's ongoing struggles, the NSA's widespread domestic surveillance, behavior prediction algorithms leveraging "big data" and mobile tracking and recording technology like smartphones and wearable technologies such as Google Glass, the audience's fears don't seem entirely unreasonable.
"You could say that we won on some level," vocal opponent Dustin Craun told the Oakland Tribune's Matthew Artz. "But I think they put their foot in the door for expanding it later." Which? Pretty much!
"The most important thing is that at least the port security system will be there … and it will give us time to talk about privacy," Quan assured fellow supporters. Once those rules are in place, the City Council will likely reconsider features, including the centralized video monitoring system and connections with ShotSpotter microphones for notifying and locating gunshots. "We'll bring them back one at a time," Quan promised.
Opponents were just as committed, and the issue could have implications for the upcoming mayor's race, where Quan has been sliding in the polls. Popular Councilmember Rebecca Kaplan, who voted against the DAC, was the most popular choice for mayor in a December poll, with Quan in third.  Officially Kaplan isn't planning to run until 2018, but in the meantime Occupy Oakland veteran Jason "Shake" Anderson recently announced his candidacy with the Green Party, offering guaranteed opposition from the left to the increasingly moderate Quan.