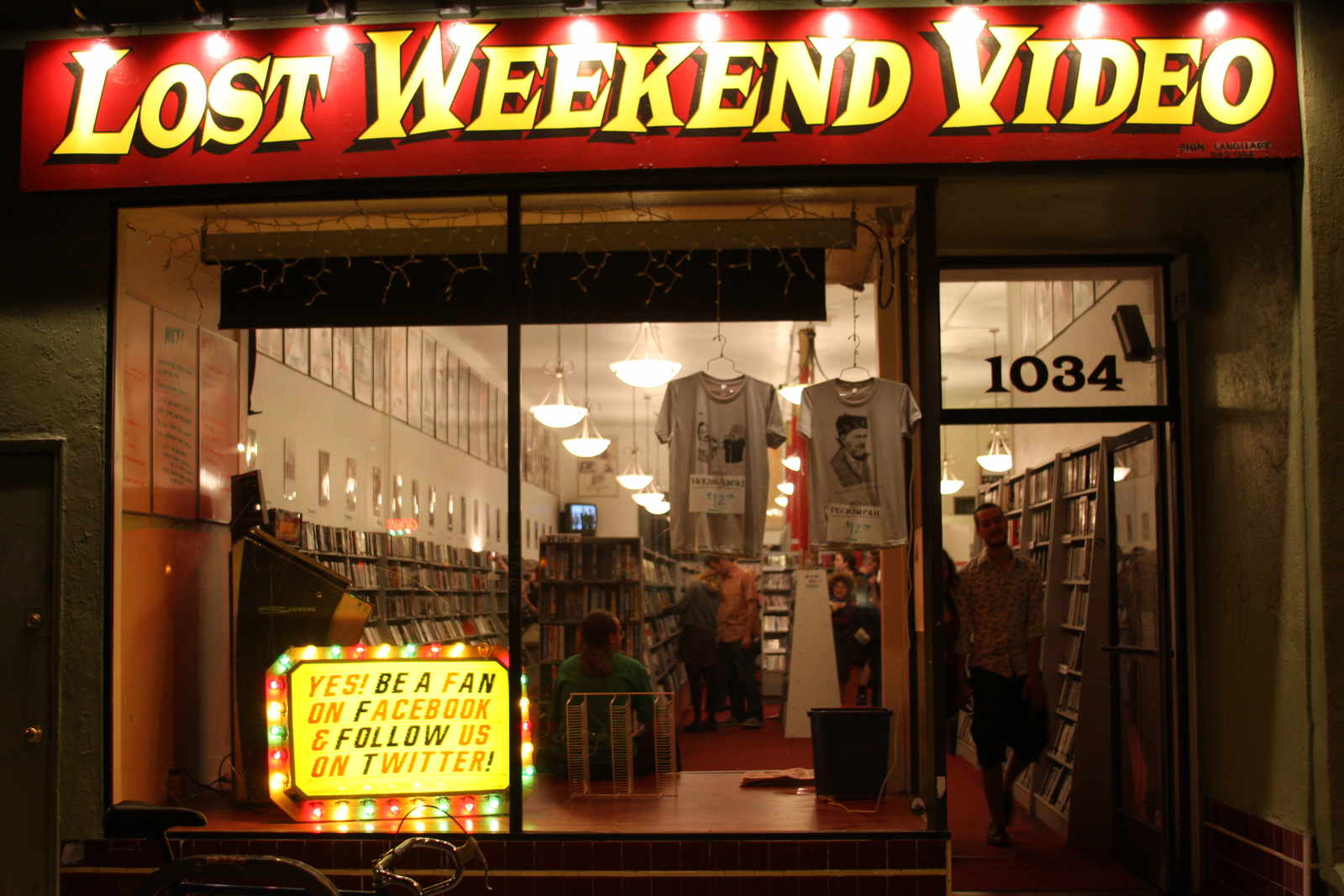 Like a cockroach in a nuclear holocaust, Lost Weekend Video stubbornly refuses to yield to the wave of gentrification scorching Valencia Street. For the last year, the venerable video store appeared to be in hospice, marking time until the inevitable end.
It was going to be yet one more instance of the demise of a beloved local institution which embodied the loss of the soul of the city. The Lusty Lady, Elbo Room, Flax, The Lexington Club, Marcus Books—one place after another that we didn't really spend money at to help keep afloat but nevertheless found it satisfying to grieve their loss. 
Not this time, bastards. Lost Weekend survived.
Lost Weekend is a video store owned by a members of legendary Bay Area bands like Jawbreaker and Smoking Section. (BADASS.) They have weird and obscure DVDs, so if you just want to stream Michael Bay blockbusters you can fuck right off. But if you want to bury yourself in unstreamable cracking British television shows, get down to Lost Weekend. Mad Max: Fury Road was a rad movie version of Cirque du Soleil, but now we need to re-watch Road Warrior, which is not on Netflix. Lost Weekend has your back. (BADASS.)
AND EXTRA BADASS (for me, because comedian) three years ago they started comedy shows under the name Cynic Cave. In that time, the Cynic Cave has become the beating heart of San Francisco's alternative comedy scene. There are regular standup shows, chat shows, game shows, storytelling shows, and shows for national headliners like Natasha Leggero to work out their tours. If you want to see something beautiful and weird that may never happen again, go watch comedy in Cynic Cave.
Still not enough, they took steps that in May finally give them a longer-term lease on life. They teamed up with 1234Go! Records to share the space. They raised $30,000 from an Indiegogo crowdfunding campaign for renovations to make the new store awesome. (PS you can still help by donating or signing up for a membership.) They also finally went to the Entertainment Commission to get permits for the live entertainment that was, ahem, already transpiring.
A record store that sells vinyl, a video store with a better selection than a RedBox, and a madcap comedy lair—once upon a time this would be a one-stop shop for everything in life I care about. It's why people live in the Mission. Because this cannot exist in Orinda.
But Christy Colcord, one of the owners, sent Uptown Almanac this sobering update:
[As] much as I'd love to call it all a success, we're still struggling mightily. Ironically, our rental business has gone down since the remodel. We spent two months and $30,000 completely redoing the place and now business is even slower than before. It seems that people only read headlines, so they assumed that we were closing. When they walk by, they look in the window and see records and just assume that we moved or closed even though all of the DVDs are still in there & our sign is still on the front of the building. Or I run into longterm customers on the street who commiserate with me about us closing and I have to point out that we're still open.
If we go back and rent a movie once in awhile, pay to support some live comedy, maybe, just maybe, the Lorax and the barbaloots will come back. Speaking of which, you can even rent the Lorax with Danny DeVito at Lost Weekend. But DON'T DO IT. Rent the 5000 Fingers of Dr T instead.
In fact, I'll make it easy for you: watch me co-headline an evening of standup comedy on June 13 at Cynic Cave with J. Elvis Weinstein of Mystery Science Theatre 3000 and Cinematic Titanic. Tickets here.
[Photo: Greg S.]