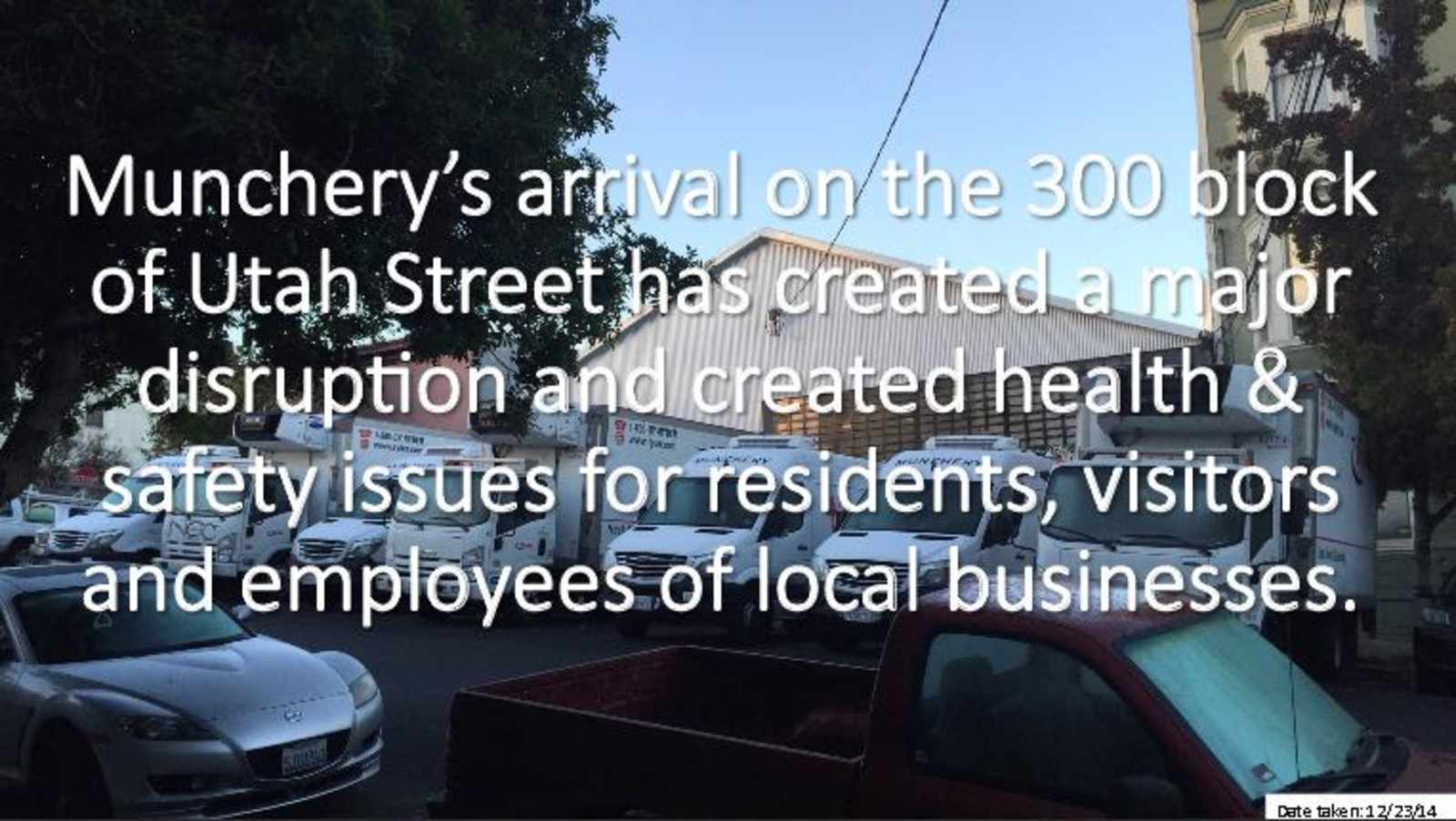 Munchery is all about doing things its own way. The meal delivery start up that's raised nearly $40 million first entered the lazy-eating game by delivering chilled, fully plated meals to the doors of Bay Area residents in 2010 and has grown quickly since. And in the style of companies who thrive on disrupting established industries, Munchery has been repeatedly shown to prioritize growth over environmental concerns, safety, and addressing complaints from their surrounding neighbors.
The company's historic disregard for both city and state laws and its neighbors has continued at Munchery's recently opened Utah Street facility, multiple neighbors tell Uptown Almanac. At a February 4th community meeting between Munchery co-founder Tri Tran and "the frustrated and frightened neighbors of Munchery", with both district Supervisor Malia Cohen and a representative from SFMTA in attendance, a 20 page document was presented, detailing the ways in which "Munchery's arrival on the 300 block of Utah Street has created a major disruption and created health & safety issues for residents, visitors and employees of local businesses." This document, sent to Uptown Almanac by one of the neighbors in attendance, details many of the ways in which Munchery has struggled to address the repeated complaints lobbed against the company by the surrounding community.
The concerns presented at the February 4th meeting will seem familiar to the businesses and residents of Alabama Street, home to Munchery's location in the Mission. They include Munchery leaving food waste on the sidewalk, idling trucks, obstructing automobile traffic and blocking the sidewalk. But the actions documented by the presentation also veer into the bizarre. One slide titled "Munchery Employees Disrespect Neighbors" details a neighbor's alleged January 25th encounter with a Munchery employee that got heated. The employee had to be physically restrained by his coworkers, as he shouted at a neighbor "to come here and tell him that to his face." The "that" in question being the neighbor's request that the employee not repeatedly bang a roll-up door.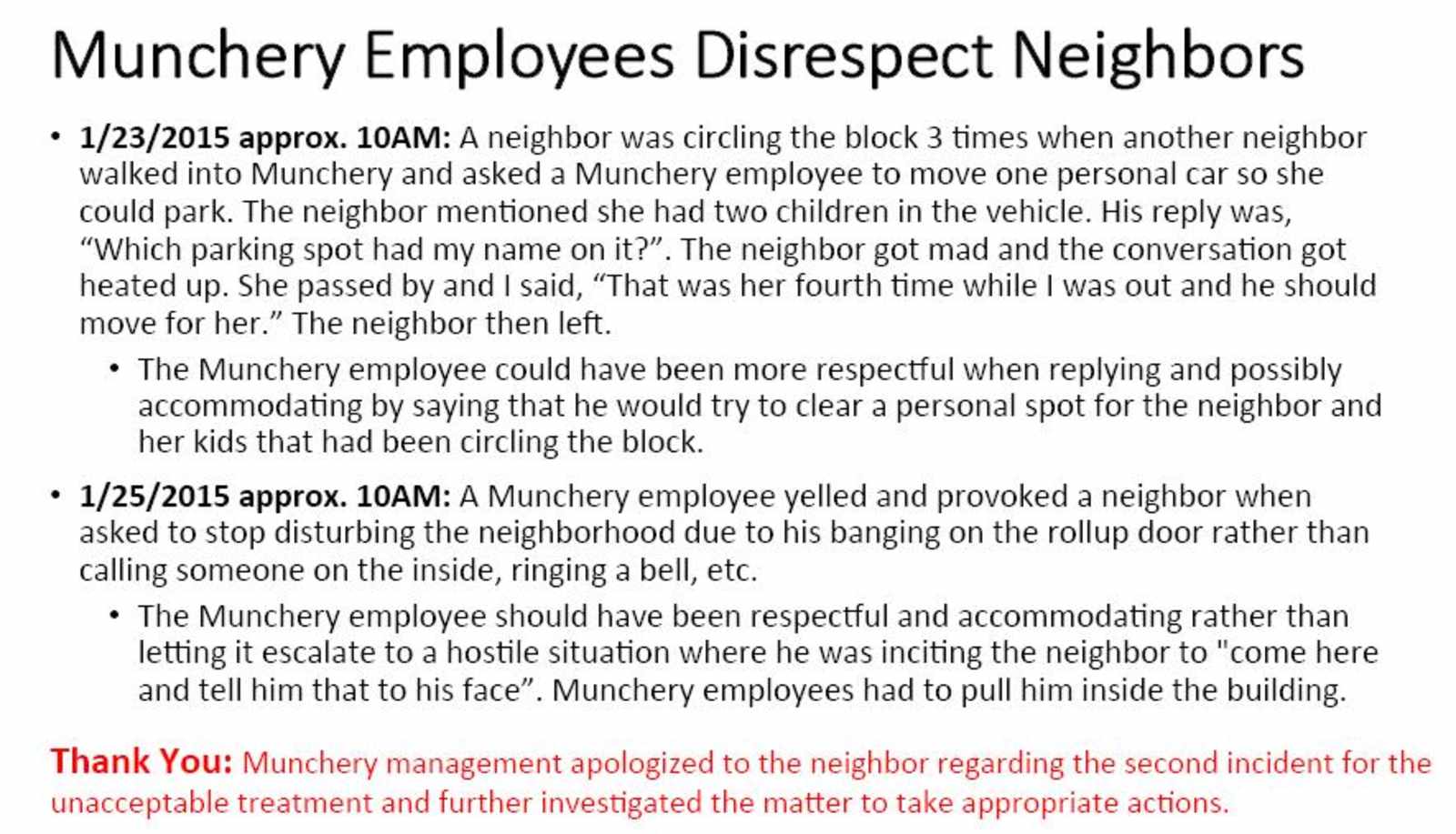 Munchery is not completely blind to the concerns of its neighbors, as Munchery did apologize for the "come at me bro!" antics of its employee. In addition to this apology, one neighbor, Jeff Benson, told Uptown Almanac that "the move in was rough, [but] it's getting better." Benson went on to say that what is happening on Utah Street "is not the same thing as what happened on Alabama Street."
In conversation with Uptown Almanac, nearby property owner Erin Neff expressed frustration with Munchery "using the public street as their loading dock" and the seeming recklessness with which Munchery trucks are operated, mentioning that the trucks have damaged residents' cars parked in the area. And while so far the damage caused by Munchery trucks has only been to property, Neff told Uptown Almanac that she fears the situation created by the trucks is dangerous to pedestrians.
"We are scared. So far only cars have been hurt, but it's volatile, and someone is going to get hurt."
Neff added that the 300 block of Utah Street was already home to a UPS distribution center, but "Munchery had made UPS seem like a dream."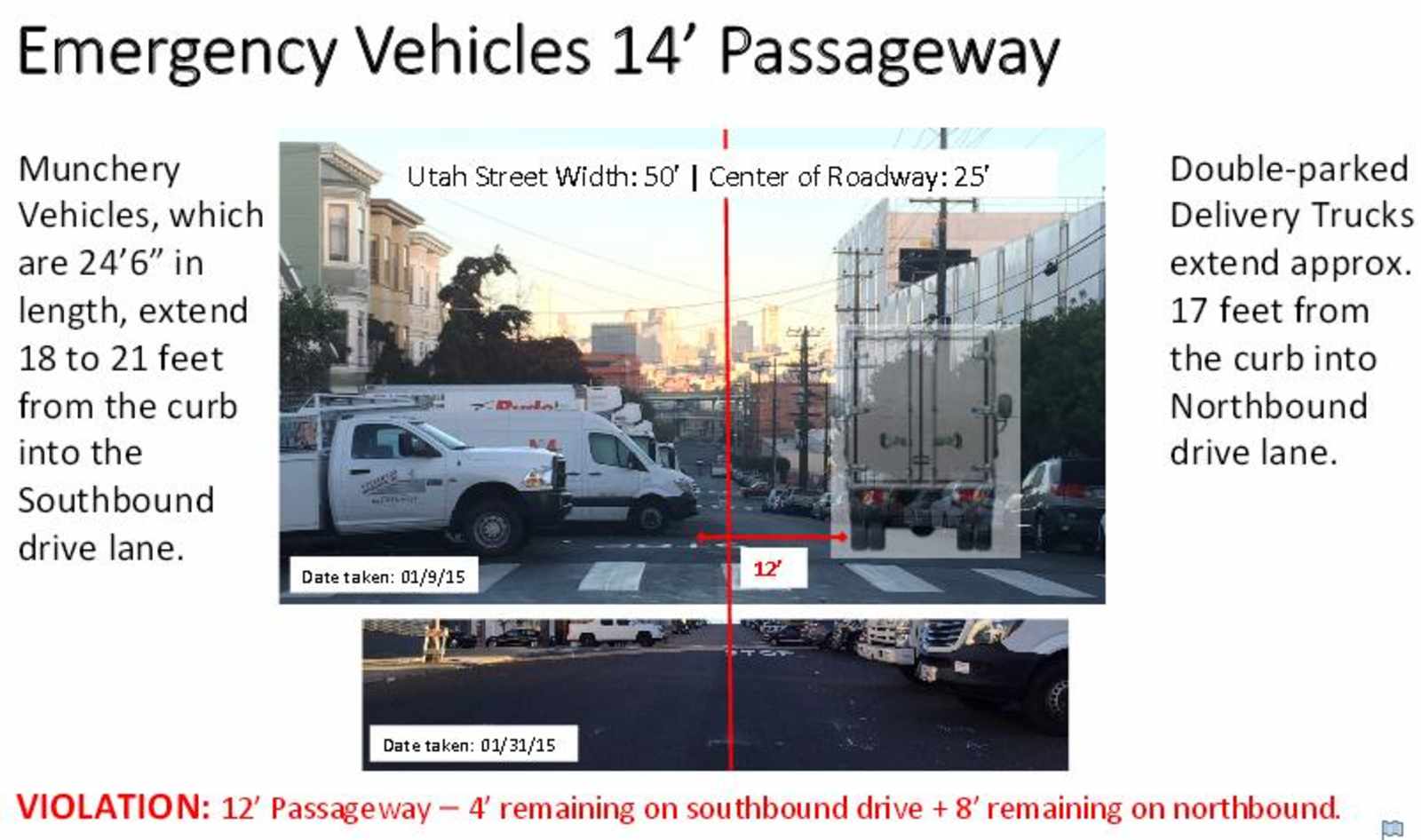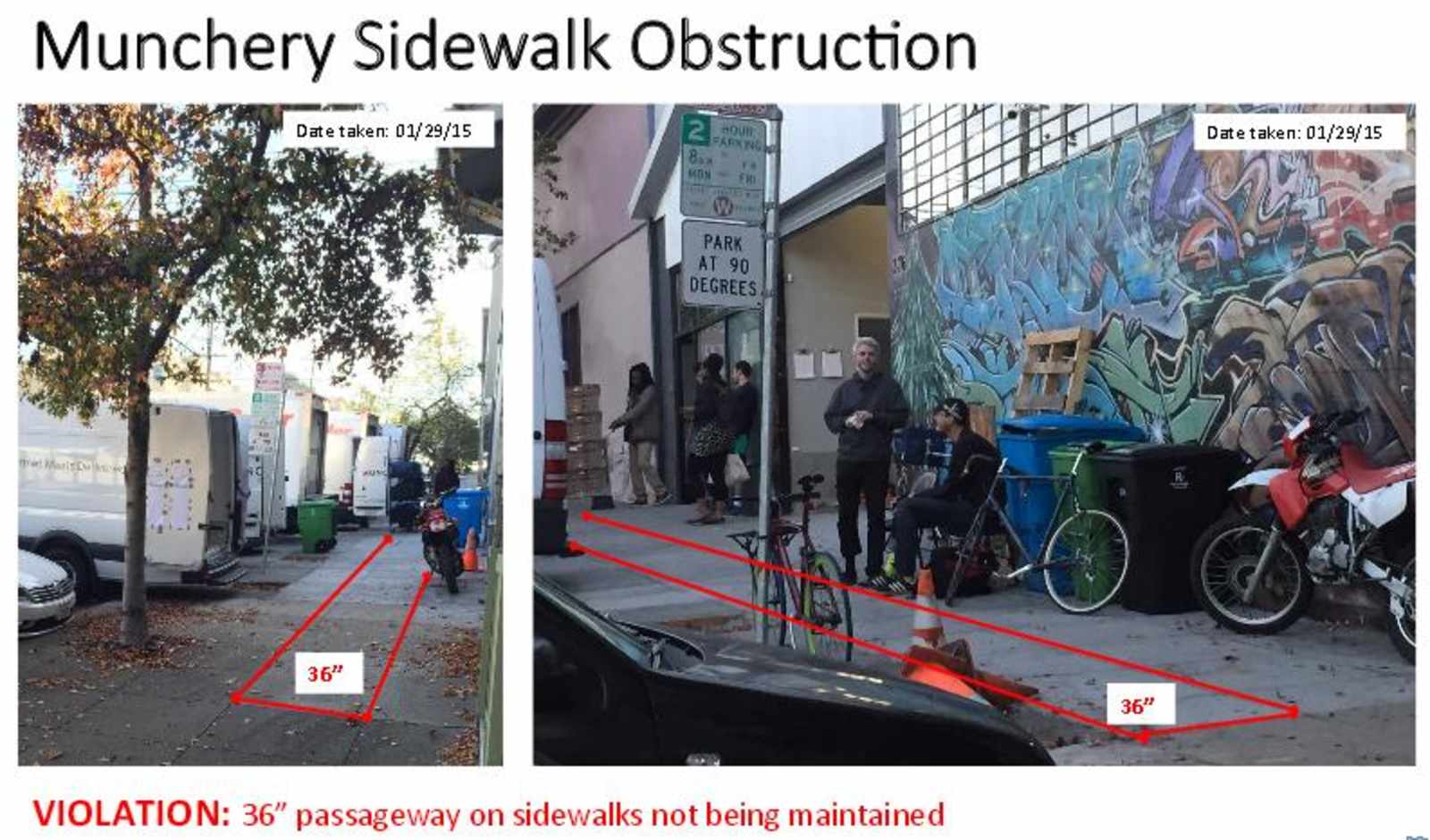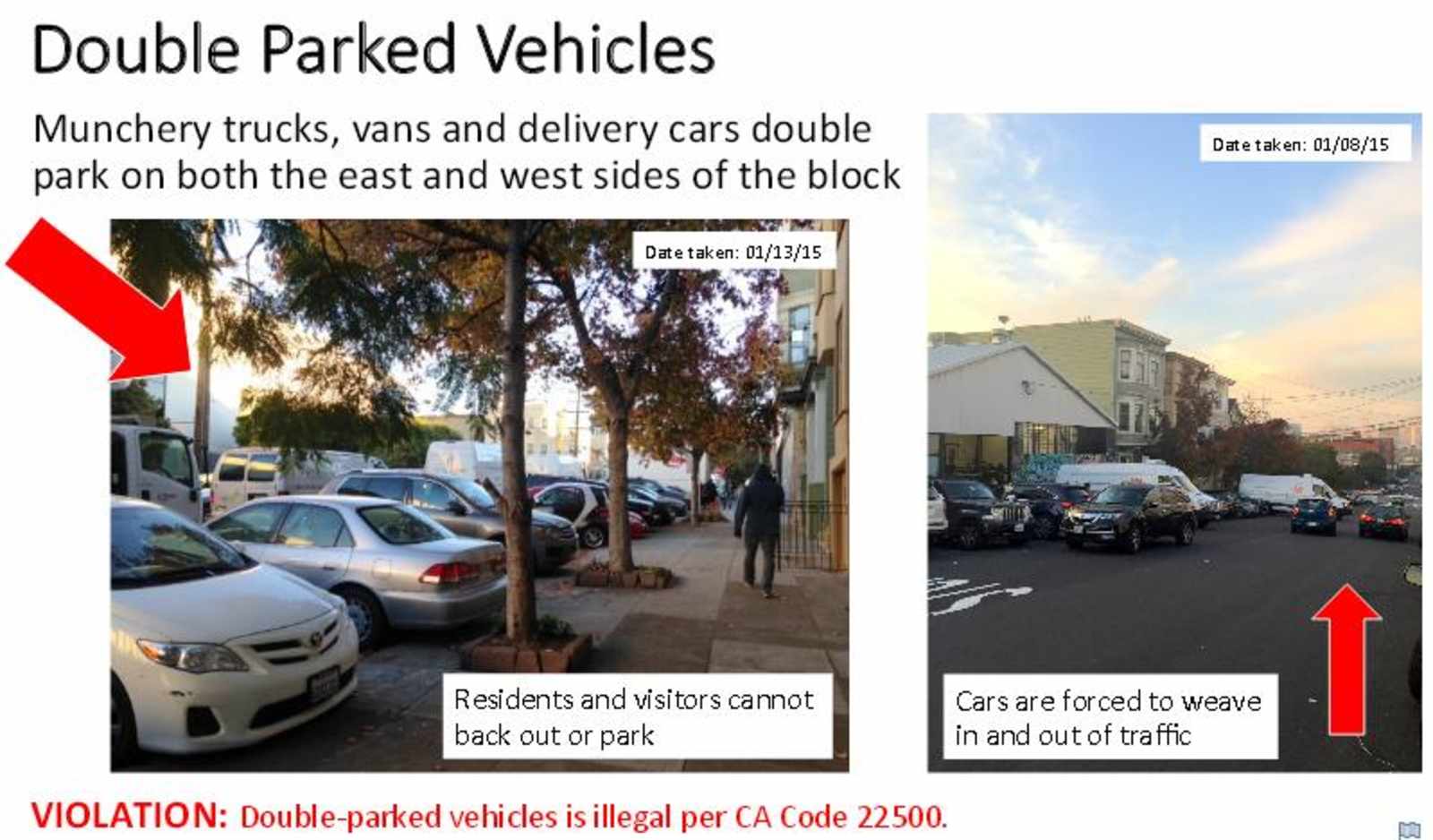 This is not the first time that someone has explicitly expressed fear that careless Munchery employees could injure pedestrians. A neighbor of the Alabama Street location contacted Uptown Almanac last November to tell us the story of when her child was almost run over by a Munchery truck:
I live very close to this intersection and one of [Munchery's] trucks backed up far into the sidewalk and came within inches of hitting my 7 yr old on the way home from school last month. […] It scared me deeply and I won't attempt to use that west sidewalk again until the trucks are permanently gone.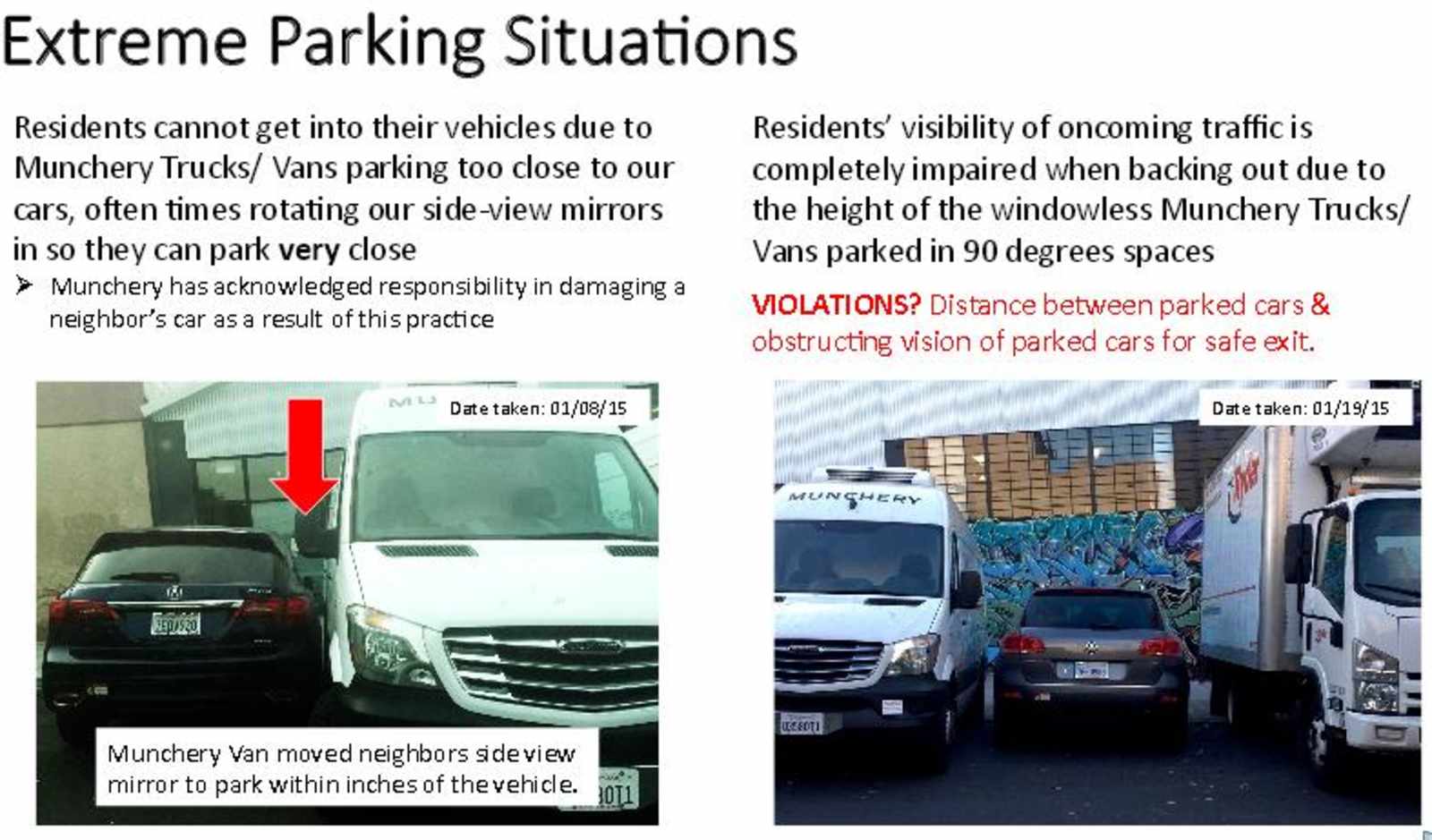 Another slide from the presentation titled "Extreme Parking Situations" shows Munchery trucks pinning in neighbors' cars, sometimes damaging them in the process, and making it difficult to safely back out of parking spaces. When presented with this at the February 4th meeting, Munchery's proposed solution was to hire someone to help neighbors pull in and out of parking spots. This "solution" perfectly demonstrates what is so wrong with Munchery's approach: instead of working to address the cause of a problem the company would rather throw money at the symptoms.
Uptown Almanac reached out to both Munchery's media team and to co-founder Tri Tran directly about the renewed complaints. Munchery's General Manager Mihir Gandhi responded with an offer to put us in touch with the neighbors—neighbors we were already in contact with—but declined comment further.
When reached by phone, Supervisor Cohen declined to comment on the matter.
The presentation, along with the experience of individuals like Erin Neff, provides further evidence that Munchery continues to value growth over the safety of its neighbors and the concerns of its community. What remains to be seen is what, if anything, Munchery is going to do to change that.