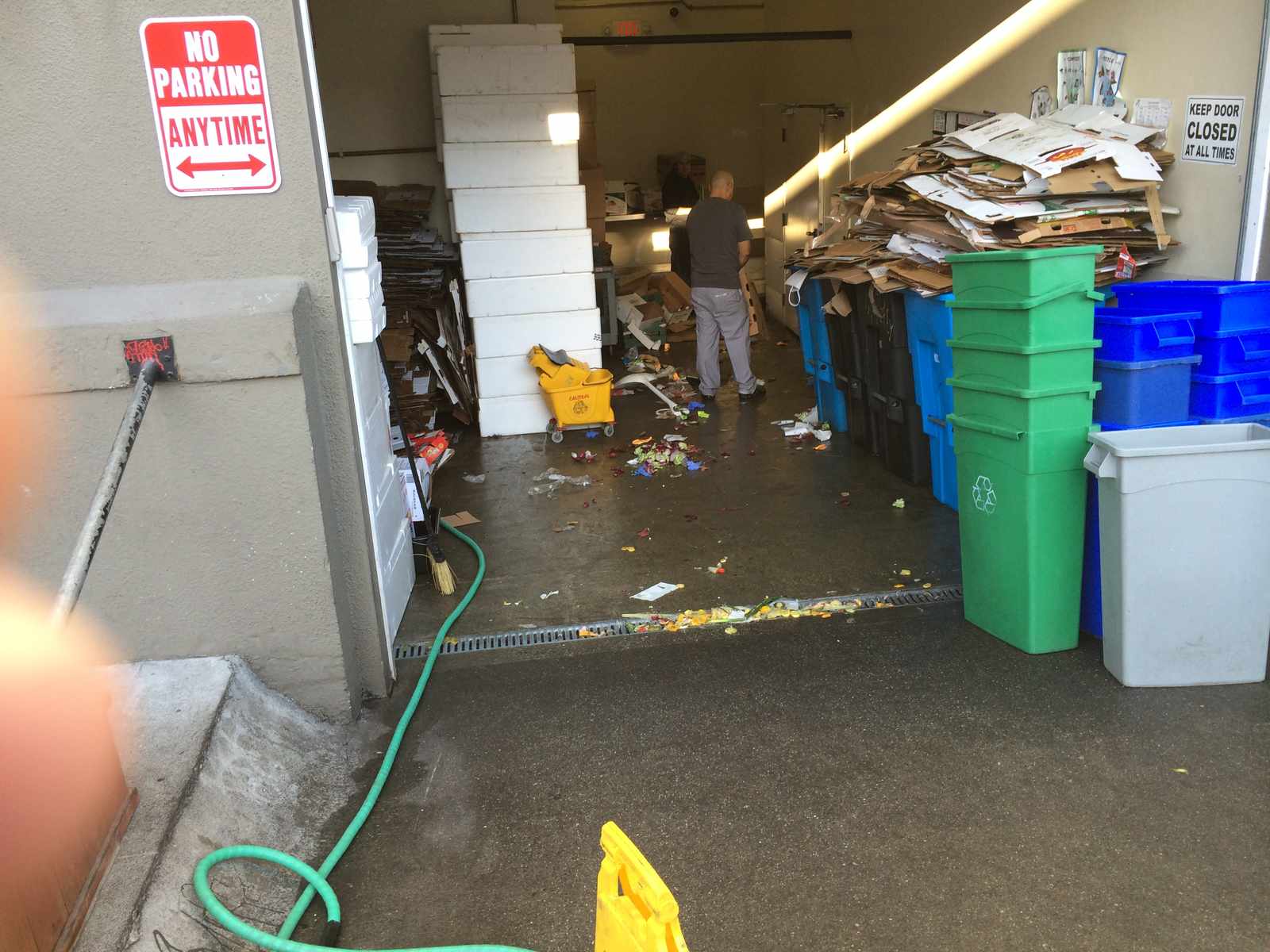 Ever since Uptown Almanac first reported that Munchery was storing food in refrigerated trucks on the street—obstructing traffic and idling those trucks in the process—the dinner delivery startup has been quick to change their practices. They've stopped illegally idling trucks at all hours and began parking the trucks further away from their facilities. They've even cleaned up the rotting food from the sidewalk and street. We've walked by and noticed the changes ourselves.
But when our story was picked up by other news outlets, Munchery was forced to publicly respond. And respond they did: Munchery's CEO published a blog post saying the company only occasionally received street sweeping tickets and never idled their trucks. This is simply not true.
The blog post by Munchery CEO and co-founder Tri Tran made the following claims:
3. Are your truck engines left idling throughout the day?
No. In compliance with state law, our trucks' engines are never left idling. Because these trucks are loaded with chilled food ahead of delivery, we run the refrigeration units while they are loading (the units turn on and off automatically to keep the temperature at a level which is food-safe). These units, which are mounted on top of trucks, operate independently of the trucks' primary engine. This is permitted under state law.

4. Why do Munchery's trucks receive parking tickets?
At times, we have failed to move our trucks during street cleaning. We're working hard to make sure this doesn't happen again and understand this is a serious issue.
These statements, while sounding good on their face, do not correspond to the facts. Let's address them individually.
First, Munchery claims their trucks were "never left idling." This directly conflicts with what Uptown Almanac observed (on repeated occasions) outside their facility. Munchery's claim also directly contradicts numerous statements made by individuals not affiliated with this blog. For example, someone tweeted that their husband observed the trucks running on Monday:
https://twitter.com/rusty_staples/status/531864252668051456
It is important to note that this tweet came after our publication, but before the story got picked up by outlets like SFist, Eater, and Valleywag. In other words, before the story began generating real pressure on Munchery to change their practices.
We received numerous emails from neighbors confirming our original report, and thanking Uptown Almanac for writing it. While they all asked to remain anonymous, here is one typical example:
Thanks for your November 9th article about Munchery in the Uptown Almanac. This business has had a huge negative impact on our neighborhood. Thanks for pointing out that the refrigerated trucks are being used to store food, not transport it.
Uptown Almanac has also obtained a copy of a complaint sent to the Planning Department on October 16th, which also reported idling trucks:
[Munchery has] six trucks running or generators running all the time.  Their entire dispatch delivery department is on the sidewalk and street.

That is negatively effecting every other business in this area […]

All day and through 7pm.  Six big trucks with motors and generators running. 
This complaint also contradicts Tran's statement that Munchery "always turn[s] [the trucks] off by 6pm."
And then there are the statements left in the comments section of the original report. One commenter writes:
Thanks for the info. I work right by here and often wondered what all those trucks were doing. And yes, they seem to be constantly idlling, but never really going any where.
While it could be argued that Tran was simply unaware of his company's practices, the same cannot be said of his second point that "at times, [Munchery] failed to move our trucks during street cleaning."
Tran cannot deny that his trucks are parked illegally, as it is obvious that they are all ticketed in this photo. But he denies it anyway. He explains it away as an occasional street sweeping violation—tickets any ol' San Francisco car owner has received. He makes it sound like an honest, small mistake. But the trucks weren't ticketed for failing to move for street sweeping as Tran claims. They were ticketed for obstructing traffic.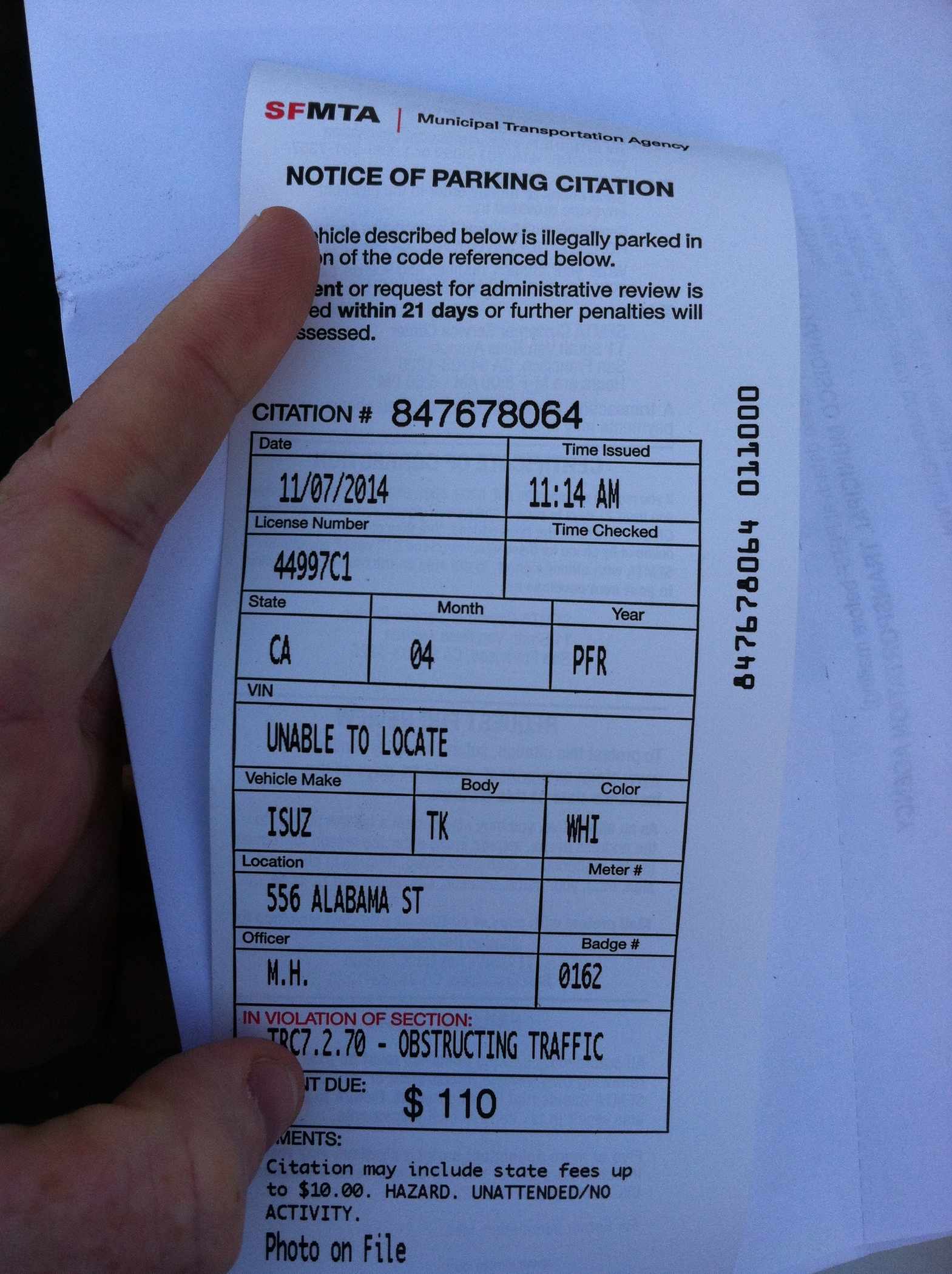 Tran undoubtedly knows the distinction, as the fine for obstructing traffic is almost double that of a street cleaning ticket. And the Munchery trucks don't just "occasionally" obstruct the street and adjacent sidewalk: they do it on such a large scale that it is to the point of being dangerous. Take this email we received from one of Munchery's neighbors:
I live very close to this intersection and one of the munchery trucks backed up far into the sidewalk and came within inches of hitting my 7 yr old on the way home from school last month.  We usually don't bother trying to go down that side of the street anymore but it was an unusually hot day and the kids wanted to be in the shade, so we attempted to go down that sidewalk behind the trucks.  When the incident occurred there were at least 5 young men sitting in chairs and standing chatting on the sidewalk outside the business.  None of them warned the truck in time that there were pedestrians passing.  The trucks are already overhanging the sidewalk so much that I didn't anticipate any reason for a truck to back up even more.  It scared me deeply and I won't attempt to use that west sidewalk again until the trucks are permanently gone.

The emails we received affirm statements left in the comments section of our original report:
I live on that block and drive a slightly larger vehicle. I literally can't fit down that road, because all of their trucks are blocking traffic.

It's a huge traffic hazard because it forces that street into a one-lane road, so you have to peer ahead and negotiate with whatever oncoming traffic is coming.
Or this comment:
Not to mention that driving down this block of Alabama is now impossible, and on a bike is quite dangerous.  Cars are doing all sorts of unsafe maneuvers because these trucks take up ⅓ of the width of the street.
The fact that Tran wishes to play this off as just an occasional street sweeping ticket is understandable. The truth of the matter—that his business practices necessitate creating an unsafe environment for his neighbors—is simply bad press.
In the overwhelmingly positive response from neighbors we received after publishing our original story, one additional theme consistently surfaced: Munchery is habitually dumping food waste on the street. As one neighbor sick of Munchery's practices told Uptown Almanac:
Prior to the noise from the refrigerator trucks, my biggest concern was the unsanitary condition of the sidewalk. To me it seems like they use the street and sidewalk as a garbage dump. I live downstream from what I call Munchery Creek. There seams to be a constant flow of rotting vegetable mater floating down the street.
This is what the wonderfully named "Munchery Creek" looks like: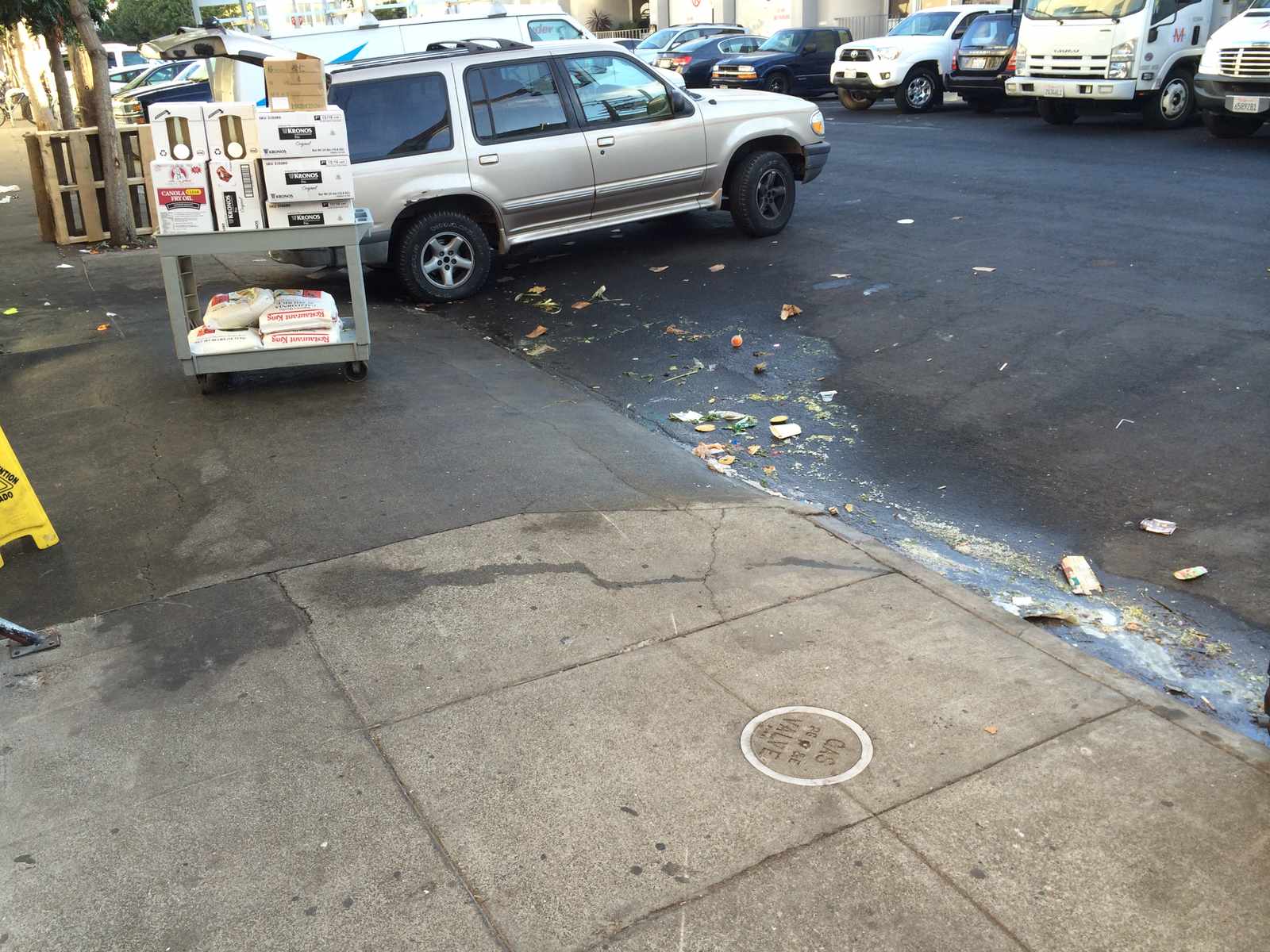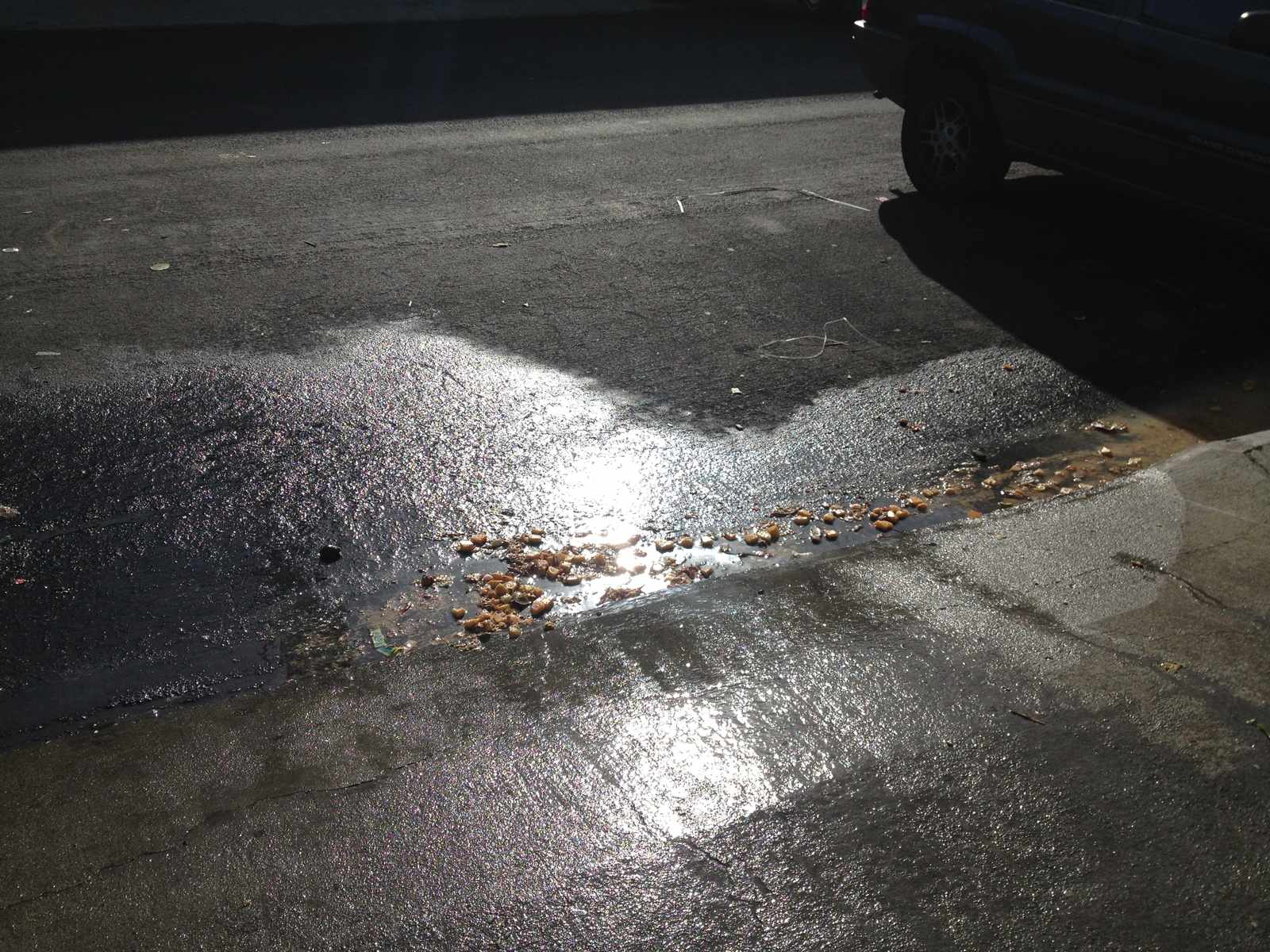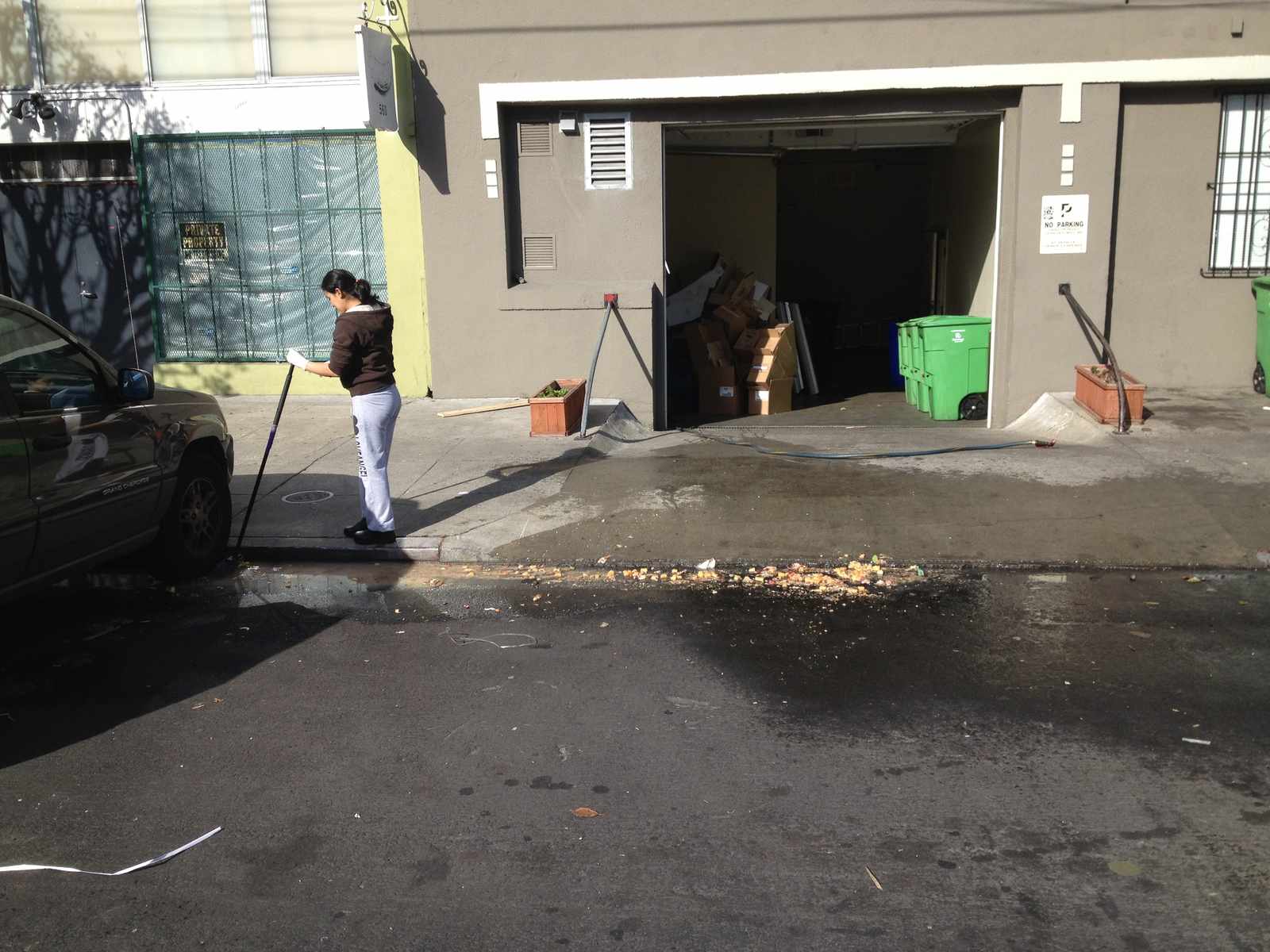 We're not disputing Munchery has cleaned up their facility since our report was originally published. In fact, according to city documents obtained by Uptown Almanac, Munchery was hit with a surprise inspection by the Department of Public Health yesterday and passed. They did, after all, have three and a half days to clean up their act. However, Munchery says "a lot of the facts in [the original] article are wrong" because they have cleaned up their mess after we exposed it. That's simply not true.
The facts are not in Munchery's favor and we stand firmly behind our original report.
In the end, Uptown Almanac is not surprised that Munchery has launched a full court press denying the truths of our reportage—after all, a lot of money is riding on Munchery's ability to distinguish itself from competitors such as Spoonrocket and Sprig, and claiming to be "green" is one way to do it.
We just wish they weren't so transparently full of shit about it.