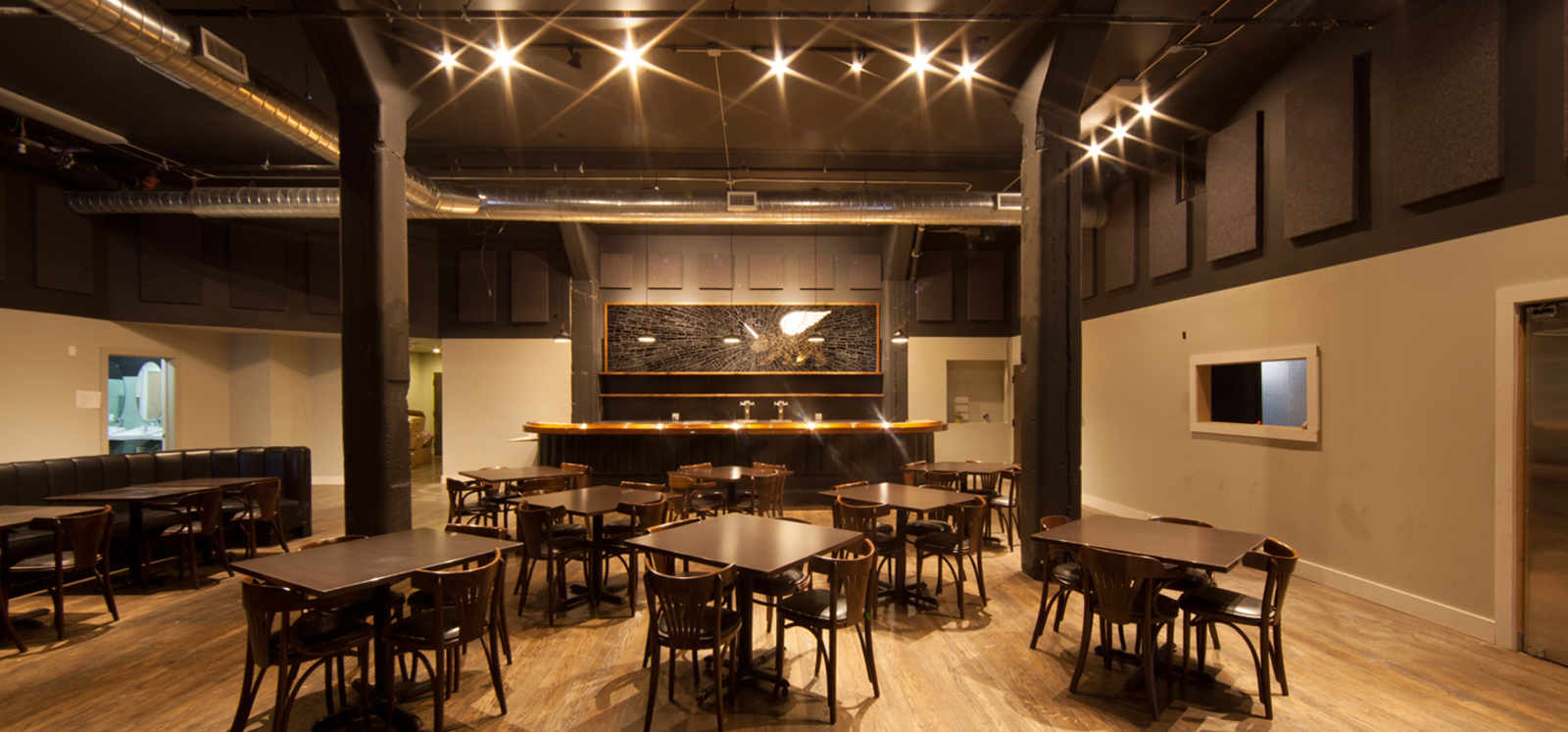 PianoFight, a San Francisco based artist collective that includes sketch comedy, a film production unit, and a band, has just announced the December 19th opening date of their new venue. In a town awash with upscale cocktail bars, but with an ever diminishing number of venues, the PianoFight space is aiming to be more than the sum of its parts. With two theaters, a bar, a restaurant, and a cabaret stage, PianoFight looks to be making a bid for all the constituents elements of your night on the town—dinner, show, and a cocktail all under one roof.
Based out of the old Original Joe's at 144 Taylor, the PianoFight space inhabits a block better known as an open air drug market than a comedy hot spot. But in an interview with Uptown Almanac, PianoFight Artistic Director Rob Ready expressed nothing but love for the neighborhood, and explained what we can expect from their new location.
Uptown Almanac: What does the new PianoFight space bring to the SF arts scene?
Rob Ready: San Francisco doesn't have a Second City or Upright Citizens Brigade. We aim to be that for SF, with our own Bay Area twist. Over the last eight years, PianoFight has produced everything under the sun—sketch and full-length comedy, music, film, dance, and a ton of interactive events. And we've produced that with local artists of all stripes. So we're taking that eclectic "eye for awesome" and building it a dream home.
UA: Speaking of dream homes, what do you think of your new home in the Tenderloin?
RR: It's great. Honestly, the residents and other business owners are cool people. The neighborhood is raw and gritty, just like the art we produce. But it's also got a real sense of humor so our comedy-centric company fits in nicely. The TL is going through a lot of changes—some of those are for the better, and others not so much. But we believe every neighborhood and every community deserves access to incredible art, and that's what we're going to provide.
UA: So you're not just opening a theater with a bar—you have a full restaurant as well. In a city that takes its foodie pretensions pretty seriously, what up-and-coming celebrity chef is behind your sure-to-be organic and locally-sourced food stylings?
RR: At PianoFight, we've always boot-strapped and DIY'd everything, that's why our our Executive Director Dan Williams has designed the menu with his food-scientist mom, Mary Jo. It's gonna be pretty delicious—classic California Americana with a twist on nostalgic concessions. And there's eight beers and eight wines on tap and classic cocktails behind the bar. 
UA: OK, let's get down to it. How much will a beer and a shot cost?
RR: Less than $10. Still nailing down final prices, but we're all broke artists who like booze, so rest assured we're gonna keep everything affordable.
UA: How late will the kitchen and bar stay open?
RR: The restaurant and bar area is open 4:00 PM until 2:00 AM (we might close a bit earlier on slow nights). It's always open to the public and there are no drink minimums, no ticket fees, and no Shakespeare. You'll need a ticket to get into shows in the theaters, but we'll always have bleacher seats available on the cheap, $5-$15.
UA: The fist show in your space is A Merry FORKING! Christmas. What should we expect from a PianoFight Christmas tale?
RR: Fun fact - there are over 360,000 possible permutations of A Merry FORKING! Christmas. It's a fully scripted play that takes place in a mall on Christmas Eve; a pot-dealing Santa, bored mortician, and a harried security guard are all in the mix. Every so often, a host character comes out and asks the audience what they want to see happen and the audience votes by loud, drunken applause. It is awesome. And everybody should have the opportunity to democratically vote down Christmas—or not.
UA: So obviously there will be performances happening in the two theaters housed within the building, but what about in the bar? Will there be live music? A jukebox?
RR: There will be live music in the bar after 10:00 PM on weekends. And we'll be hitting up the musician meetup group happening here at PF, Balanced Breakfast, for some awesome, local playlists.
UA: The Chronicle mentions that the date for an official opening night party has yet to be set, "pending Mayor Ed Lee's participation." Is that total bullshit, or should we expect an opportunity to harass the mayor over a shot of Fernet?
RR: The Mayor was a big fan of Original Joe's. Since we announced we had a signed a lease in their old space, we've met him a handful of times and he's been asking about PianoFight ever since. His office says that he's on vacation the second half of December, so we're looking at maybe January for the official black tie Grand Opening big stupid party thing. We're gonna ask him to throw out the first rotten tomato (cause ribbon cuttings are bullshit).
PianoFight is slated to open on December 19th, and you can buy tickets to the first production in the space here.
The above interview was edited for clarity.