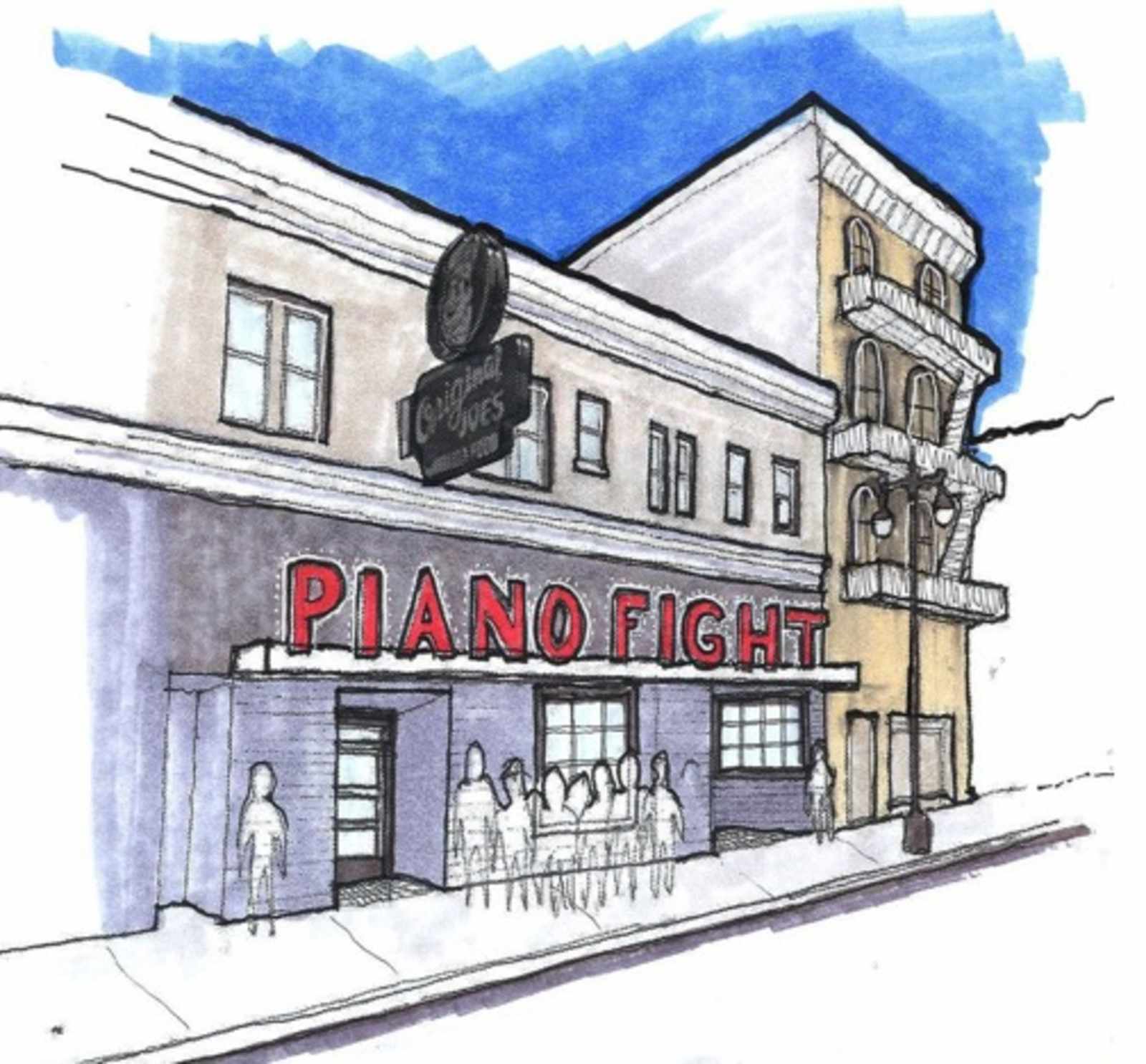 PianoFight and EndGames Improv, two relatively new groups in San Francisco's reignited comedy and performance arts scene, recently announced a partnership in opening a new venue at Taylor and Eddy Streets.  Everything about it sounds absolutely awesome.
"The 5,000 square foot Tenderloin complex will include rehearsal and office spaces, 54-seat and 96-seat theaters in the back of house, and in the front of house a 60-seat restaurant and bar with a full liquor license and a cabaret stage," PianoFight writes on their website. "The complex will be a collaborative hub for artists and a creative destination for audiences. It will meet all the production and performance needs of up-and-coming independent companies and take risks to entice non-traditional audiences hungry for inventive live performance."
What's more?  Both theaters have a three-camera setup capable of editing video in real time, so any performance can be live-streamed.  And PianoFight sees themselves as becoming "the ultimate hangout spot," with performers joining the audience at the bar after the show, and a grip of original programming keeping the crowds entertained:
There will be multiple shows a night, by local performers and touring acts, including dinner theater performances on our cabaret stage. We're interested in producing shows that make you laugh, make you think, and generally challenge the status quo of how theater is presented. Audience-judged playwriting competitions, fully-scripted choose-your-own-adventure plays, ballet horror comedies, Throw Rotten Veggies at the Actors Nights — this is the kind of content we want to see, so it's the kind of content we produce.
PianoFight is already 90% done with construction, and just started promoting a $120,000 Kickstarter campaign for equipment and finishing touches.  But, as a for-profit company, PianoFight's Artistic Director Rob Ready tells us the group will avoid the pitfalls of having to fundraise constantly, making the space sustainable for years to come.
PianoFight also has the backing of District 6 Supervisor Jane Kim and Mayor's Office of Economic and Workforce Development.  Through the city's SF Shines grant program, which awards grants to businesses seeking to make facade improvements, Ready says the complex will become an anchor in the city's new theater hub:
[The SF Shines] grant is available in a bunch of neighborhoods in the city and available to a bunch of different kinds of businesses. That said, Mid-Market gets a good chunk of that funding due to the Cultural Arts District that City Hall is trying to set up. What's amazing is that it's starting to finally take shape. In those two square blocks, between Market and Eddy and Mason and Taylor, by 2015 there will be about 10 performing arts venues, with about 20 different stages.
Ready says we can expect to see the space open in March, and we don't need to worry about two-drink minimums or any of the other big league comedy club bullshit.
Below, their Kickstarter campaign video: