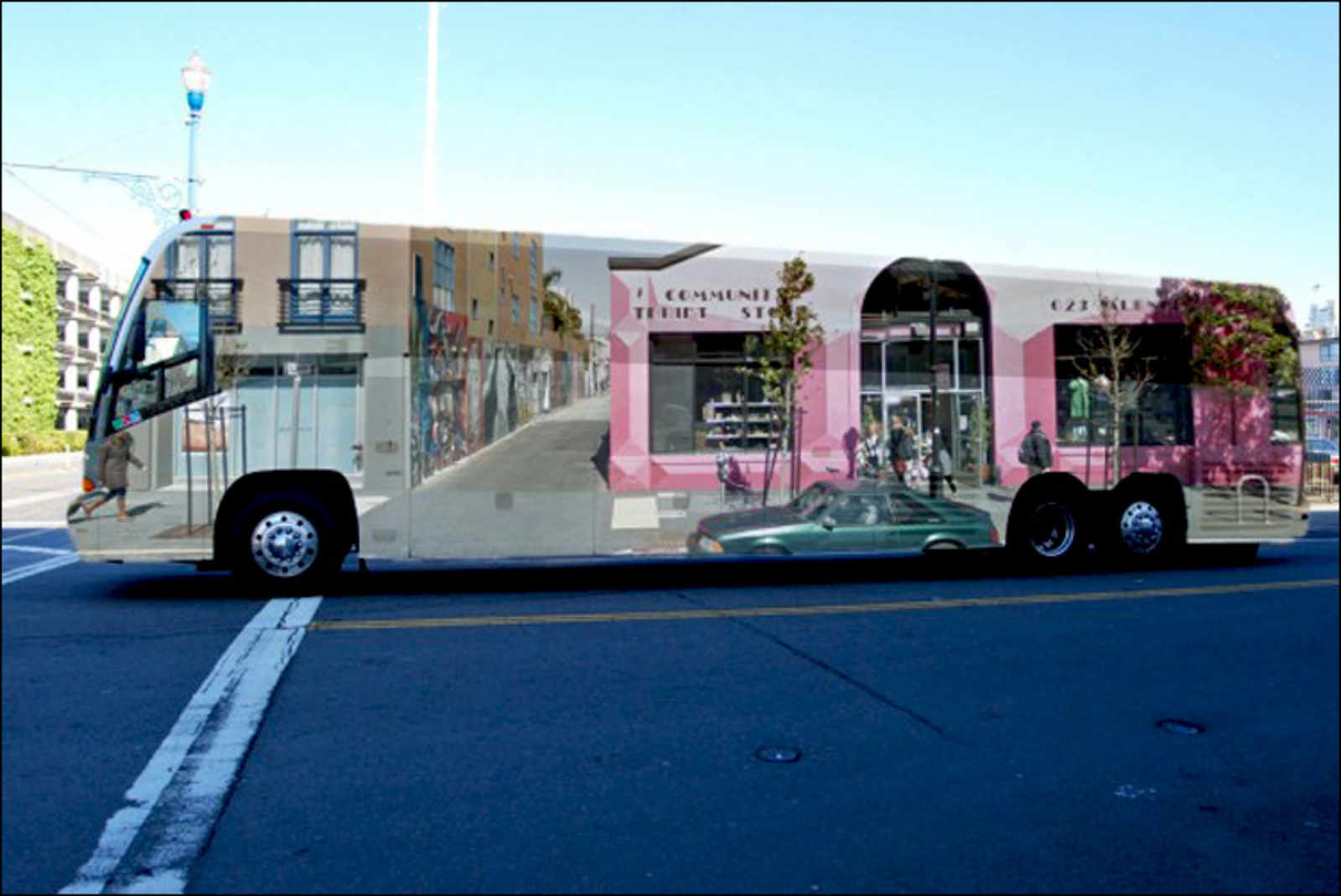 Mission Local's $500 shuttle bus bedazzling contest with Genentech, which we once called an "egregious conflict of interest," is now receiving a new round of criticism—this time from neighborhood artists who feel their work is being used against their wills in an effort to give "'cool camo' for corporations."
Via an anonymous tipster:
The winning entry for decorating the tech shuttles is a Google Street View of Clarion Alley and Community Thrift.

But the artists responsible for the murals/decorative painting in the photo condemn their art being used for this purpose, and did not support the competition from the beginning. They were even in contact with Lydia Chávez—yet, their art has been co-opted nonetheless.

The status update of the Clarion Alley Mural Project reads as follows: "Mission Loc@l SUCKS!!! & [Editor-in-Chief] Lydia Chávez sucks!!! This comes after a long email exchange with Lydia that included Megan Wilson, Jet Martinez (who painted Community Thrift), Rigo 23, and John Jota Leaños - and we all said that WE DID NOT SUPPORT THIS COMPETITION - Megan, Rigo, and Jet as Clarion Alley Mural Project. … Time to by [sic] an arsenal of paint guns!"

Megan Wilson is a lead organizer for CAMP, Jet Martinez painted Community Thrift (also "Sons of Satya"—"the elephant one"), Rigo 23 was an original founder of CAMP.
Emails between Chávez and Clarion artists, published on Megan Wilson's blog, show an intense rift between the arts community and the shuttles—and a community that wanted nothing to do with the project and rejected the co-opting of their work.
Chávez initially reached out to CAMP in early December, asking the muralists to participate in the contest.  However, the invitation was rejected outright.
"Fuck this!," John Jota Leaños responded. "I had many subversive thoughts and brainstorms over breakfast, but none would fly … subversive, political, social art does not pass corporate scrutiny."  He added:
I question Mission Local's move to promote this and work with FB and others …to exploit artists to beautify their cush-rides while indirectly displacing these same artists… Fijate!
"I don't know.  Why not give it a try?," Chávez suggested.
She later admitted, "I would love to see some subversive ideas [in the contest]."
Before the artists requested the contest be retracted, Rigo 23 fired back:
WE DO NOT HAVE SUBVERSIVE IDEAS WHICH WE ARE TRYING TO SELL TO CORPORATE INTERESTS FOR 500 Dollars;
WE ARE NOT HOPING TO HELP THEM BETTER BLEND INTO OUR NEIGHBORHOODS; WE ARE NOT LOOKING TO SELL "COOL CAMO" FOR CORPORATIONS.
Mission Local and Genentech chose to push forward with the contest, ultimately selecting a design which incorporated the protesting artists' work.
Megan Wilson writes, "the selection is not only disrespectful, but also seems vengeful and tacky."