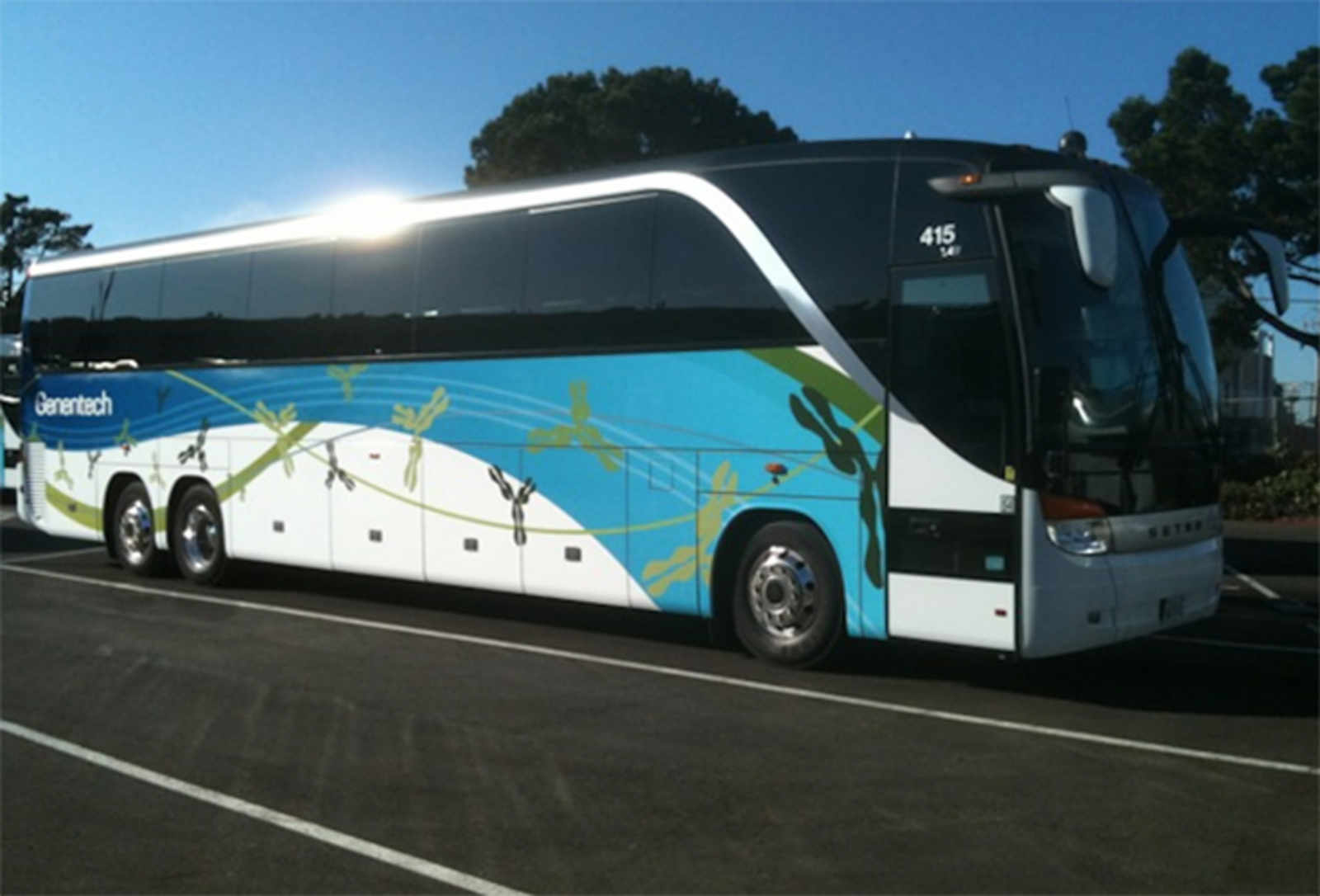 "Genentech Joins Mission Local to Turn Buses Into Art!," read Mission Local's giddy headline yesterday morning.  While protesters were blocking a Google bus for illegally using a Muni stop and the rest of the city was dumping napalm on the burning debate over technology's impact on San Francisco, UC Berkeley's neighborhood "news lab" was shilling for silicon shuttles.
"Mission Local is still giving a $500 reward for the best entry into our unofficial contest to turn the tech buses into art, [but] what's better is that it is no longer completely unofficial.  Apart from our prize money, Genentech wants to bedazzle its buses and will select one winner whose art will adorn the side of one of its buses in 2014!"
Okay, fine.  There's nothing fundamentally wrong with dressing-up a bland bus, even if it seems like a completely off-mission initiative for a non-profit "quality journalism" outlet.  However, it's Mission Local's tactical legitimization of the controversial shuttles that grows our suspicions:
Genentech's interests are similar to ours: community mindfulness. And sustainability themes might also play well.
Huh?
Doesn't partnering with tech companies create a conflict of interest for the site, especially given those companies' increasing impact on the neighborhood?  We put the question to Lydia Chavez, Mission Local's co-editor and site founder, who emailed back a one-line non sequitur:
I would welcome all of the tech companies to join the contest and hire artists.
Okay, well, does this contest align with the non-profit's original mission of "covering a neighborhood fairly and thoroughly"?
Probably not. But I see the buses every day and I could not stop thinking about how they could be filled.
We're still scratching our heads. Chavez's comment to SFist seems to be her most articulate statement on the matter:
I returned from a year away from the Mission and was surprised to see how many buses were going through the neighborhood, but going through in an oddly anonymous way. But of course they are not anonymous at all. I see the benefits — fewer people in cars and the buses are often getting workers to places where public transportation fails to reach. But they're so void of beauty and they're such great canvases.
This is lame.  Mission Local is now giving cover to the very companies they should be holding responsible.  The reason seems unclear—beauty?  The contest was, obviously, poorly thought out; and Chavez herself acknowledges it "probably" doesn't align with the site's mission.
The whole thing stinks of a cynical play to squeeze out some donation dollars from companies worth 47.3 billion dollars 99.9 billion dollars, all on the backs on local artists fighting over a pathetic $500 prize.
Community mindfulness, indeed.