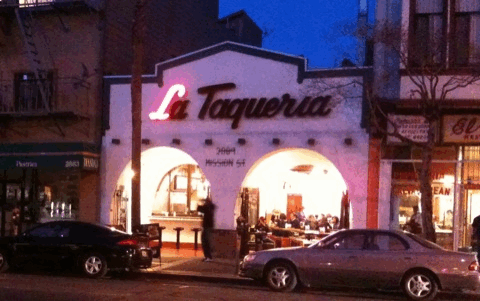 Charles Hodgkins is set to retire his long-running burrito reviewing project, Burritoeater, when he reaches 1,000 reviews (and he's only got 7 to go).  Eater SF caught up with him to talk about his love affair with burritos, and the interview really got going when they ask him about La Taqueria, which he recently called a "total travesty":
This is a perfect time to ask, because I just had one about twenty-four hours ago. Where do I start? I'll start with the size. Even before you bite into it you look at it, and it's just a sad little thing. They're really narrow. The tortilla is steamed, which isn't the end of the world, but my burrito was just sticky, pretty uninviting. You bite in, and it's like 40 percent meat. That's a lot of meat. Obviously there's no rice. Some people love that. I think it's…not okay. So I always give them a zero for rice. It brings down the quality of their burritos. They get drippier because of that. Their pinto beans are really flat-tasting, too. I always ask for my burritos to be spicy, and got zero spice yesterday. The mix was kind of off, even though it was tiny. It's not like it was this gargantuan thing where there's an area code over here and an area code over there. It just was not satisfying.
Damn.
Read on for his thoughts on Papalote, El Burrito Express, and $10+ burritos.