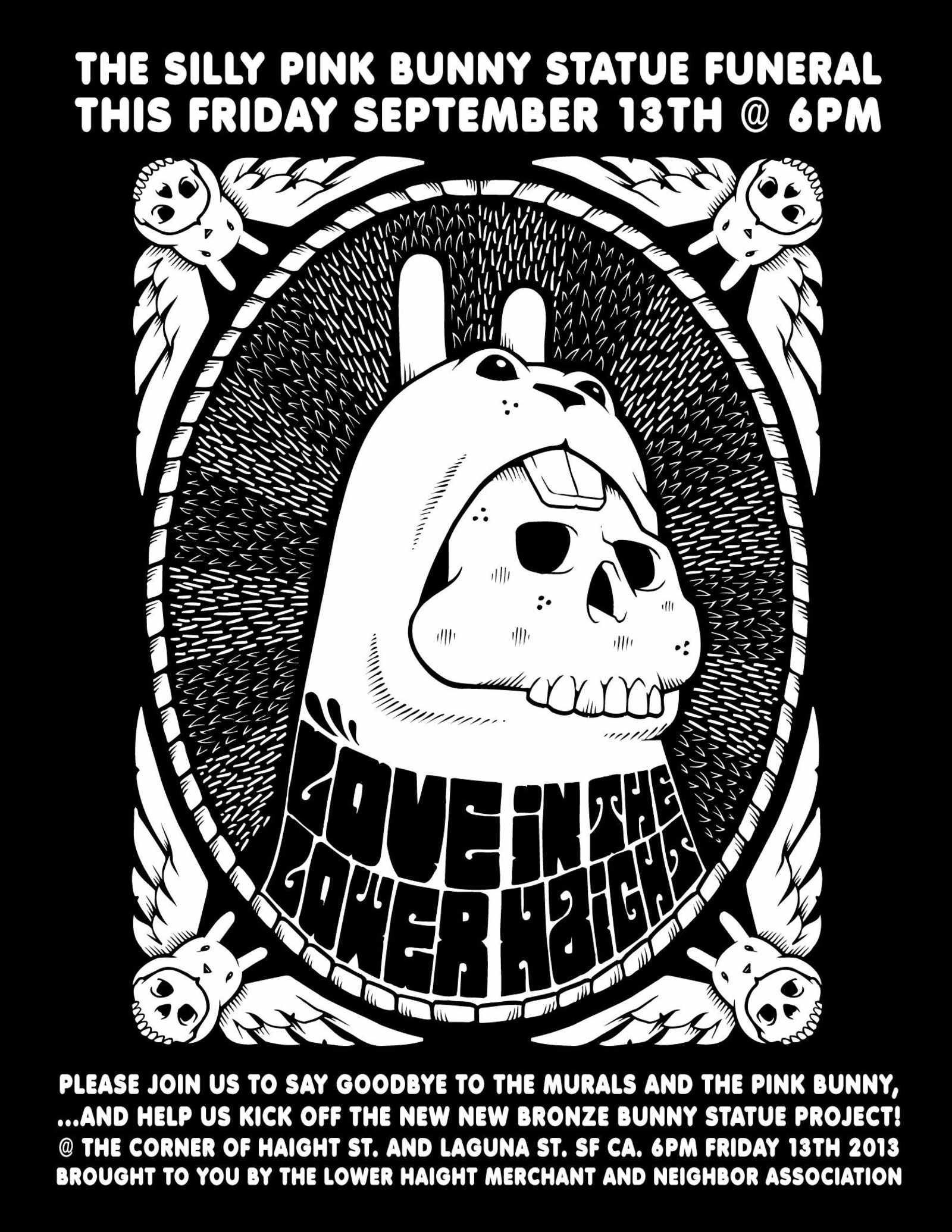 Jeremy Fish's Silly Pink Bunny statue has gone for one wild ride over the last month.  When it was announced on August 12th that Silly would be demolished to make way for a new LGBT senior housing complex, Lower Haighters bemoaned the loss of an icon that has welcomed people to the neighborhood for the last three years.  So it wasn't that much of a surprise when, three weeks later, "four or five dudes with good intentions ran off with the bunny in a U-Haul truck," as Jeremy later recounted.
Despite being stolen in the middle of the afternoon—and while security was guarding the site that hosted the 600-pound statue—there were no immediate leads.  But after hitting up his contacts ("guys who know sketchy guys"), Jeremy eventually tracked it down to the back patio of Emperor Norton's Boozeland, the well intentioned Tenderloin bar owned by a team of guys with a long history of preserving San Francisco iconography facing impending doom.
It seemed as though the community had rallied around saving Silly Pink Bunny, and that Emperor Norton's had stepped up for its preservation.  But Jeremy still has Silly's destruction planned for this Friday.
When we reached out to him to confirm if he was actually going through with the beloved statue's demolition, he was unequivocal:
Yes. Why? Because he is really fucked up, and like a wounded soldier, a sick old dog, or a worn out racehorse, he deserves to be put out of his fucking misery. He got smashed, punched, hated, tagged, painted, then repainted. He got lit on fire. The back was wide open, and as a result spiders moved in the exposed foam, and started a black widow colony. Human beings used him as a toilet hundreds of times. He lost an eye, and a tooth. His head has a huge hole in the top from people climbing up and down him to get in to the elevated crack den called "the treehouse" above the statue. Then it was stolen, and the thieves painfully cut two feet off the back of him. But, most importantly, I paid for the materials to make the bunny, sculpted it, stuck it there, painted and maintained it as best I could, and I want to watch it get smashed. It was only supposed to be there for a year, and it turned into three years. Let's just say I'm satisfying my artistic vision on this project. If you want to save it, make your own damn statue.
Okay then!
The funeral goes down this Friday the 13th (spooky!) at 6pm.  Rumor has it there will be a wrecking ball on the scene.
(And fear not, nostalgic human beings and black widow spiders: Jeremy has been commissioned to erect a 10-foot tall bronze bunny statue at the site of the housing complex.)