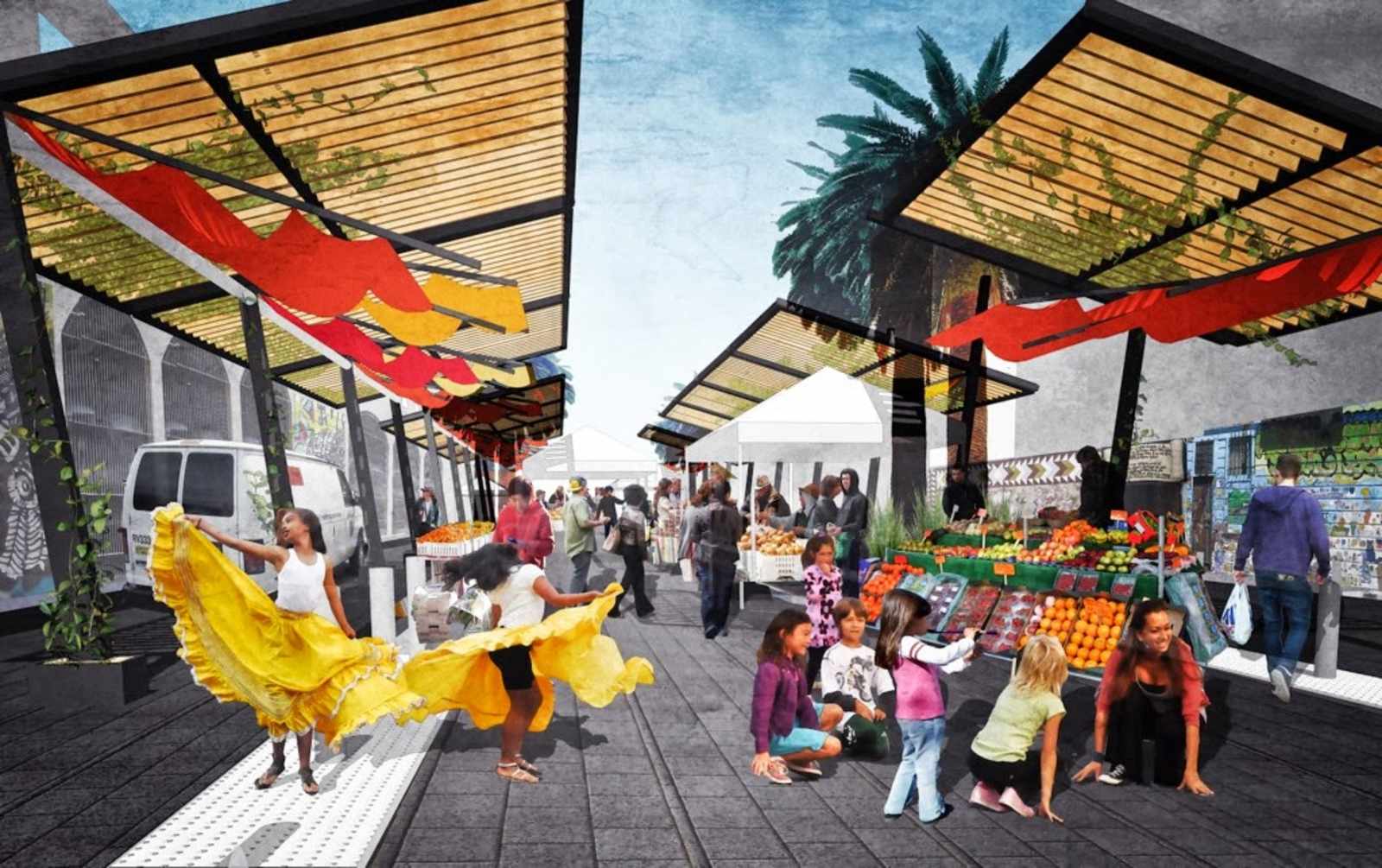 We're big fans of the weekly Mission Community Market.  Sure, it's a tad expensive as far as farmer's markets go, and the selection isn't as comprehensive as Civic Center's, but having a dependable farmer's market was something this neighborhood long needed, and now we finally have it.
So when Mission Community Market proposed to further improve the stretch of Barlett Street between 21st and 22nd that the market occupies every Thursday by converting it to a functional civic space, we were on board.  By leveraging the $1.6m the city has already set aside to upgrade the street and eliminating the 40 some parking spaces, the city hopes to construct permanent market stalls, improve the pedestrian lighting and green the street—all while remaining a drivable street.
Of course, some self-described neighbors are already upset over the loss of parking, fearing it will negatively impact local businesses or something, for the benefit of a "private organization." From an email being circulated around:
1. Elimination of Parking: The proposed design eliminates parking which will hurt both residents and businesses in the area. The parking is eliminated in order to massively widen the sidewalks on Bartlett St. As there is little pedestrian traffic on that street, we believe that it would make more sense to just modestly widen the sidewalks and retain most or all of the existing parking. […]

3. Process: The planning process has not been transparent or fair. It appears that Jeremy Shaw has been central to the design; but he has a clear conflict of interest as he runs the private organization that operates the Mission Community Market. In contrast local neighborhood and business organizations have not been involved. Not surprisingly, the final design favors Jeremy's particular private interests and not the views of the broader public. I think it is highly inappropriate for the City to allow the head of a private organization to redesign a public street to benefit that private organization.
The irony of the last point is clearly lost on the neighbors, considering parking spaces for privately-owned vehicles seems like a far worse use of public space than a farmer's market that can be patronized by everyone that eats food.  Alas, this is their case.
Should you want to see the lot of apparently self-interested parties battle it out in a public meeting, the SF Planning Department is hosting a hearing on the proposed plaza tomorrow night at 6pm in The Women's Building at 3543 18th Street.