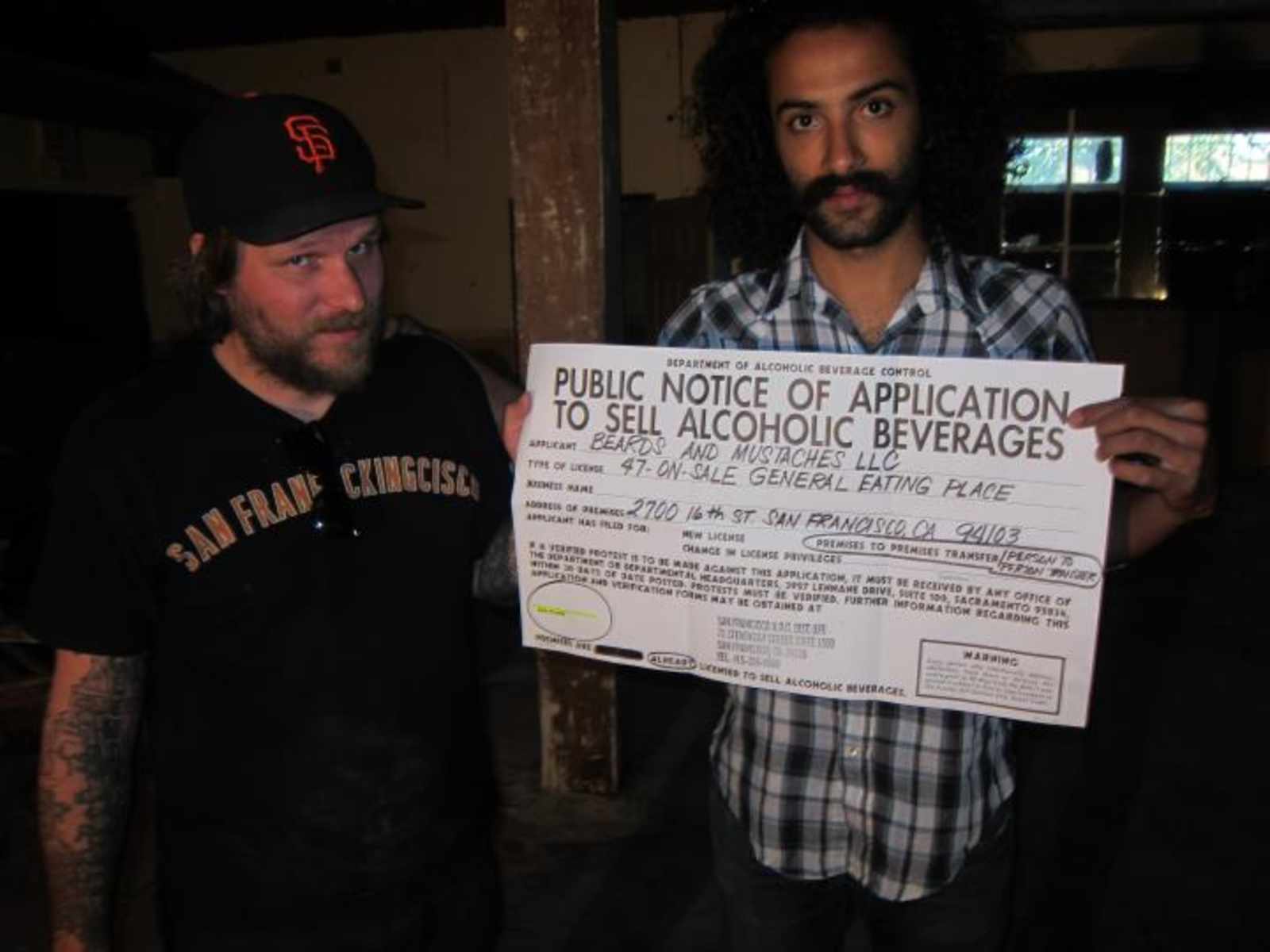 Yesterday I got all antsy about the possibility of a "beards and mustaches" bar moving into the old El Rincon space at 16th and Harrison.  One of the bar's owners, Jay, followed up with some more details:
The LLC is called beards and mustaches but the actual bar/restaurant is going to be called Dear Mom. Oliver Piazza and Jay Beaman (both bartenders at Thieves Tavern) are joining up with Paul Bavaro to open the joint up. Also Laurent Katgely from Chez Spencer will be doing up the food. We're really into the neighborhood and having a warm neighborhoody place to eat and drink with reasonable prices and tasty bits. For everyone. Low key. Mellow. No live music. But you'll still be able to get a little too drunk and make out with a stranger late in the night. more info here, including a sample menu (we're still working it out but it's a start).
I'm not going to lie, I had to look up a few of the words on the menu, and Chez Spencer seems a little snobby for a Mission dive bar.  Even so, it's nineteen bucks for roast beef and open acceptence of Your God-Given Right to snog in public.  Perhaps it's not all bad.
I shot Jay some follow-up questions, and this is what he sent back:
Q: Is it going to be more of a dive like the other Thieves bars or a bit nicer?  I ask because the menu is a little more pricey than other neighborhood bar and grills (namely Bender's, Gestalt, Zeitgeist, former Ace Cafe)… 
A: yes and no. the daily specials are more but the everyday food is all under $10 bucks and we want to keep it that way. What we really want is a place where you can get good food and get loose and act like a fool (the good kind of fool). Like, what's the difference between a dive bar and a neighborhood bar? Clean bathrooms and napkins on the table. I really want to go to a bar where i can get a $6 plate of grilled asparagus and get drunk and have a spontaneous dance party to The Pointer Sisters. That's what we're going for.
Q: what kind of capacity is in that place?  I feel like that could house as many people as Bender's (150ish)
A: we're working that out with the architect now but it's fucking big. probably will end up being 150-220 (El Rincon had a capacity sign up that said 137 with stickers over it changing it to 250. Hella janky). there will be 40-50 seats around the bar (it's big) and booths that'll seat another 40 (maybe not right when we open) plus 10 whiskey barrels with 4 bar stools around them. There will also be a private room in the back that'll seat 30-50 (depending on how much you like each other). We certainly will rent it out to whomever might want it for their events but the people we really think of as VIP are bus boys and line cooks and bartenders and waiters. Our plan is that if you know us (or get to know us) get off work and want to just chill with your friends then that back room'll be yours.
Q: Planning on putting anything interesting/unique/rad as shit inside the place? (e.g. pinball, shuffleboard, indoor bike parking, skeeball, pool tables, old Area 51 arcade games, self-cleaning coke mirror in all bathrooms…)
A: pinball. one (maybe but not likely two) pool table, arcade for sure (area 51 is a great idea) internet jukebox (the back room will have it's own CD juke box so that people that rent/borrow it out can make their own mixes), a couple of TV's for Giants games. We're still working stuff out and all of this is subject to our whims/cashflow/annoyances. We're going to talk with the city about putting some nice big bike racks outside.
Q: Estimated opening date?
A: October. hopefully.