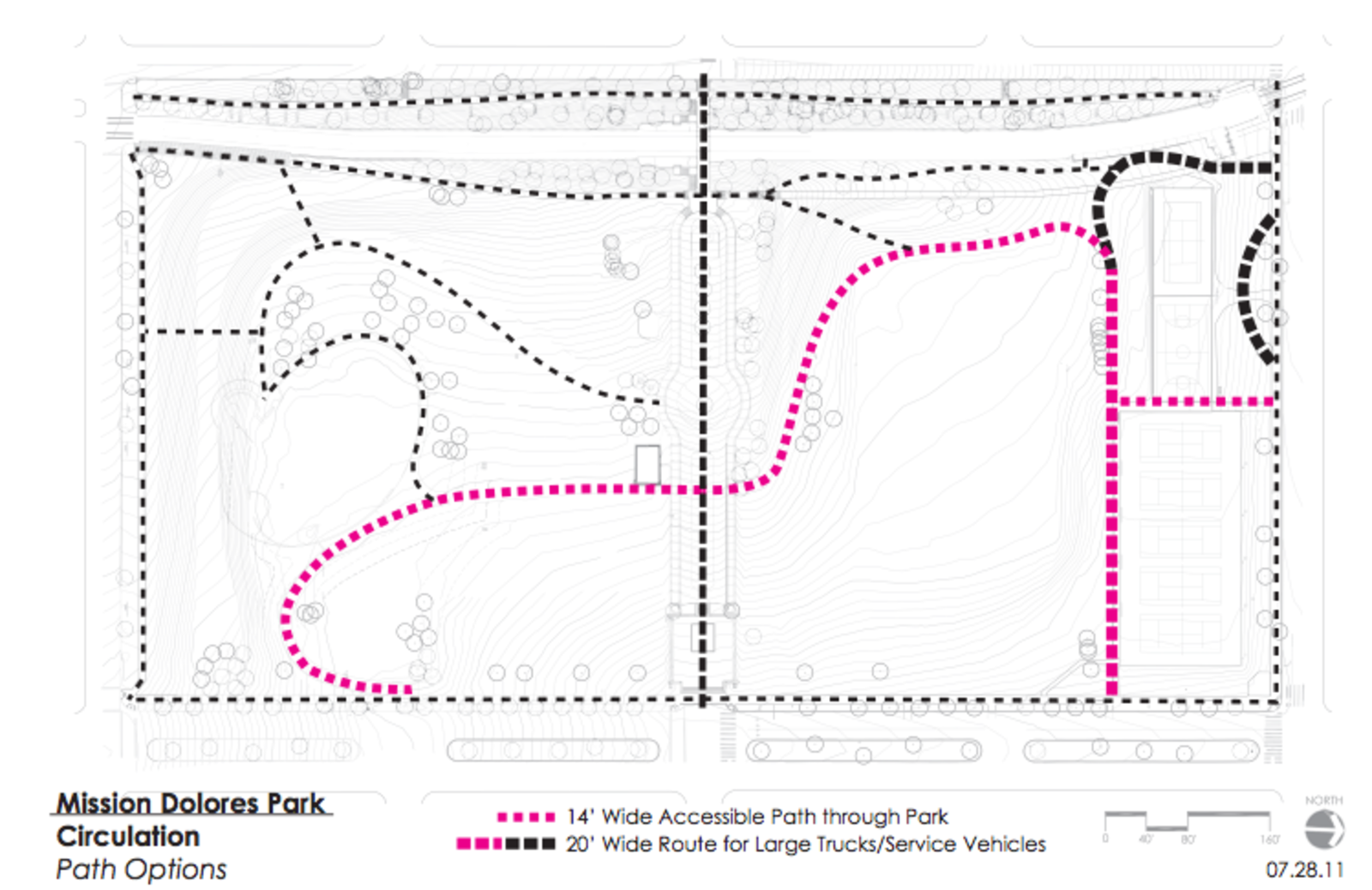 It's been a while since we've heard anything substantial about the status of the Dolores Park Renovation, so I decided to drop in on a "Dolores Park Steering Committee" meeting last week.
For the unfamiliar, the "Steering Committee" is a self-selected group of 37 aging neighbors and park users that allegedly represent the wants and desires of Dolores Park patrons and advise the Rec & Park Department and landscape design team.  The members of the steering committee are intended to be secret, as to protect its members from the nasty reprisals of cyberbullies like John Birdsall of the SF Weekly (they take this secrecy so seriously that the committee's contact list is slapped with a disclaimer "INFORMATION - NOT FOR DISTRIBUTION!" and I had a long talking to from the project lead about the importance of anonymity before being fully welcomed at the public community meetings).  [Update 8/5/11 @ 2:30pm - As a commenter pointed out, the list of members is currently online in a PDF] However, the list consists of the usual cast of characters you'd expect to be on such a representative committee: "park neighbors," area business owners, teachers from surrounding schools, politicians, representatives from various non-profits, people from the film night and Mime Troupe, and self-anointed community leaders (Dolores Park Dogs, Dolores Park Works, Dolores Park Safe Clean Green, Mission Dolores Neighborhood Association, etc.).  Of course, who you won't see on this list are the dope fiends, picnickers, day drinkers, truffle salesmen, art students, The Unemployed Generation, musicians, activists, DJs, and the Tumblr addicts who actually use the park in such numbers and intensity that they could overthrow a small government if the mood so struck.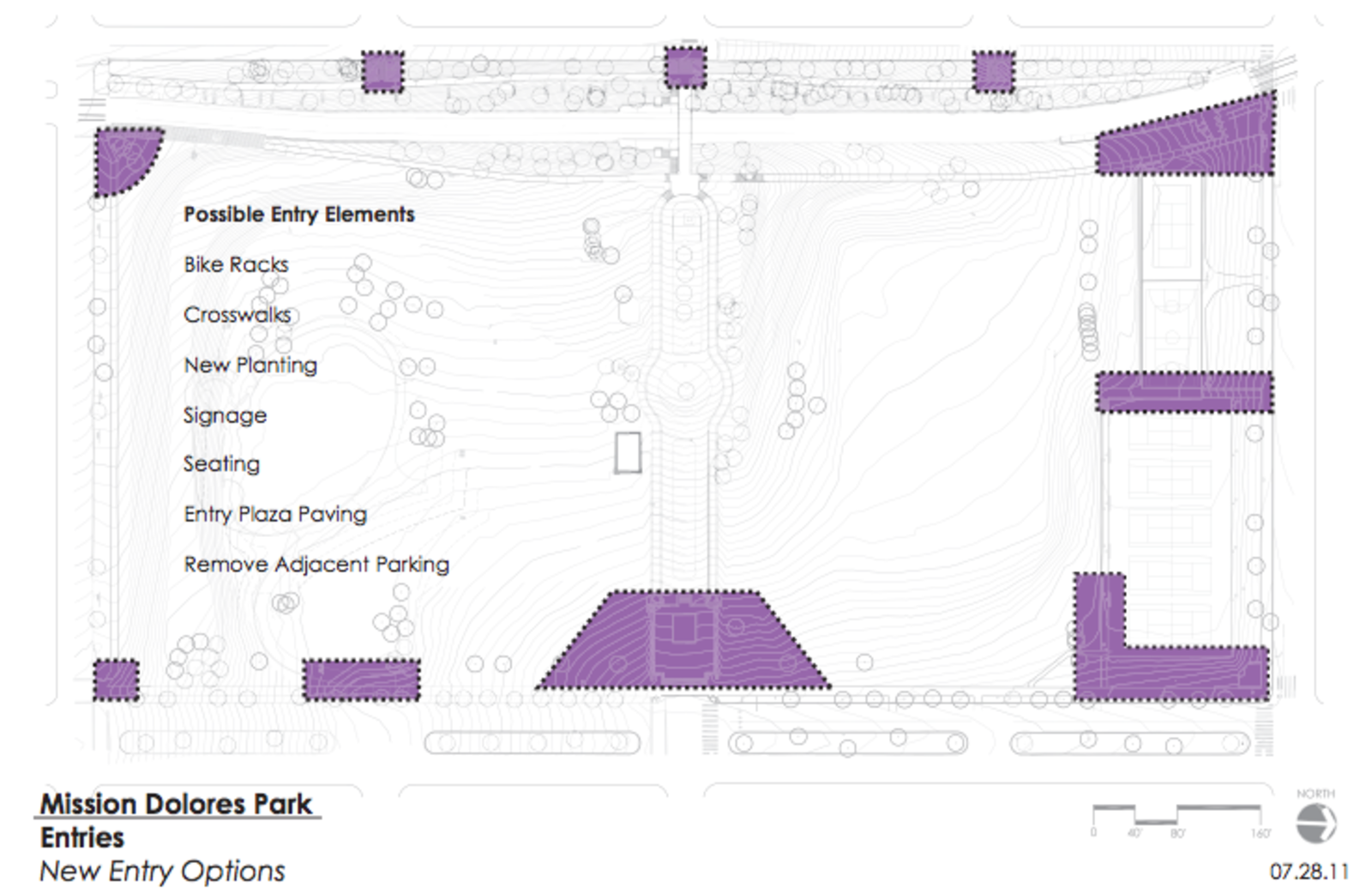 Perhaps it's this lack of diversity that leads us to these preliminary draft designs that were presented at last week's meeting.  I walked out of that meeting feeling down—a distinct sense that the Dolores Park we've all grown with and love will cease to exist.  20-foot wide paths criss-crossing the park, a sprawling plastic playground, food truck parking, "improved" entrance plazas, designated picnic table areas, a soccer field, multiple new buildings for bathrooms, storage, office and administration space, and some crazy central promenade dissecting the park that may or may not have flowering gardens, trees lining it, staircases, and gathering patios.  Whatever happened to just fixing the irrigation and bathrooms and calling the project a success?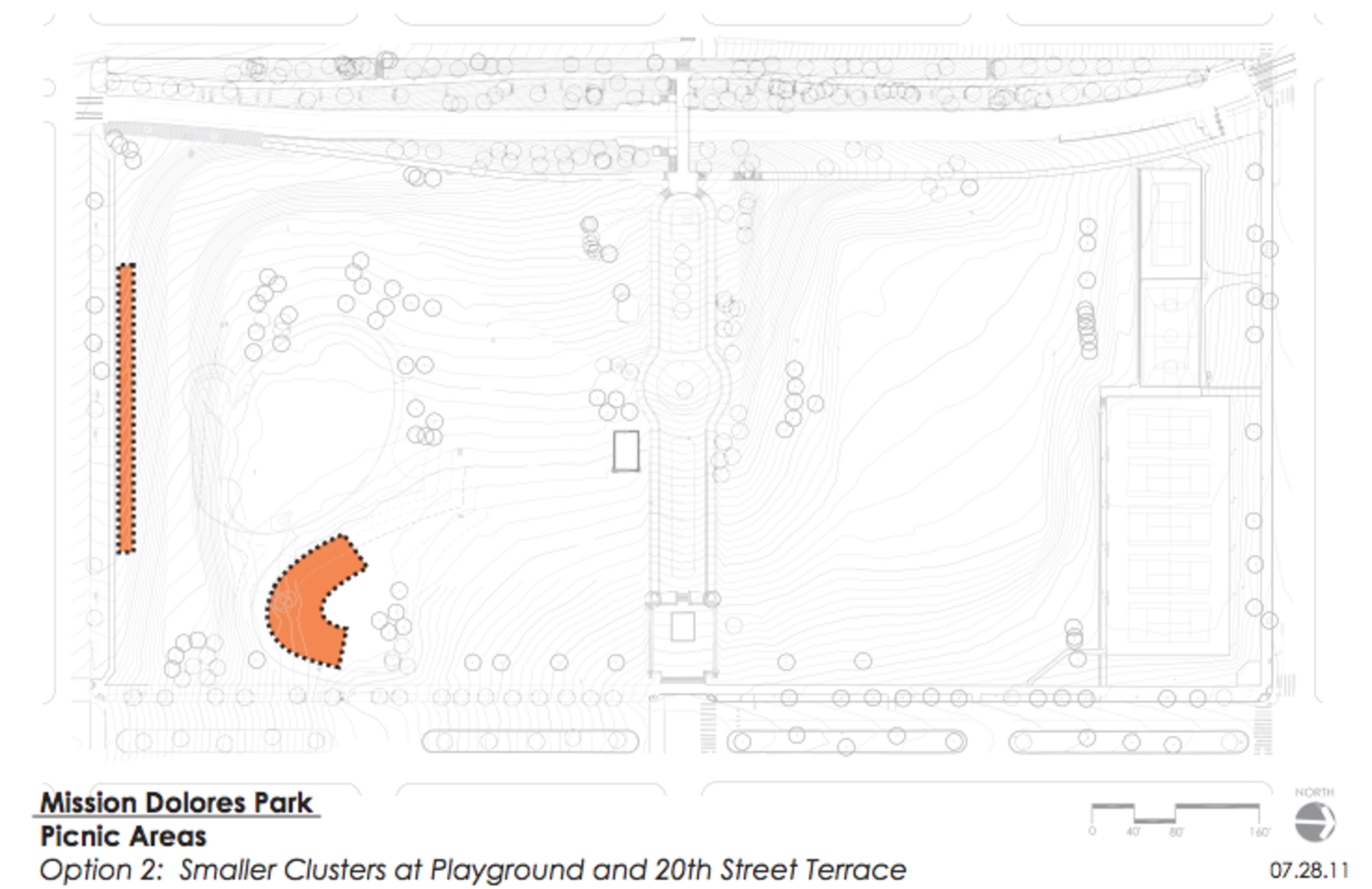 Multiple members of the steering committee have expressed a growing frustration with the process, suggesting the blame should be placed solely on Scott Wiener and Rec. & Park.  As one committee member put it:
I think it's more RPD than the steering committee that has come up with that crazy bat shit. I mean, a lot of the people on that committee have their own agendas, but since the first meeting all have been saying we want the park to change as little as possible.

I had a lengthy conversation with someone from RPD about if this whole process was smoke and mirrors… he tried assuring me it wasn't, to an extent. But now I have realized after last week that Wiener and the RPD have their own agenda, and its one about making the D in Dolores Park stand for Disneyland.

I am going to start making my "I got a taco at DP" shirts now, I guess.
Another member notes:
I can tell you that it seems this project is getting rushed and there needs to be a more robust discussion about the topics. For example, I tried to get [another SC member] to share the historical significance of the clubhouse to the group but was shut down for trying to converse with [another SC member] during the meeting. I think it's important for us all to understand the various points of view on the subject.  I would really like to know why I should give a crap about an ugly building from someone that wants to preserve it for historical reasons.

But no process like this is perfect—it would be impossible to have a perfect process. But improvements are possible and I think we should figure out what they are.
Maybe there's a point to that.  The designers say "we've heard from people that they want more pathways through the park."  Who the hell says that?  I don't know anyone who wants a staircase going through the middle of gay beach.  I don't know anyone who wants a permitted soccer field.  I don't know anyone who wants to ruin the trees that slackliners use by littering that hill with picnic tables.  And after last fall's Blue Bottle controversy (and considering the new Food Truck oasis going in 5 blocks away), I especially don't hear anyone clamoring for a designated food truck space in the park.
So when the officials from RHAA Landscape Architects (the firm hired by the city to redesign Dolores) announced that they were proposing to put in "vendor space" into Dolores Park, I figured I'd do the responsible thing and let Chicken John know about the impending La Cocina taco truck tapocalypse:
While there is breath in my body there will be no food court in Dolores Park.

Actually, there isn't much I or anyone else can do. But let it be known that I FUCKING TOLD YOU SO. I saw this coming 10 miles away.

Get ready for the Shitstorm.
Shitstorm?
I don't want to participate in the steering committee because people will try to form alliances with me and co-opt me.  I want to be unreasonable and inflexible.  First it was the spit-in, then the puke-in, the next thing we're going to do is a shitstorm… we're going to shit in the park.  You have to bring the conversation down to a guttural level because that's all that people listen to anymore.  If I never threatened to puke, no one would know what the privatization of Dolores Park is.

This is a education campaign for the people of San Francisco to know what privatization is, because we're allowing Rec. & Park to privatize the parks without actually knowing what they're doing.  Once people realize what privatization is, no one will let them do it.

So we're going to shit on Ed Lee or something if they move forward with this and all the papers and blogs will start writing about privatization again.
Well, Disneyland on Dolores or not, at least we can expect some good political theater.  And, of course, if you'd like to get involved in this slice of local politics and Help Shape the Future of Dolores Park, the third Renovation Workshop goes down tonight at 6:30 at Everett Middle School Cafeteria (450 Church St., entrance on 17th Street through the parking lot).