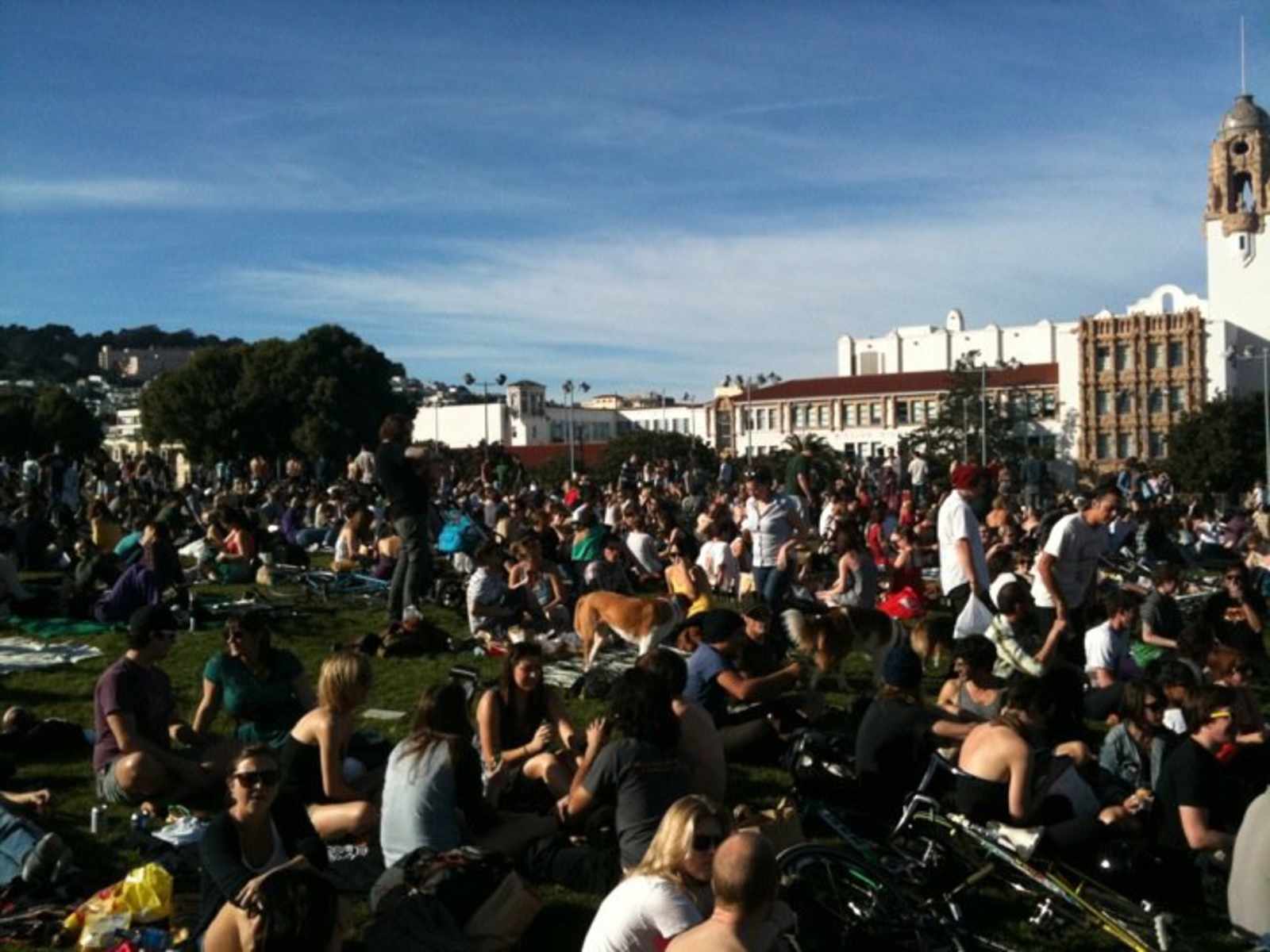 The recent Dolores Park renovation meetings have been fairly vanilla thus far: lots of calls for more bathrooms, some concerns about preserving the "historic" nature of the park, cries for more benches at the top of the hill, and demands to solve the trash issue.  However, a strange and surprising action item as been discussed at length: astroturfing the flats known as Tallboy Terrace to make for a youth soccer field.
One member of the Dolores Park Renovation Steering Committee, the group tasked with advocating for the wants of Dolores Park users and neighbors, explains the astroturf proposal:
The Soccer Community is definitely proposing to install some type of heavy duty artificial turf adjacent to the tennis courts in Dolores Park, similar to what is already in use in numerous municipal dog parks and zoos all over the USA.

Frankly, there is no natural grass on earth that can survive the continuous use that a 190' x 270' flat spot in Dolores Park will receive if it is not fenced, not to mention 8,000 people for Mime Troupe performances and 15,000 people assembling periodically for demonstrations or marches to Market Street.

Please keep an open mind regarding artificial turf. Because with no fence, that is the ONLY solution to the severe wear problem in that particular section of Dolores Park. The trick is to make it look as natural as possible so that when it's being used for something other than soccer, it just sort of disappears when there are few hundred people on top of it.
Perhaps the proposal isn't that absurd.  Back in the early 90s, there was a long, nasty public debate about leveling the grassy knoll just south of the tennis courts (pictured above) for youth soccer games.  After years of debate, the field was finally approved in April 1994.  From the SF Chronicle:
After months of debate, San Francisco Recreation and Park commissioners agreed on the size of an athletic field in Mission Dolores Park, disappointing some nearby residents but pleasing soccer fans.

Although the controversial field was approved last year, park administrators have spent months trying to forge a compromise between soccer enthusiasts and neighborhood residents who wanted the park to remain as it is.

Yesterday, the commission sided with soccer supporters and voted 4 to 2 to approve a field measuring 270 by 180 to 190 feet, including buffer zones. In doing so, they rejected a staff recommendation for a 180-by-240-foot field.

Although the area is intended to be used by youth soccer teams, the space will also be available for picnics. Officials said the field could be ready sometime next year.
By Dec. 1996, drainage and soil problems turned the soccer field into "Dolores Park Lake," the project was deemed a failure, and youth soccer games were permanently moved out of the park.
Soccer advocates have identified the 2012 renovation as an opportunity to get reclaim the space that was allocated to them decades ago, demanding renovation funds be allocated to making the field usable for children for years to come.  Maybe they're right; there's a known shortage of playable soccer fields in and around the Mission, and the city officially gave them the space years ago to give children something in Dolores Park that wasn't "drugs and crime."
On the other hand, Dolores Park today is not the violent, drug-dealing epicenter that it was in the 90s.  Now, it's a national treasure used by 1.3 million people every year.  On a nice weekend, it's hard to find a place to sit on "the soccer field;" on a fantastic weekend, it's even worse.  "The soccer field" is home to concerts, art installations, slip-n-slides, protests, dyke marches, cultural celebrations, dog contests, underground commerce, games of catch and cornhole, trampoline parties, picnics, and everyday whimsy.  There's no doubt that children need positive places to get outside and play sports, but is it really appropriate to flip the script on all these other people who love the park?
The soccer advocates claim the astroturf field will "blend in" with the surroundings, will be great for multipurpose usage on weekends by picnickers, dogs, musicians, protesters, and whomever else shows up to the party, and won't need to be fenced in.  Others, including a man responsible for maintaining the field at AT&T Park, suggests the field will be uncomfortably hot on sunny days, will be impossible to maintain unless it is fenced off, requires an ugly concrete barrier between the rubber grass and the real grass, and won't be as "multipurpose" as some suggest.  Plus, there's a brand new astroturf soccer field being constructed less than two blocks away at Mission Playground.
What do you think?  Is it time to give the children what they were promised 17 years ago, or should the park remain the way it has been for years?
There's a meeting tonight at 6:30 to discuss the proposed rubber soccer field at the Mission High School Cafeteria.  I can't promise the meeting will be productive, but it should produce some MTV-level drama.
[All names redacted at the request of DP Renovation Steering Committee head]