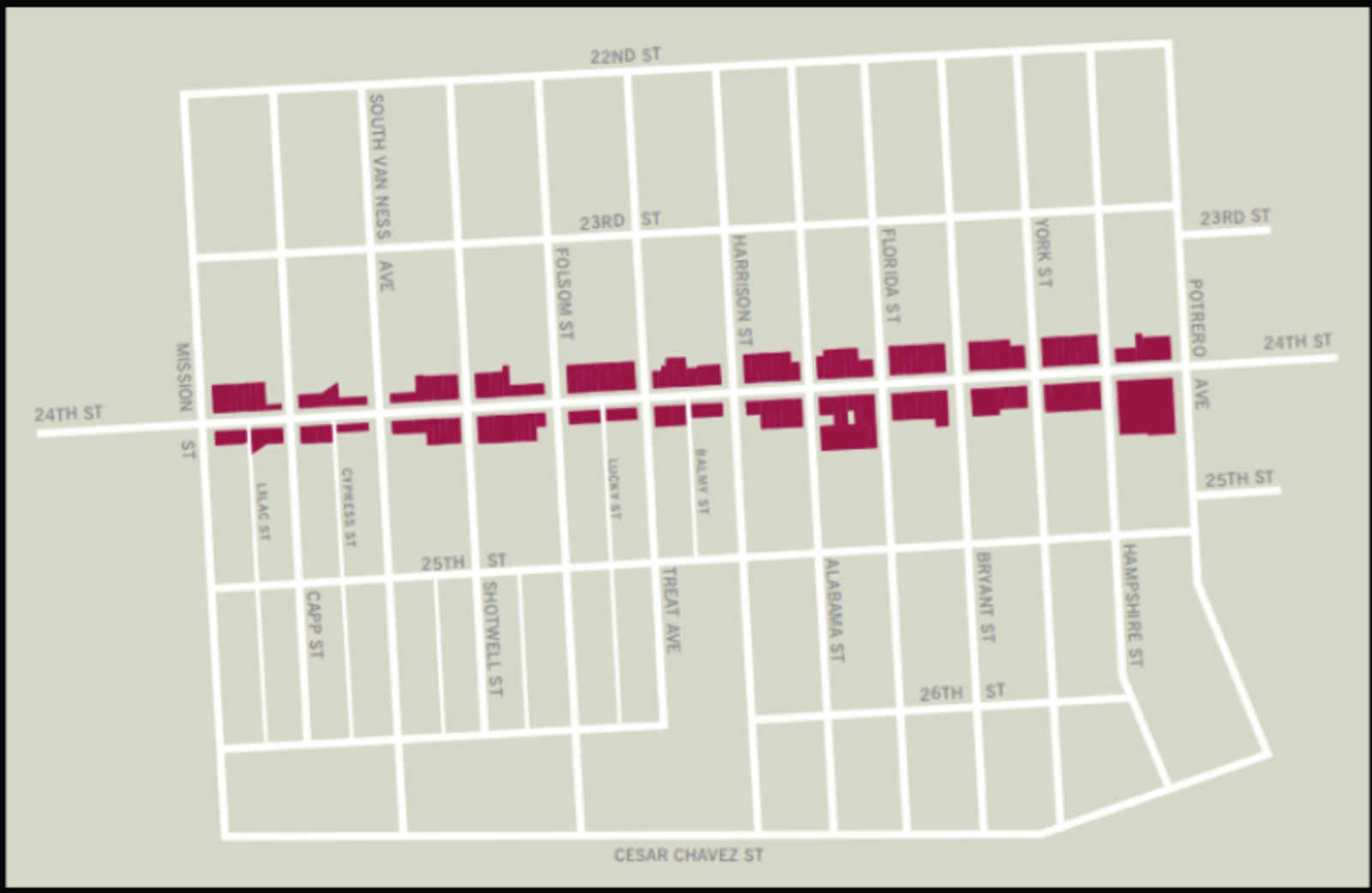 Calle 24 has already managed to to push the City Hall to consider a housing development moratorium in the Mission District and a temporary halt in the opening of high-end restaurants along 24th Street. Now the neighborhood association behind the city-sanctioned Calle 24 Latino Cultural District has released a report detailing the challenges facing the community it represents and a series of goals to preserve the corridor's character.
The 93 page report, released this past Sunday, outlines the "major concerns among all stakeholders [surrounding] the lack of affordable housing and about the gentrification and recent eviction and displacement of long-­time residents." It also warns of a "rapid community transformation underway, with some saying they wanted to prevent another 'Valencia' (referring to the way Valencia lost much of its Latino culture in the 1990s and 2000s)."
Specifically, Calle 24 wants to see the 24th corridor, stretching from Potrero Ave. to Mission Street, "preserve, enhance and advocate for Latino cultural continuity, vitality, and community."
"The Latino Cultural District will be an economically vibrant community that is inclusive of diverse income households and businesses that together compassionately embrace the unique Latino heritage and cultures of 24th Street and that celebrate Latino cultural events, foods, businesses, activities, art and music," writes Calle 24 in its vision statement.
The report suggests numerous approaches the city should take to prevent the further gentrification of 24th Street, including:
Regulate rents for housing and cultural spaces and explore models that preserve historical residents and merchants. […]
Advocate for the development of affordable housing (for example, through early identification of sites that may be available for development and small sites development where existing units can be converted to affordable housing).
Advocate for rent regulation for tenants, businesses, and non-profits. Engage diverse neighborhood stakeholders (residents, businesses, and non-profits) in affordable housing movement.
The report also suggests the creation of "certificates of preference that would allow long-­time residents who have been forced out of the District by waves of gentrification to return to new housing opportunities in the District." The report doesn't outline the specifics of what this proposal would ultimately look like, but the idea not without local precedent.
Seemingly out of place, the report includes a call to "protect existing parking," which is sure to irk local transit and street safety advocates. This call may have to do with allowing out-of-neighborhood shoppers and displaced residents to easily park and visit 24th Street, but the logic behind the suggestion is never flushed out.
The report, prepared by Garo Consulting and funded by the Office of Economic and Workforce Development, is the result of "community meetings, one-­on-­one interviews, focus groups, and a review of other cultural district plans." It paints a picture of a community in flux, working to "preserve the unique beauty and cultures that identify Calle 24 and the Mission."
You can read the report below: