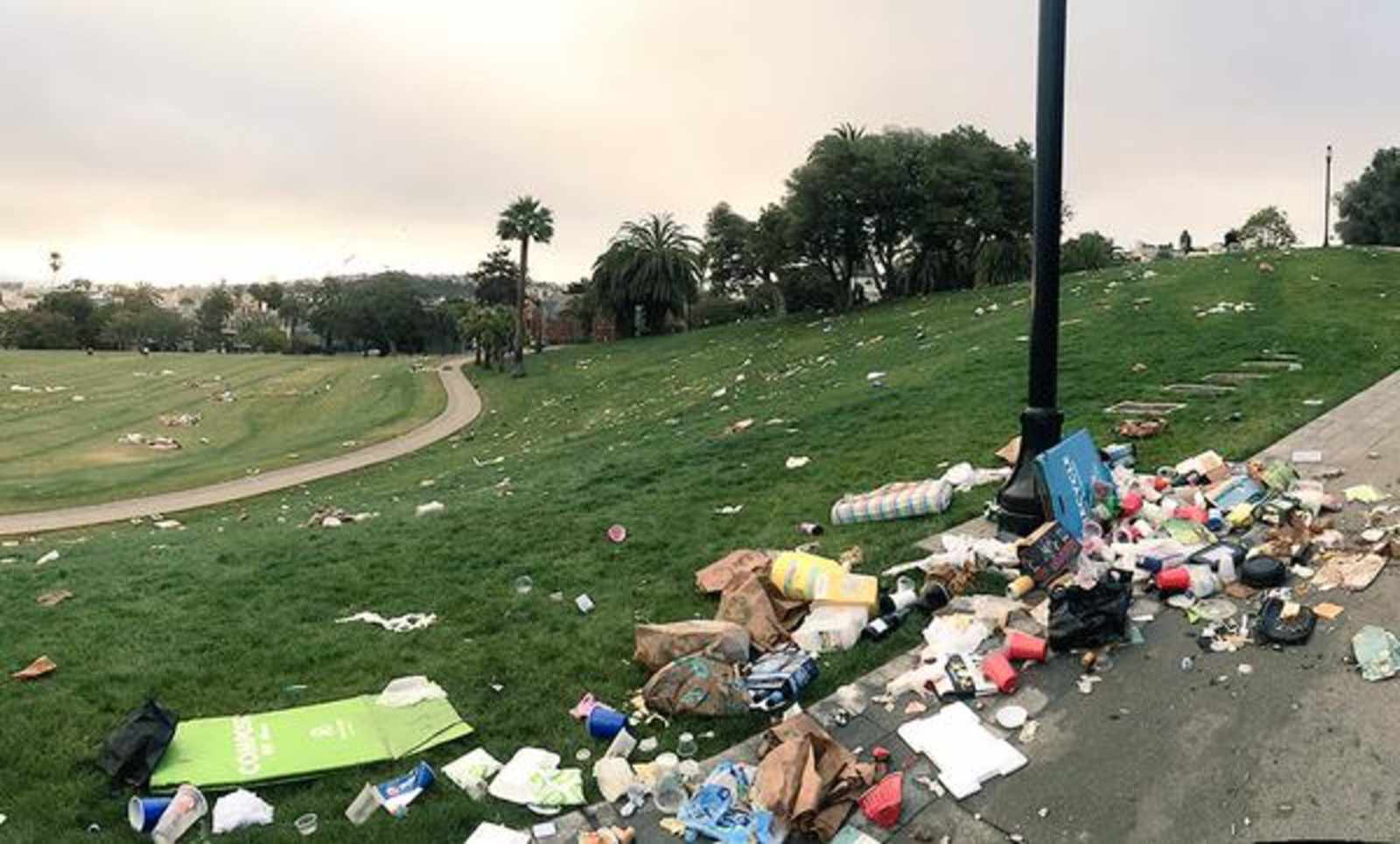 In what should come as a surprise to no one, neighbors are not happy with how Pride revelers left Dolores Park this past weekend. Dolores Park Works, a non-profit purportedly "celebrating, preserving and enhancing Dolores Park for all her diverse patrons," went so far as to suggest closing the park.
@diwakergupta if the event cleanup crew and the March leave. We should close the park. IMHO

— Dolores Park Works (@dpworks) June 28, 2015
And while it's totally fine to complain about people trashing the park, suggesting that the park should be shut down is beyond absurd.
Great job #dolorespark users, this is the mess you leave when you come enjoy the park on wkds. #sfparks #sanfrancisco pic.twitter.com/UaSayPQ4hj

— David Ly-Gagnon (@davidlygagnon) June 29, 2015
Dolores park just got redone, yet no one respected it enough to pick up their trash after Pride. disrespectful.

— little tuna (@_kkdidonato) June 29, 2015
In a blog post this morning, after taking twenty-four hours for some (perhaps sober) reflection, Dolores Park Works decided to spread the blame around:
Last year the Dyke March found a sponsor to fund a clean-up on Saturday. The park looked great. But there was no plan or organized effort for the following Sunday, Pride and The park was trashed.

This year I heard the Dyke March funding fell short and a clean up team was put in place literally days before the event. A much small and inadequate team. It is all well and good when these things happen behind closed doors and work well, but when there is a major fail we need to ask questions.

Pride, to keep this discussion focused, is supposed to be a City wide civic celebration. Yet less and less of the City, civic leaders and the LGBT Community step up to support and fund a plan to adequately host this celebration. This is not a Rec and Park problem, this is not the Dyke March's fault. The City and it's leaders need to step up.
In the hazy aftermath of this past weekend, at least one thing is abundantly clear: litter in the park is not a Pride-specific problem. As the newly renovated northern half of Dolores Park continues to draw huge crowds weekend after weekend, it would do us all well to keep this fact in mind.
[Photo: Jano Avanessian]