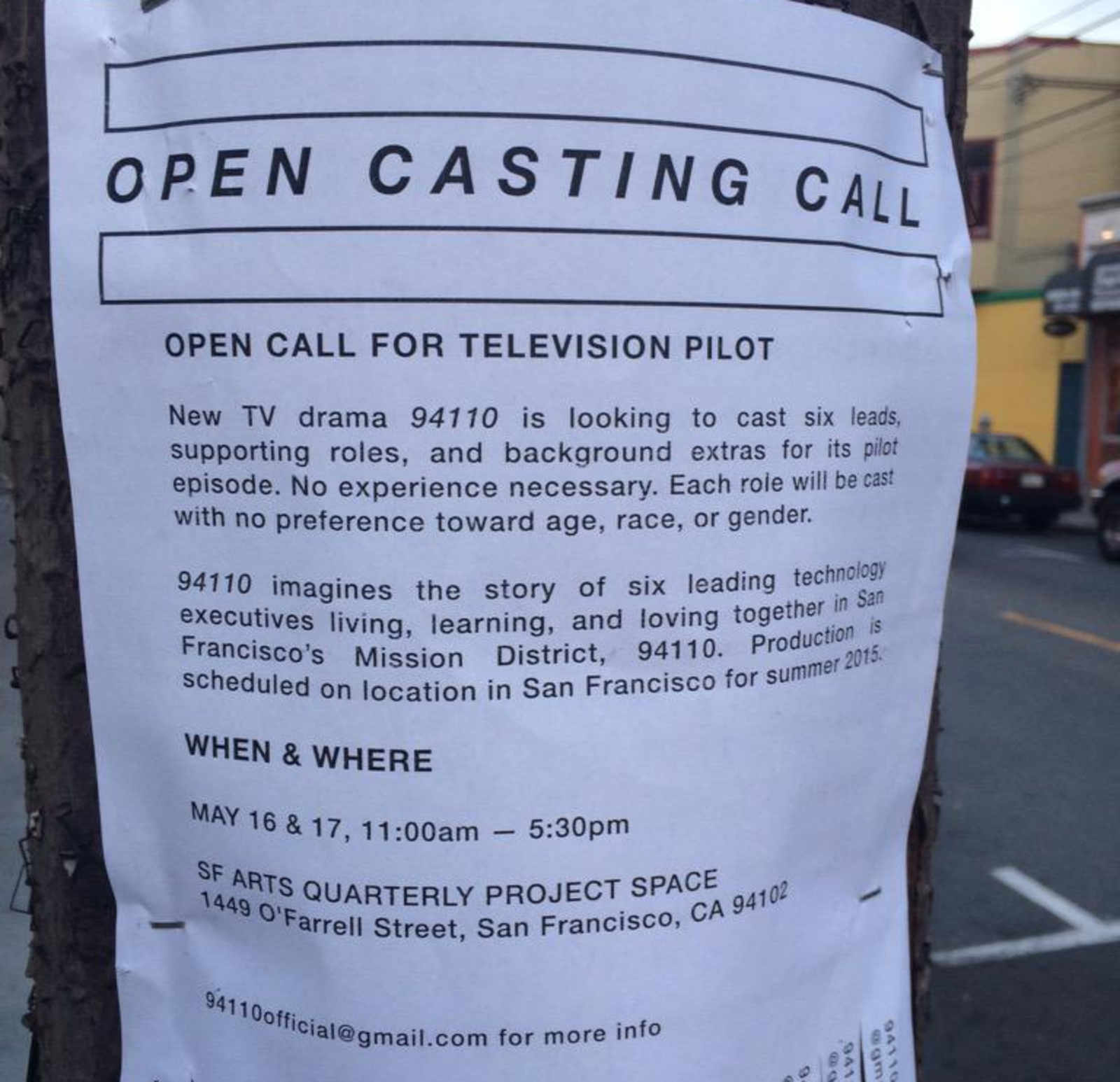 This weekend, flyers began lining the Mission District advertising an open casting call for a new television drama 94110. To many, it seemed like a joke: the show's premise, self-described as "the story of six leading technology executives living, learning, and loving together in San Francisco's Mission District," reeks of the unbearable cheese associated with network TV's most hackneyed dramas. But it is not entirely clear if this is another local techie troll job.
When reached by phone by Uptown Almanac, one of the producers behind 94110, who seemed completely unaware of the Twitter chatter surrounding the show, simply described the independent pilot as "Mark Zuckerberg fan fiction."
The producer, who declined to identified himself as anything more than a representative of "94110 Official," was also quick to quell fears that the production is seeking to exploit the Mission's growing notoriety as tech enclave.
"The main collaborators are all residents of the Mission community," the producer explained. "We want to take the neighborhood's new reality and do something with it."
However, it is unclear how much traction the pilot has—or how seriously people should take it. The pilot has not be ordered by any network, nor has not been fully financed. According to the show's producer, 94110 is "looking for seed and angel investors right now."
The casting call also states that "each role will be cast with no preference toward age, race, or gender"—a promise that seems absurd given the racial and gendered homogeneity of the industry 94110 is supposed to cover. When asked about this claim, the producer merely confirmed that the script has already been written and they have "six specific executives" they are casting. He went on to emphasize that the production has a range of roles open.
Andrew McClintock, publisher of the SF Arts Quarterly magazine, which is advertised as hosting the casting call, confirmed in an email to Uptown Almanac that the production is "legit and we are looking forward to it."
This is a developing story and will be updated as we learn more.