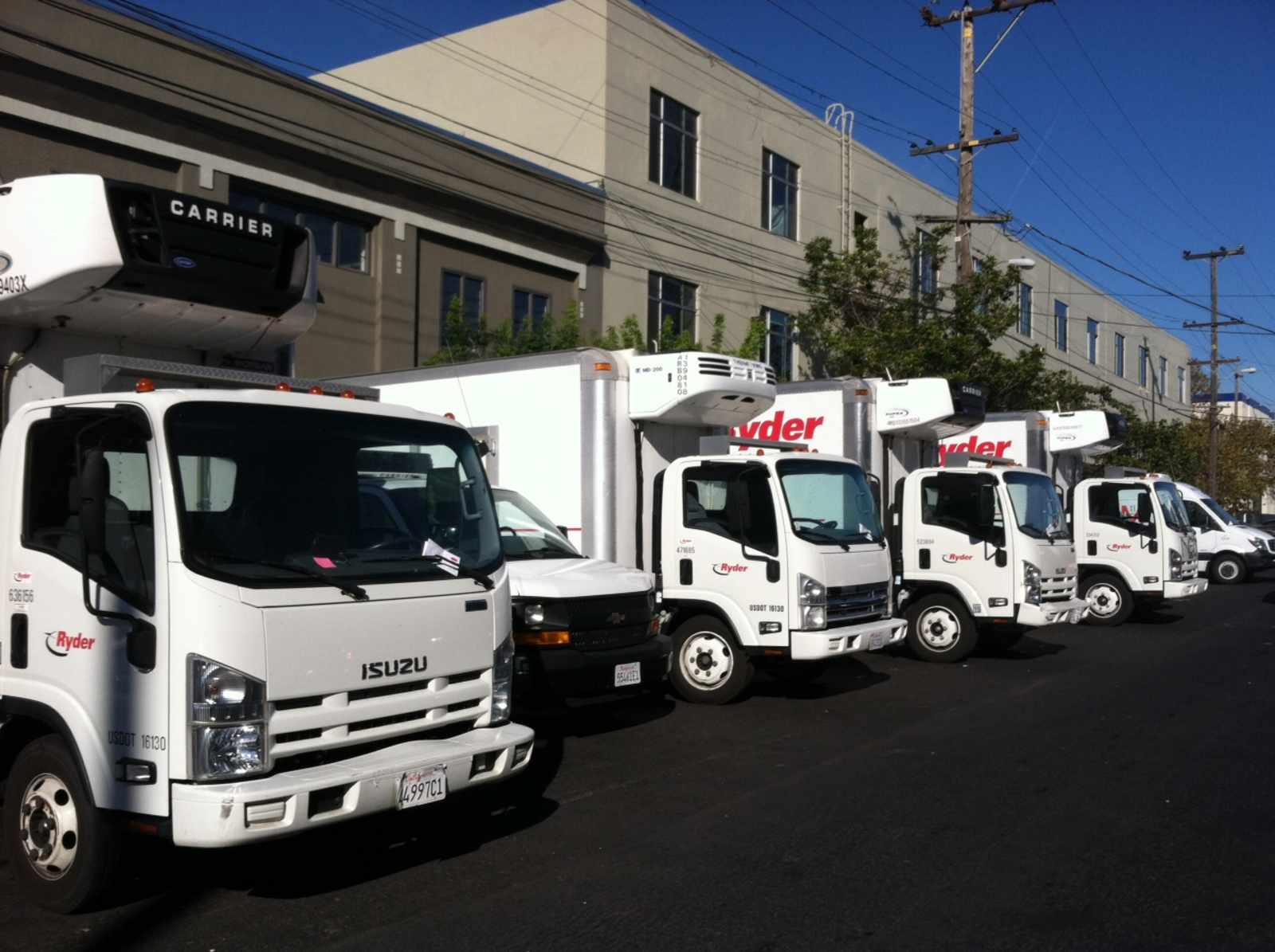 Not just content to disrupt the burgeoning Bay Area meal-delivery industry, Munchery, the Mission-based start up that promises to "handcraft meals fresh from scratch each day in small batches" has begun a rapid process of expansion. Having raised $28 million in funding this past April, expanded to Seattle in July, and with plans to service New York, LA, and DC in the works, it appears that Munchery has developed a successful formula for growth.
So what new and game-changing technique has Munchery, a company that delivers chilled, fully plated meals to your door, brought to the scene?
Outside refrigerators. 
Prep for the evening's deliveries begin each morning at 5:00 AM, and at some point assembled meals need to be stuck in a refrigerator to await delivery. Munchery's Alabama Street location just so happens to be unable to accommodate the volume of food that needs refrigeration. And so to solve this problem, Munchery has devised a genius solution: rent diesel powered refrigerated trucks and run them as auxiliary coolers.
The trucks, pictured above parked outside of Munchery's kitchen, are a solution that only a start-up could conceive. Unlike your regular pesky "inside refrigerators," these paradigm-shifting mobile cooling units are parked outside on the public street. And therein lies the brilliance: with real estate in the Mission at such a premium, Munchery has managed to drastically increase their kitchen size without paying a cent in property costs.
And so what if in order for the refrigeration units in the rented trucks to actually work, the trucks' engines have to be on and idling? In the last week, Uptown Almanac has walked by the Munchery offices approximately fifteen times (we live and work in the area), and on every occasion at least one of these trucks has been idling and pumping out exhaust into the surrounding neighborhood.
In addition to being a general nuisance/bad for the environment, this practice is expressly illegal under California law.
The trucks, which are parked illegally and ticketed daily (see the above photo) at a rate of $110 per violation, also contribute to chronic congestion on a street that has over the past few years seen a drastic uptick in commercial use.
When reached for comment, Munchery co-founder and CEO Tri Tran stated that "it's absolutely false that we have refrigerated trucks running at all times. We use them during the middle of the day (mostly for transporting food to other facilities), and always turn them off by 6pm." However, one Uptown Almanac tipster says that isn't true—at least one truck is kept on and idling all day.
This practice has not gone without notice, and has in fact generated numerous complaints from neighbors. A tipster tells us that Munchery's response to these complaints has been to give the surrounding neighbors free meals—which could be interpreted as a cheap bribe to buy their silence. But to be fair, who doesn't love free food with an even freer side of exhaust?
Disregard for laws and regulations that get in the way of growth is something we've come to expect from the start up world. This specific example just happens to be a bit more jarring because it comes from a company that brags about its "eco friendly everything" and dedication to "greening [their] footprint in every way."
Tran stressed that the company is working to rectify the situation, and that in addition to turning off the idling tucks by the end of the business day, Munchery is moving its main operations team to another location ("targeting before the end of the month"). Presumably, this new location will have appropriate cold-storage space.
Tran insisted that "it's very important to us that our neighbors see us as a positive part of the community," and that among other positive contributions to the community, Munchery has "hired a private security team to improve general security of the neighborhood (not just [the Munchery] facility)."
So the next time you're chowing down on your quinoa, mushroom and cheddar burger, rest easy knowing that not only was your meal made with the best intentions but that it was protected from the ravages of its Mission birth place via private security.
If only such consideration could be given to the people living and working in the neighborhood.
Their acorn squash tangine does look pretty delicious, though.
Update November 13th, 2014: Since the publication of the above piece, neighbors of Munchery's Alabama Street kitchen reached out to Uptown Almanac to detail the many ways in which the "business has had a huge negative impact on [the] neighborhood." Read our follow up piece. 
Update February 12th, 2015: Since this story was originally published, Munchery opened a second kitchen a few blocks east of their Alabama Street location. Munchery's new neighbors reached out to Uptown Almanac with a 20 page document detailing the ways in which the company's business practices have "created a major disruption and created health & safety issues for residents, visitors and employees of local businesses." Find our follow up story here.