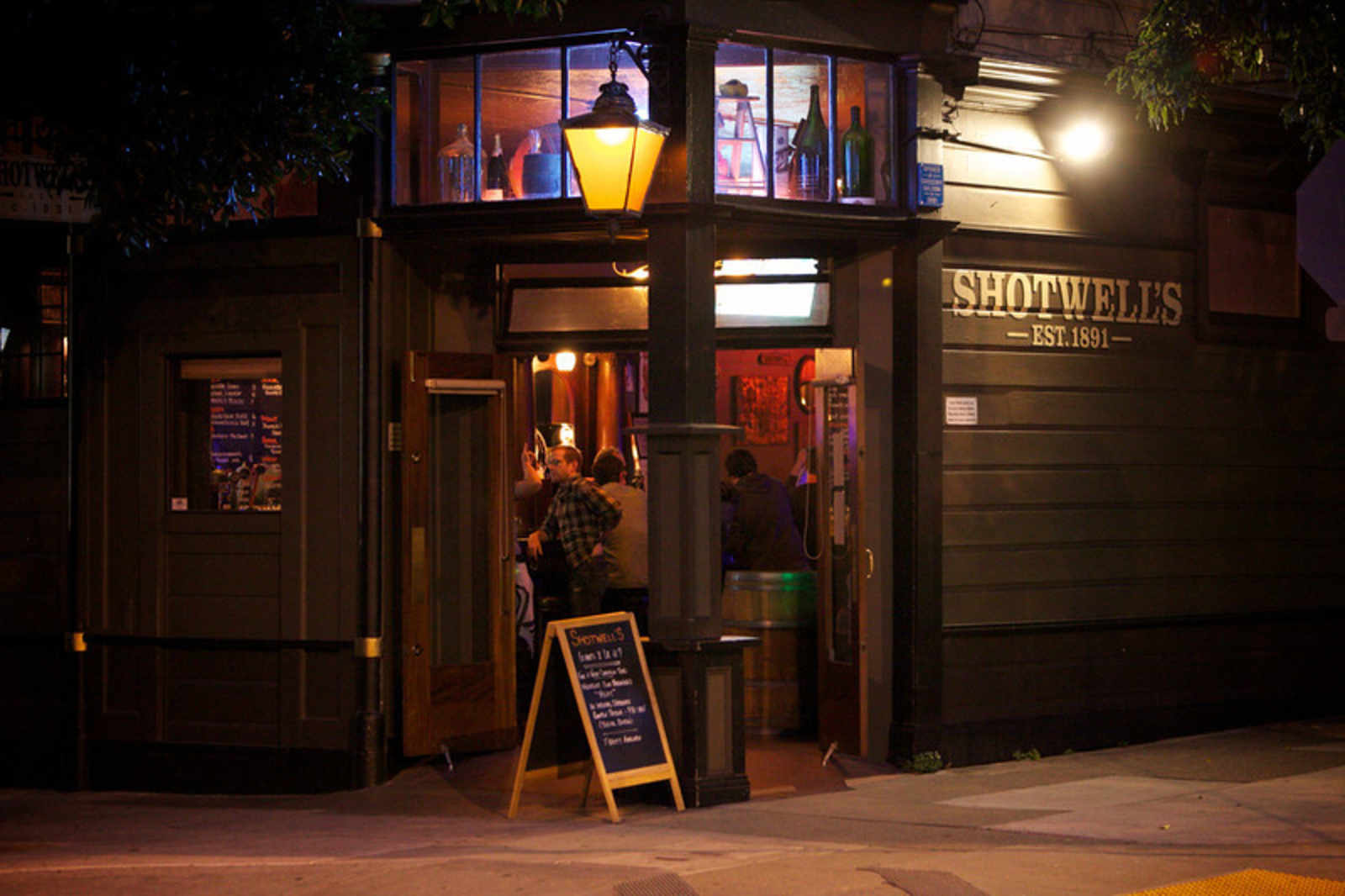 A few weeks back, noted Mission beer outpost Shotwell's tweeted out that the folks behind Bar Rescue had been repeatedly calling the bar and breathing talking into their answering machine.  It seemed like a weird pick for a make-over show—Shotwell's is a fine bar, regularly is packed with customers, and has the distinction of being one of the few in the Mission with usable bathroom.
However, since Shotwell's tweet, we've since heard that the Bar Rescue crew has been on a tear, cluelessly hitting up multiple SF dives for an on-air renovation, including local stalwarts Doc's Clock, Bender's, Lucky 13, Emperor Norton's Boozeland, Molotov's, and Whiskey Thieves. [Update: And The Peaks, Uptown, 500 Club, and Mission Hill Saloon, too.] (We even heard Zeitgeist was on their list, but couldn't get a confirmation.)
Tom from Shotwell's fills us in on their experience:
I checked the bar's old fashion answering machine the other week. Bar Rescue had left three messages, stating that Jon Taffer will be in town and he's looking to make over a bar in San Francisco. I deleted the messages and started my usual pre-opening cleaning routine, scratching my head thinking they picked the wrong town. Then the bar phone rang, "Yes this is a producer from Bar Rescue on Spike. We noticed your Yelp reviews aren't very good and was wondering if you'd like Jon Taffer to come in and redo your bar." [Editor's note: Shotwell's current Yelp rating is 4.5 out of 5.]

I was immediately offended… thinking this bar doesn't need a make over, or does it?  Just the thought that we were singled out for a Bar Rescue made me second guess myself.

But I quickly got my confidence back and politely rejected his offer. Then he asked, "can you recommend a bar in San Francisco that needs a rescue?" That made me laugh at the possibility of an amazing practical joke. God I wish I knew the guys over at Southern Pacific.  Wouldn't that be funny? "Yeah Shotwell's said you need a make over." (Of course they don't.)  I didn't give the producer a name [of a bar], but I'm very curious who said yes to Spike.
Hopefully whoever said yes fares better than the Rocky Point Cantina, a bar that was forced closed after officials discovered all of Bar Rescue's work was done without proper permits.
[Photo: Tobin Jones]