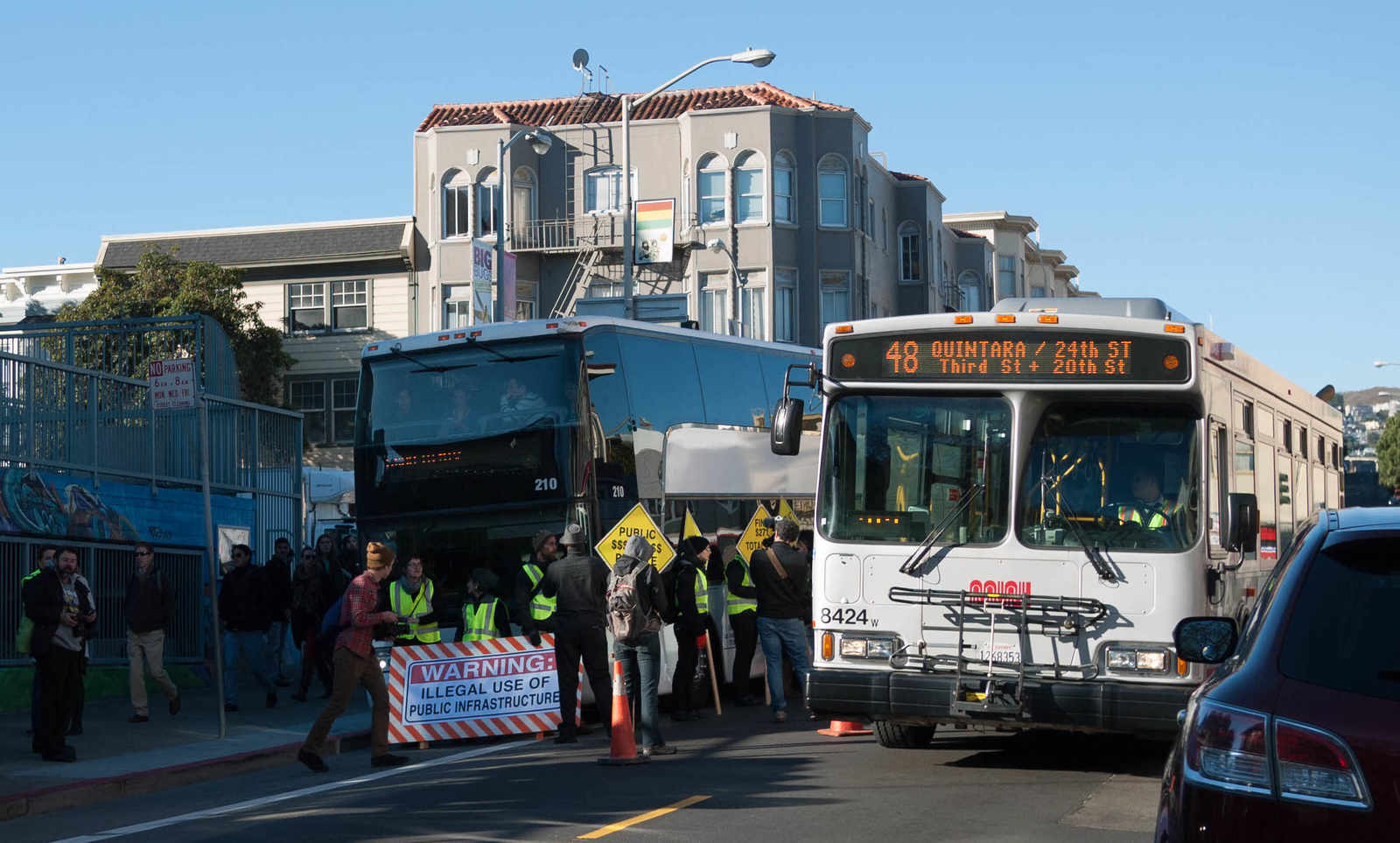 Alleging the continued violation of the California Vehicle Code and environmental review procedure, a lawsuit filed in San Francisco Superior Court is asking for an injunction to block the deal between the city and corporate shuttle operators that allows the exclusive, private carriers the use of public bus stops at the low, low price of one dollar a stop.  According to a press release:
The Coalition for Fair, Legal and Environmental Transit, SEIU Local 1021, tenant activist Sara Shortt and labor leader Alysabeth Alexander filed suit today in San Francisco Superior Court seeking that the City's "Commuter Shuttle Pilot Program" be set aside. The suit alleges that the project is in violation of the California Vehicle Code which prohibits any but common carriers (public buses, school buses) to pull into red zones, designated as bus stops. The suit also alleges that City abused its discretion and violated the California Environmental Quality Act by exempting the Shuttle Project from envinronmental review. […]

Alysabeth Alexander is Vice President of Politics for SEIU Local 1021. "Time and time again, we have seen a double standard from Mayor Ed Lee. He has one set of rules for the tech industry and another set of rules for the rest of us. In the last 3 years, the City issued over 13,000 citations to vehicles in red zones, but only 45 were issued to the tech buses."
In 2006, a similar tactic was successfully employed by motoring enthusiasts to block the city-wide bicycle plan a year after it was similarly passed by the Board of Supervisors without an Environmental Impact Report. The EIR was eventually completed in 2008, certified in 2009, and the injunction was lifted in 2010.  In other words, this issue of Google Buses isn't going away anytime soon, no matter how much folks may want it.
Of course, the suit probably won't slow down the shuttles, which have safely ignored existing laws for years with the city's backroom approval.
The full text of the lawsuit, below:
[Photo: Chris Martin]